There is a blurry shadow that exists between this world and the next. Dreams and Nightmares Aerial Theatre lives up to their company's namesake as they explore this veil of death and humanity with a dark and cautionary, but exquisitely beautiful fairytale. Crafted from a dream, Baltimore writer Annelise Montone brings language to the sleepy vision of the company's Artistic Director Kel Millionie. Directed by Millionie, this phantasmagorical performance blends the lines of dreams and nightmares to create a unique and emotionally evocative experience that plagues the mind with curious questions.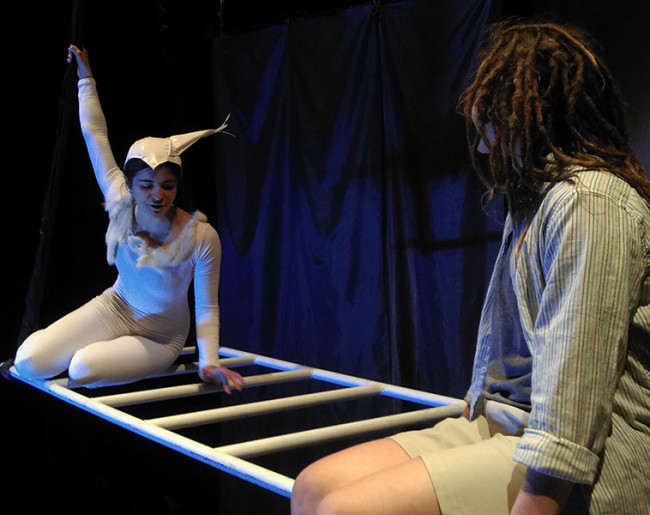 The show itself is fleeting in length and seemingly so in content. That is not to say, however, that there are not powerful messages imbedded deep within the text and narration of the story. Choosing area actor Steven Shriner as the voice over for the narrator lulls the audience into a serene and tranquil state; readying their minds to absorb all they will see and hear. Shriner's rich and soothing timbre washes over the audience the way the waves of the seashore wash over the boy in the story; calming yet strong and with great purpose. This is the first of a series of exceptional aural delights that entreats the mind as the evening progresses.
Sound Designer Brian M. Kehoe, working in tandem with Millionie for light and shadow play, provides a stunning soundscape for the aerial artists. The opening sequence features distortions of 'New Age' music pierced in places with dots of seagulls and atmospheric reminders to set the scene. Kehoe's selection of music works with each of the aerial performers in a symbiotic relationship; they inform one another, the music and the movement, neither leading nor straying from the other. It is this blended relationship that enhances the fluidity of these mighty airborne acrobats; a true aural masterpiece which creates the perfect overall aesthetic when combined with these stunning and graceful motions.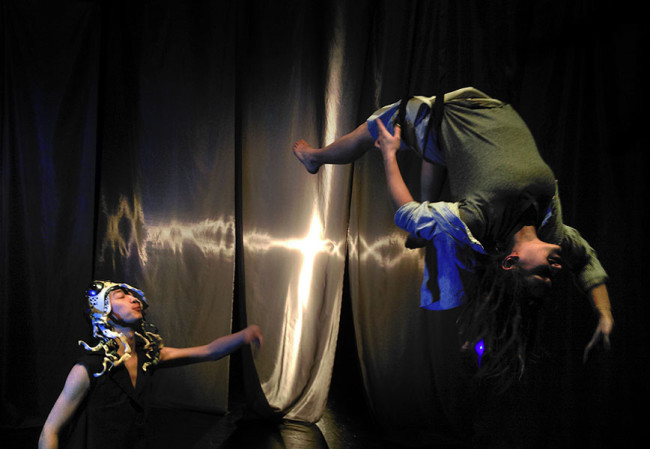 Millionie's use of light and darkness weaves its way into Kehoe's work as well. Swells of sound when lights are brightest or when shadows are most prominent. The colored lighting play as well as the shadow dances are symbolically representative of the company's namesake; literally visualized as the stuff that dreams are made of, and the stuff that makes nightmares so frightening. Serving as the show's Director, there is a jarring yet beautiful balance of grace and chaos leveled into the production that Millionie brings with purposeful intent. Moments often flow seamlessly from one to the next but when they don't they feel purposefully distracted and out of place. Not an arbitrary minute passes in this bold new adventure of performance.
Movement consultant Marissa O'Guinn inspires the Grim characters and their animalistic movements. Infusing these traits of birds, cats, dogs, and jellyfish into not just human movement but then into human aerial acrobatics is an astonishing craft at which O'Guinn greatly excels. Grimm Howl lopes unsteady like a wolf or wild pack dog, while Grim Purr slinks and rolls as cats are so often found to do. But O'Guinn's is most clearly spotted in Grim Beak; the jerky and sharp avian motions quite recognizable as soon as the character appears.
Adding further to the chimerical aesthetic is the work of Costume Designer Nicolette Le Faye and Mask Designer Chuck Nesci. Creating distorted beauty for the Grim characters, Le Faye and Nesci work together and find these visualizations that embody life and death, human and animal. This creates a striking juxtaposition for these Grim characters that walk about, fly about, meander as they will upon the stage; to and from the world of the waking and sleeping, the living and dead.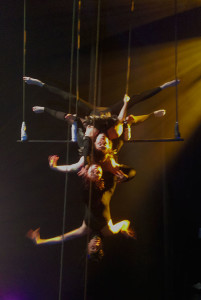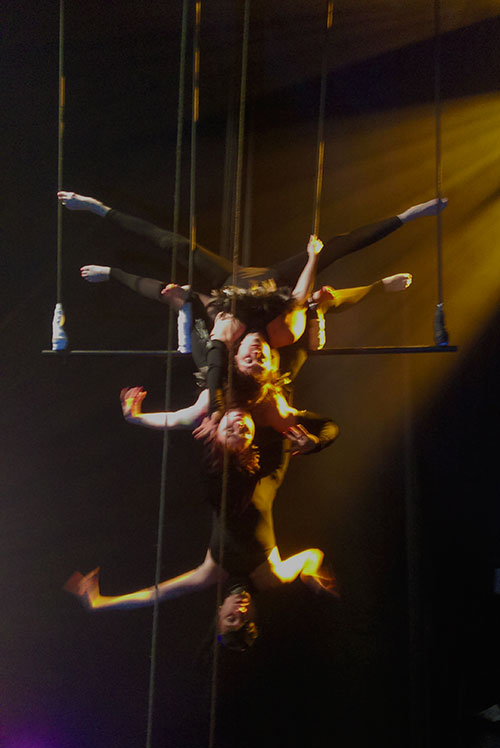 The aerial performances are top notch; a truly mesmerizing and remarkable. The way the performers move their body with the music is captivating. Grim Purr (Jesse Delaplaine) slinks along the ladder— transformed to be a boat suspended upon the invisible sea— her body undulating and rolling in a lazy feline manner all the while displaying the core strength of a true aerialist. Grim Beak (Erika Lipitz, Anna Nielsen, and Nicolette Le Faye) perform astonishing tricks on their T-bar, 3-slat aerial perch. Whether it's spinning or unfolding their bodies, or simply suspending themselves, the work is remarkable.
Floor work is not to be overlooked in this production either. Both Grim Legs (Brett Messiora) and the Mother (Neilsen) and Father (Sha Golanski) spend a great deal of time ground-bound. Messiora moves just as fluidly on the ground as the other performers do in the air; his body twisting and turning in ways that make him look disjointed like a jellyfish does. Golanski and Neilsen have a terrifyingly gorgeous dance chemistry— seen mostly in shadow at the beginning of the show— as they move one another through a fight in their choreography; a brilliant and startling thing to behold.
Even The Boy (Megan Bruce) and Grim Howl (Sean Lundergren) who do a bit of suspension work and ground work, are profound characters. While Lundergren does a fair bit of speaking, it is his silences that make his character worth noting, as he is the first Grim encountered. Bruce, who spends a great deal of time in silence, reflects the turmoil of the character in her rigid body positions and pinched facial expressions; rounding out the many ways in which visual expressions are utilized in this performance.
A truly impressive innovative piece of performance art; this new work co-developed inside DNA Theatre is worth investigating. A creative new surrealistic experience that plays at the periphery of the senses; something new is waiting to be discovered.     
Running Time: Approximately 50 minutes with no intermission
The Sorrow Message plays through April 19, 2015 through Dreams and Nightmares Aerial Theatre at the Baltimore Theatre Project— 45 W. Preston Street in Baltimore, MD. For tickets call (410) 752-8558 or purchase them online.