Tragedy tomorrow, comedy tonight! Phone rings, door chimes, in comes company! Does anyone still wear a hat? Vagabond Players is wearing a sensational hat of many flavors, providing you all the company you could ask for and giving you a comedy, with hints of heart-melting sorrow, with their production of Stephen Sondheim's Side by Side by Sondheim. A truly one of a kind Sondheim musical revue, everything's coming up Shannon, as Director Shannon Wollman makes her directorial debut with the company's second musical of the 99th season. Featuring music from the beginning right up through Pacific Overtures, this stellar performance will give you something special to do during the spring season in Baltimore.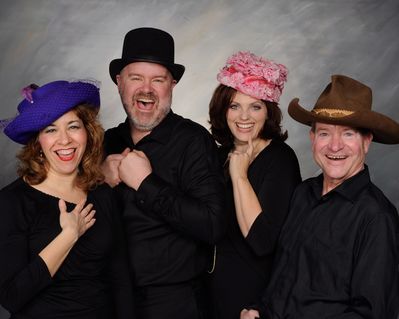 Set against a simple set, created by Set Designer Maurice "Moe" Conn, the stage gives way to the sensationally talented quartet of performers so that all attention goes to them as they sing and dance their way through some of Sondheim's most brilliant numbers. Conn's set is an inviting purplish blue with oversized window cards of all the major shows featured in the review. Seated at the center is the throne of music; an honest baby grand piano that does Sondheim's music a great justice in the skilled hands of Musical Director Douglas Lawler.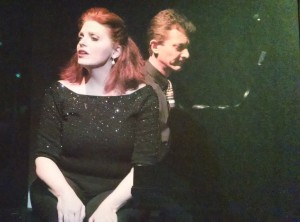 Lawler truly knows a fine way to treat a Steinway and tickles the ivories with delightful intensity. There are moments throughout the revue where one's eye wanders over to watch his animated body throwing passion and fervor into the music that he's playing. His accompaniment is flawless; never a note missed. Lawler's ability to live the music while playing it really adds a vibrancy to the show that acts as a unifying thread which binds the talent of the performers with the talent of Sondheim into one astonishing evening. Lawler takes it a step further melting the hearts of the audience with his rarely heard dulcet voice. The top of Act II features the pianist singing a solo rendition of the title song from Anyone Can Whistle. A truly blissful and serene sound in his rich timbre, his voice sweeps along with the melody making Lawler the sensational fifth addition to this musical quartet. Not to mention the full ensemble sound of smooth blends and polished harmonies he coaxes forth from just four performers.
Though the Lighting Design is as simple as the set, there are a few noteworthy points worth praising in Lisa Wood's work. The main feature is the gobo carved not with Sondheim's name but with the man's signature. This makes a striking glow on the wall just beyond the baby grand; an aesthetically pleasing stamp of approval to denote the master's work. Wood uses dimmers and tight focal spots in darkness to infuse the songs with additional layers of emotion. This works particularly well during "I Remember" a rare, mostly unrecognized tune from a made for TV movie called Evening Primrose.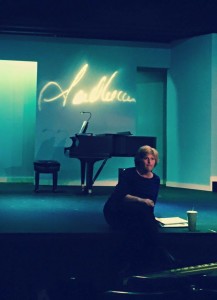 Director Shannon Wollman's directorial debut is a smashing success. Wrangling four of Baltimore's premier musical theatre talents into one musical revue is a feat well worthy of praise but Wollman goes beyond the call of duty and makes this show truly unique. Each performer brings a radiant and individual personality and vocal quality to the show, but more than that, under Wollman's sharp direction they bring the story of each of the character's they portray throughout the evening. With an intent focus on telling the tale of the songs, Wollman invites the audience into the world of Sondheim; love, laughter, heartache, humor— each emotion thoroughly articulated through the quartet of performers' facial expressions, voices, and body language. Wollman's exacting focus on these stories makes this production more than a musical revue, it makes it a thoroughly enjoyable evening with satisfying tales to be told.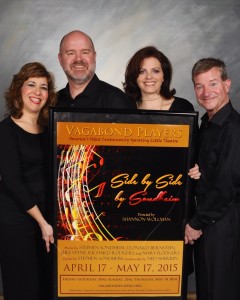 The performers are amazing. Simple and amazing; much like their all-black wardrobe— a decision made by Wollman to keep the focus on their faces and the stories they are singing. Let them entertain you, let them make you smile, they're as versatile in their ability to perform the 27 featured songs as they are talented. With Lawler molding their sound into something rich and resonate for group numbers like "Comedy Tonight" at the top of the show (where again Wollman's idea take the action to a higher level as the quartet comes down into the house to play directly to the audience) and "Conversation Piece" which is an amalgamation of many different songs.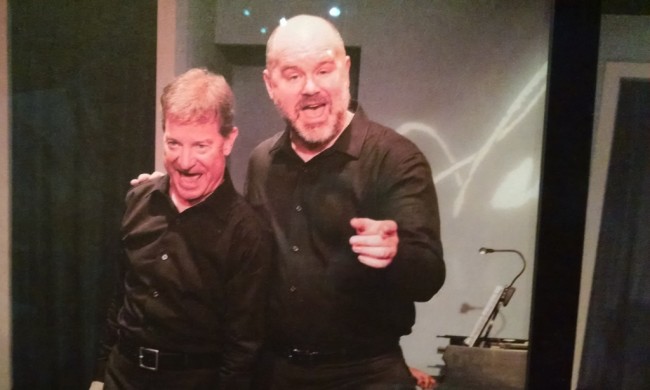 Steve Antonsen, one of two males in the quartet, lends a rich robust sound to these ensemble numbers but makes his solo numbers really burst with fullness. His duet, "Pretty Lady" (a hybrid of a number from Pacific Overtures) with Gary Hiel, is a picturesque moment— one of many painted throughout the evening— as Antonsen gazes off unseen to the unseen shadows of the women for which he sings the number. He holds his own as a part of the trio in "You Gotta Have a Gimmick" from Gypsy, really selling his third of the number with pizzazz. Landing the tight staccato comedy of "Could I Leave You," from Follies, Antonsen again proves that he is innovative with reinventing the song which is traditionally performed by a female. From his vaudeville physicality featured in "Buddy's Blues" from Follies, to his grounded sincerity in Bobby's "Marry Me a Little," from Company, Antonsen is one quarter of perfection in this captivating quartet.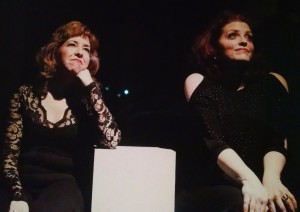 Jennifer Viets has somewhat of an operatic sound to her voice. At the top of "Not Getting Married Today" from Company, Viets is featured as the heavenly choir angel with her vibrato in full tremble for the slower, more serious segment of this song. Sharing several duets with Alyson Shirk, Viets focuses on her on-stage chemistry in duet and quartet numbers, blending her voice and finding the exact moment to make it pop so that her character can be noticed. Her delicate somber tone for "Barcelona" from Company is a sweet reminder that she too possesses versatility as a performer, and this number really hones in on the nostalgic wistfulness of the character as displayed by her touching facial expressions. Taking a seat up on the piano for "Losing My Mind" from Follies, the grit of real survival surges through her gorgeous voice and honors the agony of truly losing one's mind in love.Switching it up "The Boy From" (another obscure number, this time from a musical called The Mad Show) Viets gives a laughably comic performance with this hilarious little ditty, featuring an overly forced accent for humorous effect.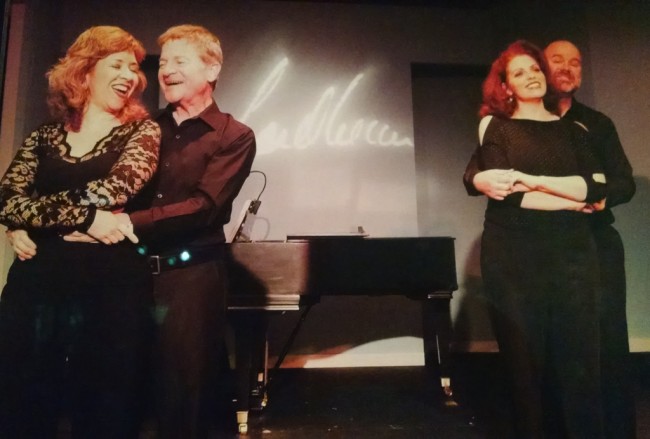 Alyson Shirk delivers what might be the eleven o'clock number of the second act, though it's ballad-esque nature keep it from being too big of a final blast. "Send in the Clowns" from A Little Night Music is Shirk's shining moment; a heartache and mournful defeat that flutters gracefully along her lyrical voice that tells the story so thoroughly it draws a tear to the eye.  Shirk has her comedic side, as well as her sharp and biting side, featured earlier in the production in "If Momma Was Married" (Gypsy) and "A Boy Like That", a duet shared with Viets, who sings "I Have a Love" both combined from West Side Story. Shirk has a positive stage presence that carries through all of her numbers and it is difficult to take your eyes from her whenever she is a feature in a song. Watch out for her little number "Ah Paris" from Follies and you might hear a highly humorous Parisian accent slip its way into the mix as well.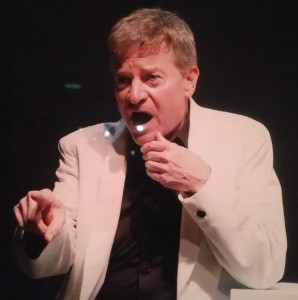 That said, Gary Hiel is running away with the show. A scene-stealer of sorts, as he only takes the attention when he's meant to take the attention, Hiel has a performance range of abilities a mile wide that truly bring the show together. The hysterical calamity of his interpretation of "Not Getting Married Today" is the funniest number in the show. With frantic panicked expressions, a rapid-dash patter that keeps pace with Lawler's furious fingers and Sondheim's sadistic tempo, and an indefatigable energy that carries him through this number, Hiel is an honest hoot. What makes him more impressive is he finishes this crazy chaos of a number and rolls right into the most haunting and beautiful ballad, "I Remember Sky." The lighting of this moment casts half his face in shadow, which augments the bittersweet sentiment of the tune as he paints a vocal masterpiece; image after image felt, actualized, realized and livened to entice the full gamut of senses. Hiel is an exceptional addition to the quartet and has the animated energy of the late Robin Williams; touching our hearts while making us laugh and smile. A gift to complete the show, Hiel is stellar in every song he sings.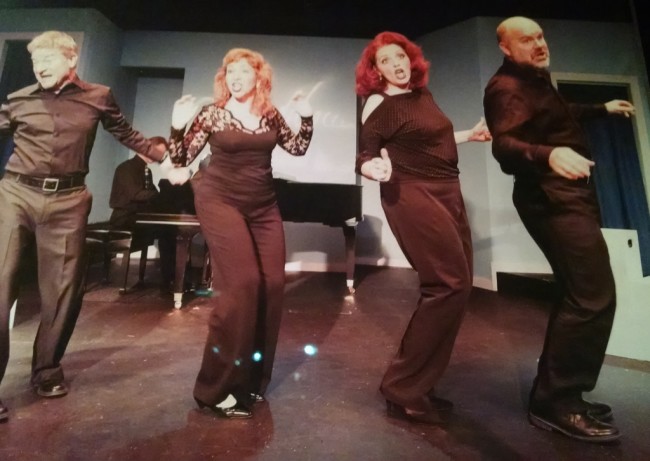 So as mentioned, tragedy tomorrow and comedy tonight. Let them entertain you, let them give you a truly wonderful evening at the theatre. How often do you get to go out for an evening of amazing story telling that really moves you? Take your chance with the Vagabond Players and their brilliant production of Side by Side by Sondheim.  
Side by Side by Sondheim plays through May 17, 2015 at The Vagabond Players— 806 S. Broadway in the heart of Fells Point in Baltimore, MD. For tickets call the box office at (410) 563-9135 or purchase them online.
To read Side by Side by Shannon, an Interview with Director Shannon Wollman, click here.