Italia – che bella! The beautiful language, the exquisite cuisine, the sensual music – there's a reason Italy is considered one of the most romantic places in the world! While Italy may seem worlds away, here in Baltimore we are able to experience our own little taste of the Old World culture in downtown's Little Italy. With all of its independent restaurants, featuring charming atmospheres and top-notch foods, Little Italy is one of the most romantic places that Charm City has to offer. So what better place to enjoy a production that showcases everything related to the topic of amore?
Newly-formed theatre company Epic Productions, Inc., is taking full advantage of this venue for their hit musical production, I Love You, You're Perfect, Now Change! Back by popular demand after a limited run in February (to read the review of the February show, click here), this show takes place at the Ciao Bella restaurant, right in the heart of Little Italy.
By arriving early, you can experience the full offerings of Ciao Bella's Italian menu (try the Veal Saltimbocca – it's phenomenal!). However, once the actors take the stage, that's when the real fun begins.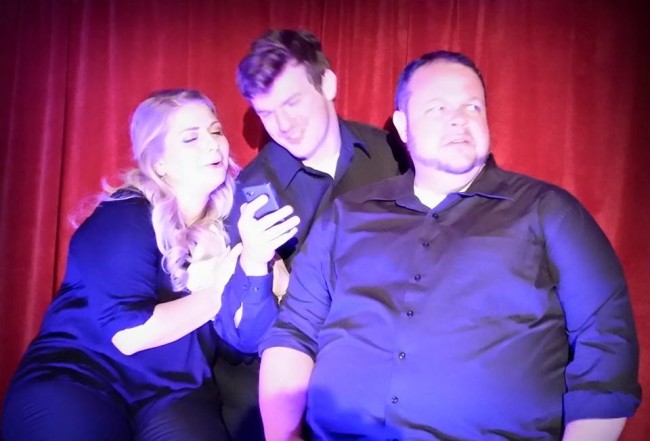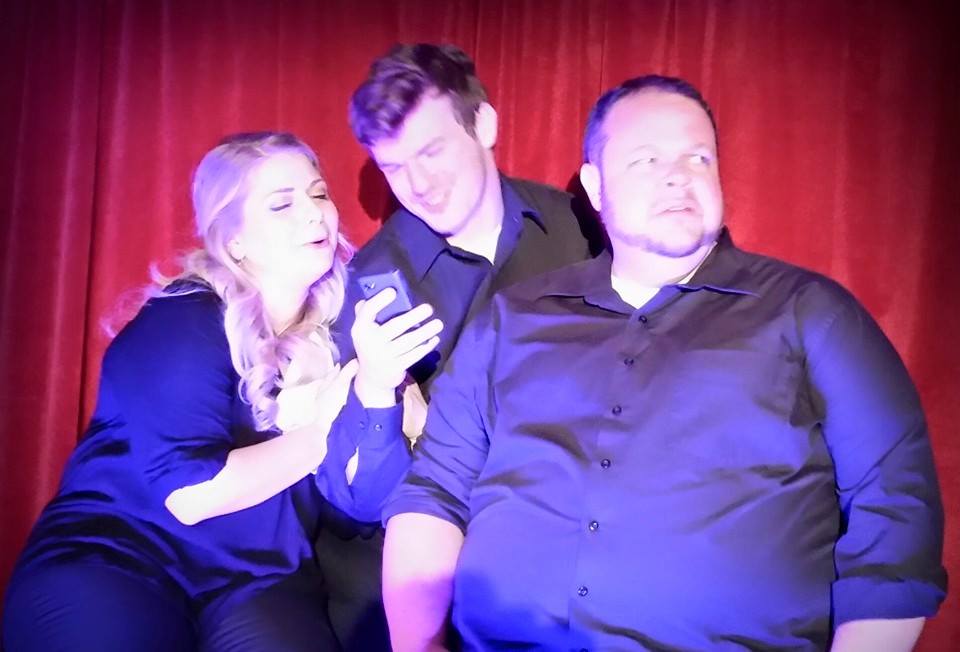 Director and Founder of Epic, David C. Jennings, has truly found a gem in Ciao Bella. The performance takes place in the private dining area, located at the back of the restaurant. While the space is small, Jennings has done a brilliant job of directing the actors to use every available inch; in fact, this allows them to be up close and personal with the audience, fully engaging them in every moment of the show. The production itself is presented as a series of vignettes dealing with a variety of topics related to love – everything from the first date jitters, to marriage and divorce, child rearing, and everything in between. While unrelated, the scenes move through the evolution of a relationship in an arc form, beginning with dating and ending with an elderly couple rediscovering companionship during their golden years.
Jennings has managed to equip himself with a phenomenal ensemble of both actors and musicians. The four-person ensemble (comprised of Brian Nabors, Stephanie Leonardi, Michael Kenny, and Tamarin Ythier) all have powerful voices that fill the entire room, and the harmonies that they create with each other are astounding. The orchestra is composed of two musicians – Musical Director Charlotte Evans on the electric keyboard and David Evans on the mandolin. Although the piece was originally written for guitar, the mandolin helps to lend a certain romantic Italian nuance to the show. Both musicians never miss a note (literally!), and their performance is superb.
Actress Tamarin Ythier gives an absolutely wonderful performance. Her vocal range is beautiful, varying from a belting alto to a lovely Soprano. Each artist performs at least one solo piece during the show. Her rendition of "Always A Bridesmaid" is delivered extremely well. You can't help but laugh at the ridiculous gaudy dress that she wears, and her comedic timing when delivering the campy quips of the lyrics is superb. Other standout moments in her performance include a sickeningly sweet (yet slightly gangsta) mentor for a "Scared Straight" dating program and a disappointed, bitter mother who gives her newly-single son hell for his life choices in "Hey There, Single Gal/Guy".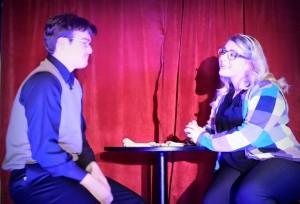 Actor Brian Nabors showcases excellent chemistry with his usual scene partner Stephanie Leonardi. His physicality during the song "A Stud and A Babe" is fantastic, and the mutual awkwardness that flows between Nabors and Leonardi when they realize they aren't so studly and babish is hilarious. His solo performance in "The Baby Song" displays a perfect dichotomy between the overly doting, first-time parent (who just can't seem to break out of the baby talk phase) and the frustrated man who realizes how moronic he truly sounds. Needless to say, Nabors' voice is also stellar!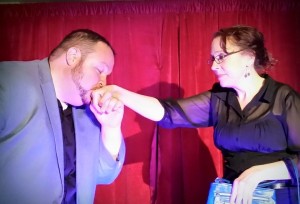 Actor Michael Kenny gives an incredibly diverse performance throughout the production. His facial expressions and physical movements are pure genius. Whether he's playing a man who is fighting the urge to break down during a "chick flick" or portraying a terrifyingly funny convict in the "Scared Straight" vignette, Kenny is always on point. His singing voice will also not cease to amaze. Not only is he able to channel both his inner Gospel and powerhouse ballad, but he can also hit those high notes! Kenny's strongest performance comes from his big solo, "Shouldn't I Be Less in Love with You?" A powerful, poignant ballad, this piece reminds us how some couples can still be so in love after 30 years of marriage, and it may bring a tear to your eye as it is delivered to an unsuspecting Ythier, who sits reading her morning paper at breakfast.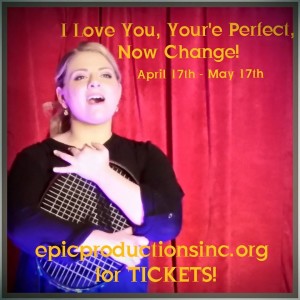 Last, but certainly not least, is actress Stephanie Leonardi. Like her fellow ensemble members, Leonardi houses both an incredible voice and amazing comedic timing and movement. Her solo "I Will Be LovedTonight" is incredibly touching and will pull at the heartstrings of anyone who has ever spent a lonely night craving human connection. However, her absolute dynamo moment comes during the delivery of the monologue "The Very First Dating Video of Rose Ritz." Showcasing a broken woman who is rejoining the dating world after a nasty divorce, Leonardi presents incredible levels during this piece. She allows herself to work into a hilarious frenzy, as she uncontrollably spews her emotional baggage for the entire video dating world to see; yet, in the end, she brings herself to a very vulnerable, emotional place, as she comes to term with who she is and what she really wants.
Choreographer Jamie Eacker has done an incredible job with the dance numbers in this production. Working with limited space, she is still able to create a comedic "Marriage Tango", which allows us to feel the sexual tension between a married couple with zero alone time. Her choreography of the Broadway-style parody number "He Called Me" is dazzling, and the dancing pizza men leave the audience in stitches.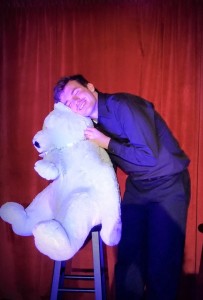 As for accessories, director Jennings has been able to work wonders with very little. He outfits his actors in black and throws in various accouterments, such as baseball caps and wedding veils, to change their characters in a flash. Working without a set, Jennings has instead chosen to focus on small props to convey the location, be it a bar table and stools for a date or randomly placed chairs to simulate a car. He also makes good use of a suspended bed sheet to convey more intimate matters. Finally, his transitions between scenes are absolutely flawless, leaving zero dead space on the stage.
I Love You, You're Perfect, Now Change! is a fantastic performance that will make you laugh, cry, and rethink everything you've ever known about love. Whether you're looking for a romantic date night or just a night on the town with your friends, this is one performance you won't want to miss; however, due to some language and adult situations, you may want to leave the kids at home for this one.
Epic Productions, your first production truly was epic. I love you, you're perfect….please don't change a thing!
Running Time: Approximately 2 hours with one intermission
I Love You, You're Perfect, Now Change plays through May 17, 2015 at Epic Productions Inc. at Ciao Bella in Baltimore's Little Italy— 261 South High Street in Baltimore, MD. Tickets are available at the door or in advance online.