From the moment Kecia Campbell strides on stage as Sophie Washington in a plain, sensible dress and sturdy boots, toting a shotgun, Flyin' West presents realistic, incisive portrayals of the women of color who settled the West in the 19th century. It's set in the real-life town of Nicodemus, Kansas where newly-freed African Americans created a community following the Civil War. Presented by Bowie Community Theatre at The Bowie Playhouse and Directed by Estelle Miller, the piece is a strong, albeit lengthy, drama of solid quality for this company.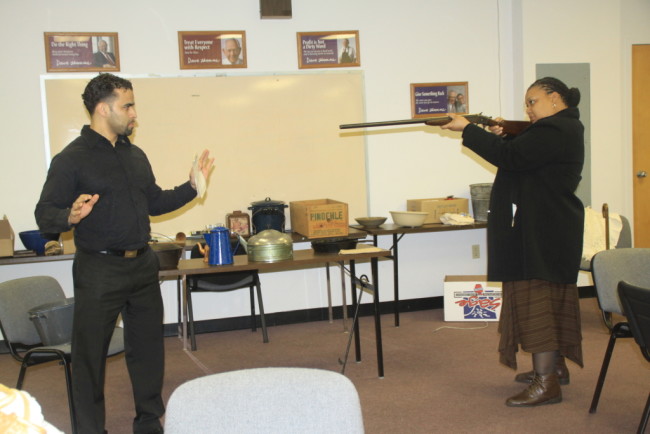 Sophie is fiercely protective of the home she shares with Fannie Dove, played with wit and compassion by Lolita Marie. Fannie, good-hearted and a little naive, is the moral center of the family. They share their homestead with Miss Leah, played by WATCH winner Sandra Cox True. Miss Leah is now too old to move quickly, but every time she opens her mouth, True owns the stage. She tells stories from her own time in slavery; brutal, heartbreaking, and absolutely captivating. Fannie, a gifted story-teller herself, wants to document Leah's life in a book, but Leah won't have it. "Some things got to be said out loud, to keep the life in it", Leah says.
They are visited by their younger sister, Minnie, and her husband Frank Charles, from London. Minnie, played by newcomer Brawnlyn Blueitt, is sweet but passive, and easily cowed by her brutal husband. Ben Harris' Frank is half-white, and can "pass", affecting an English accent. His character is unfortunately presented as the cardboard villain of the piece, the self-loathing black man, but Harris' performance is at its most affecting when he sympathizes with the plight of a man who wishes to avoid the persistent, pervasive racism of Jim Crow America. 
The women have all fled the south to a brand-new place, where land was open and nearly free. An exhibit in the lobby includes a poster that invites blacks to help establish a new town, with land grants for five dollars, as long as they can live on the homestead. Miss Leah grew up treated more as an animal, a beast of burden, than as a human being, with neither respect nor the possession of her own body. The sisters, only one generation removed from that monstrosity, are still not treated as fully human. Sophie responds by demanding that the town remain purely black, to establish a place where they can be themselves without having to sell out to white culture. That's precisely what Frank wants, so that he can travel in Europe. Paradoxically, he wants to shed his black identity, while claiming that the Europeans don't care about the color of his skin.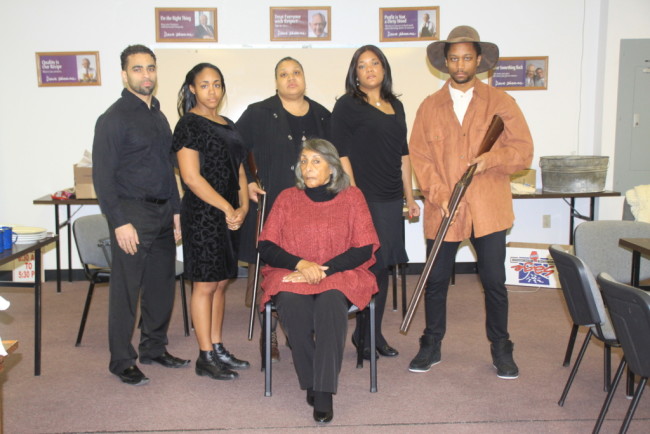 The play is by turns savage and hilarious, especially when Marie and True have the stage together. True tells her stories as if they were her own, even while constructing an apple pie. I wish we got to see more of Darius McCall's sensitive, engaging Wil Parish. Director Estelle Miller gets dedicated performances from every single one of her actors, who commit to their characters going about their domestic business and inner thoughts even when the focus of the scene is elsewhere. They maintain their character's rich inner life even through the somewhat overlong set changes. (The infectious blues songs selected by Miller as the sound designer do help pass the time.)
Dan Lavanga's set lets us see both the action going on inside the house and out front of it. It's constructed as the frame of a prairie house, visible right through to the windmill and enormous sky beyond. The inside is lavishly dressed, with authentic-looking props and furniture. Garrett Hyde's lighting takes full advantage of the open plan, ably conveying the passage of time and weather. Together, the house seems both a cozy home for a family and a tiny dot on the vast midwestern landscape.
Costumes and hair firmly ground the play in its period. While the Kansans are dressed in plain, sensible dresses, Gayle Negri and Jeanno Binney dress the vistors from London with elaborate clothes in rich, expensive-looking fabrics with fine detail. The contrast declares their success, but also the way that the youngest sister has been set apart from a family she still loves. Maureen Roult has chosen a hairstyle that suits each of the women: a pragmatic bun for Sophie, a pretty but efficient wraparound braid for Fannie, and an exquisite up-do for the sophisticated Minnie.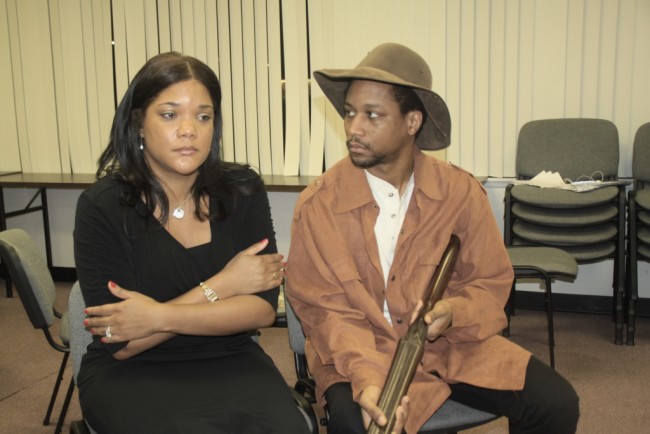 Pearl Cleage's characters are both black and female, two groups overlooked in the story of American history. The story spoke powerfully to its audience. I have rarely seen an audience so thoroughly captivated by a story, and the standing ovation they gave it was authentic and heartfelt. While the script was a bit overlong, and rather telegraphed its punches, its leading ladies leap out from history and demand the attention they have deserved all along.
Running Time: 2 hours and 40 minutes with one intermission
Flyin' West plays through April 25, 2015 at Bowie Community Theatre at The Bowie Playhouse— 16050 White Marsh Park Drive in Bowie, MD. For tickets please call the box office at (301) 805-0219 or purchase them online.