Outrageously delicious satire is being served hot as the main course over at the Howard Community College Arts Collective this spring as they present Avery Crozier's Eat The Runt. Directed by S. G. Kramer, this zany upended play without pronouns is a brand new breed of comedic chaos that features a different cast every night! You read correctly: eight actors, eight characters but no two shows are quite the same! With a scintillating whirlwind script this installation of theatrical insanity ensures a night of rip-roaring comic displacement that will have you wriggling to the edge of your seat.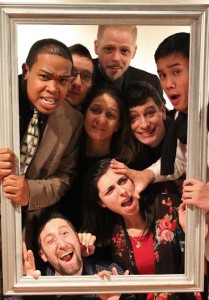 A quick word on Avery Crozier's script before delving into the well-deserved praise of the cast and creative team of the current production; it's pure genius. Crozier crafts eight distinct characters with cleverly concealed gender-neutral names so that any actor or actress can take on the role at any given time. The formulaic mirror parallel that is created between the first act and the second act is striking and commendable as well. It's a gripping and wholly inappropriate comedy that tickles your funny bone in a truly awkward fashion.
Set Designer Jeff Harrison isn't constructing a set, he's creating an atmospheric emersion that delves the audience deep into the play's reality. A theatrical museum— a living museum of sorts— that serves as an art gallery but more symbolically a gallery of whacky characters all on display for the audience's viewing pleasure and horror. Harrison transforms the Studio Theatre to theatre in the round with plastic drapes on all sides, mimicking an art exhibit under construction. The feeling on an installation being installed never escapes the scenic work, which serves a reflective purpose to the script's plot as the gallery attempts to hire a new grant writer.
Harrison's visionary work is aided by Digital Scenographer Riki K. and Lighting Designer Lynn Joslin, Infusing the atmosphere with quirky and modernistic "art" via projected images really creates a base reality for Harrison's set. Joslin understands indoor scenic lighting most keenly; really making the amber glow that cuts through the plastic sheeting look like an art installment under mysterious construction. Both Riki K. and Joslin's defining moment occur when Hollis— the museum curator— gets his installation up and running with laser visuals covering every available space of wall and floor in the set.
Sound Designer Kevin Hill enhances these strikingly modern visually pleasing moments with ambient noise that welcomes in the modernity of art. The static, the strange mechanical sounds; all of these wondrous and strange found noises serve to augment the aesthetical experience. Hill selects a great deal of intriguing music to glide the show along as well. Upbeat and tempo driven music with rhythmic undercurrents sets a frenetic intensity to the show that really keeps scenes motivated.
Having only seen one showing of the three presentable casts, Costume Designer Shannon Maddox explodes the absurdly modern notions of these rich and ridiculous characters into her design work. While Merrit— both original and new— have pressed dapper suits in this particular cast incarnation, it's the quirky clothing accessories like the glitzy scarf for Hollis, and the obscene red and black polka dot socks for Royce that really do the trick.
Director S. G. Kramer masters this production in a manner that really encourages the ensemble to play off on another in a way that best suites the strange nature of the show. When the choreographed chaos arises late in Act II its sheer pandemonium. Kramer's understanding of how to block a show in the round to maximize character interaction and potential as well as correctly utilize the space given is astounding. The pacing of the show is stellar; a face-paced march that keeps the laughs rolling, the absurd moments lingering to the exact moment of their expiration, and the infinite possibilities of chaotic confusion slamming the audience until they don't know which way is up.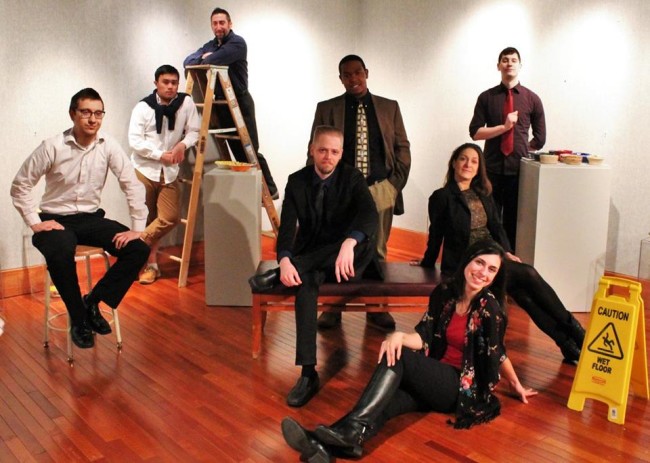 Words won't do these performers justice, particularly that only one performance of their vast many can be viewed at a time and there are many different casting possibilities. Their cohesive ability to work together as an ensemble is astonishing; playing to each other's strengths and assisting one another through the scenes. The cast of eight does exceptional character work across the board; grounding their very distinct and highly unusual characteristics into physicalities, accents, gestures, and present energies that result in a brilliant performance. Not wishing to spoil just who plays who, in case this is the cast you encounter; only actor names will be referenced.
Scott Lichtor takes on a curious character, though all the characters in this play result in being quite curious, and does so with memorable flare. Lichtor's strength is in his facial responses, many of which are silent. Interacting in scenes with Anthony Scimonelli, Lichtor gets to showcase a wide range of startled and shocked expressions that are truly too terrific for words. His drastic blindsiding shift in demeanor is equally striking. Lichtor adapts a pseudo Austrian-German accent for the character witnessed at this performance and it is both sharp and amusing in his over-dramatic delivery of said character.
Brandon W. Love internalizes a great deal of this character's surprise, fear, and overall flabbergasted disbelief and holds it as an energy with which he guides his movements. Both with Anthony Scimonelli and Noah Bird there are scenes that are simply beyond believable compare until scene, both of which happen with Love's strong commanding stage presence and ease of character grounding.
Gabrielle Amaro is a member of the strong and silent variety. Her perceptive understanding of comic timing when it comes to her entrances and prompt exits of a scene make this character portrayal an uproarious ride for all to enjoy. Another actor relying heavily on articulate facial expressions, it's often her silence followed by clipped delivery of lines that catches the eyes and ears of the audience.
Noah Bird delivers a frightening intensity when he arrives on the scene. In a moment shared, however forcibly with Brandon W. Love's character, Bird soars with insanity that would haunt even the most spectacular of nightmares. It's Bird's vocal cadence that grounds his character in a reality outside of the chaos inside the museum; level and deliberate, that really hones into the focus of his existence on the stage.
Diego Esmolo adapts a blasé and bourgeois attitude to make his character pop from the pavement so to speak. There is an aristocratic finery drenching through this portrayal, focused mainly in Esmolo's affected accent. The languid strokes of words that pile laboriously atop one another really define this particular character to perfection. Esmolo wears this character's style in his gestures, arms flinging and flailing, body stretching with sultry intent.
Daniel Johnston adapts a flamboyant character that is similar and yet completely the opposite of Esmolo's character in this performance. With a different affected accent, Johnston delivers a snappy, edgy sasspot of a role, oozing sophisticated confidence with every slinking step. There is a prowl in Johnston's gait; and the sensuality borders on explosive when it comes into interacting with Anthony Scimonelli throughout the course of the performance.
Terri Laurino is the major accent in this production. While Austrian-German, Affectedly Flamboyant, Hicksville Southern, and Voodoo Creole are all present it's Laurino's succinct frigid British sound that really catches the ear's attention. Her persona in this character is as stiff as her accent; crisp and frosty with the ability to send shivers down the spine. But watch her closely because when she erupts it's a blast of boiling lava that bursts with bombacity all over the stage.
Rounding out the performances of the evening is Anthony Scimonelli, who spends no more or less time on stage than the other performers but seems to— at least in this role— catch the attention of anyone watching just a bit more readily. Scenes with Daniel Johnston are unspeakably hysterical, particularly when the pair gets to throwing their bodies into it, and the indefatiguable energy that Scimonelli brings to the perpetually frenetic character is breathtaking— or perhaps takes one's breath away. Animated both physically and vocally, there is definitely a moment or two where Scimonelli steals the show.
Wanting to encourage the audience to see this brilliant ensemble of eight in all of the different roles that they perform, the HCC Arts Collective is offering members of the audience a discount code at the end of each performance to purchase a half-price ($8) ticket to return during one of the other evenings of the run and catch a different cast— resulting in a completely different show.
Running Time:  95 minutes with one intermission
Eat The Runt plays through May 3, 2015 at Howard Community College's Arts Collective, in the Studio Theatre of The Horowitz Visual and Performing Arts Center—  10901 Little Patuxent Parkway in Columbia, MD. For tickets call the box office at (443) 518-1500 or purchase them online.