It's a long road, but a good one; the journey through The Herzog Festival at Centerstage this spring. At least, the back end of the road is worth the journey. Debuting as the second half of the repertory cycle, 4,000 Miles, makes a more lasting impression and is overall more tolerable and enjoyable as a production than its counterpart, After the Revolution. This work, though it is unclear as to where it sits in time in regards to the aforementioned play, is vastly more engaging, compelling and worth sitting through. Directed by Lila Neugebauer, the story focuses on the strength of relationships and the way that time and distance can alter those relationships.
After watching both parts of The Herzog Festival, the question is raised as to whether Amy Herzog as a playwright is worth holding a rotating repertory festival over, or perhaps if these are the two works that best epitomize her style and contribution to the theatrical canon. The plays have seemingly little to do with one another, save for a single crossover character and a thinly threaded binding tie of Communism, which features much more prominently in After the Revolution than it does in 4,000 Miles. This particular play feels inconclusive by its end, but has a much more natural feel to it than After the Revolution. They make for a strange pairing of mediocre theatre; 4,000 Miles being the stronger written and better performed of the two might have done just as well as an individual play in the Centerstage season.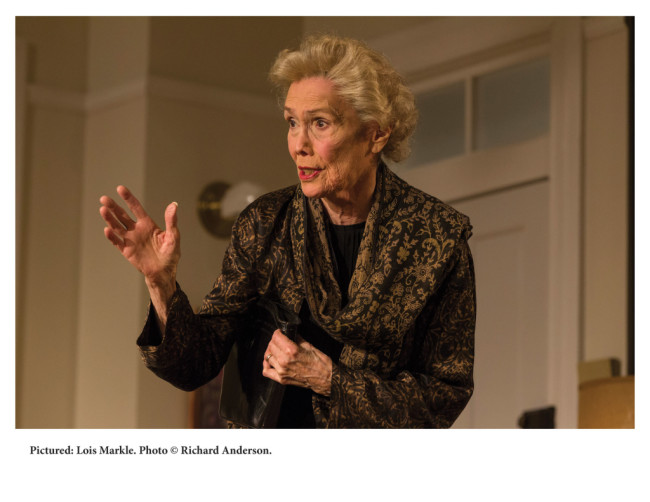 While the acting in this performance is stronger, more realistic, and less contrived than in After the Revolution, it is again Lighting Designer Eric Southern and Sound Designer and Original Composer Brandon Wolcott who infuse creative genius into the play and make it worth witnessing. Southern has a mastery of making artificial light appear natural. There are scenes where dawn's light creeps in a slow fade through the interior of the apartment from just the right angle and bathe the walls in the way that the sun would if the windows looked out into the actual world. Southern casts moonlight in a similar fashion; perfecting the way in which the subtlety of darkness is gentle pervaded by this iridescent glow.
Wolcott uses some of these lighting cues to snap a few scenes into action, primarily the opening scene, though many of these jarring transitions are absent in this production. This is a stark contrast from the way almost every scene snaps open and closed in After the Revolution. Wolcott's keen understanding of melodic infusion provides emotional closure to each of the scenes as they pass. His curious blend of original found sound music brings finality to each movement in the show. It is initially noted in Leo's arrival, where plucked rolling guitar chords exude a caustic blend of rambling roaster; equating to a bike-dirt hippy arriving in Manhattan. The musical accompaniments that follow the stoned-couch scene, and the failed one-night attempt are both enigmatic and symbolic representations of the progressions and emotional discoveries found within the scene.
Neugebauer does drive the pacing of this play along much more quickly than the first half of the repertory series, however there are still pauses and moments that linger a little too long in places. Her spatial analysis of how to block characters at the right range of intimacy of one another speaks volumes for the text where Herzog's work is otherwise lacking. The show is tighter and completes its journey much more naturally without the assistance of emotionally contrived artifice.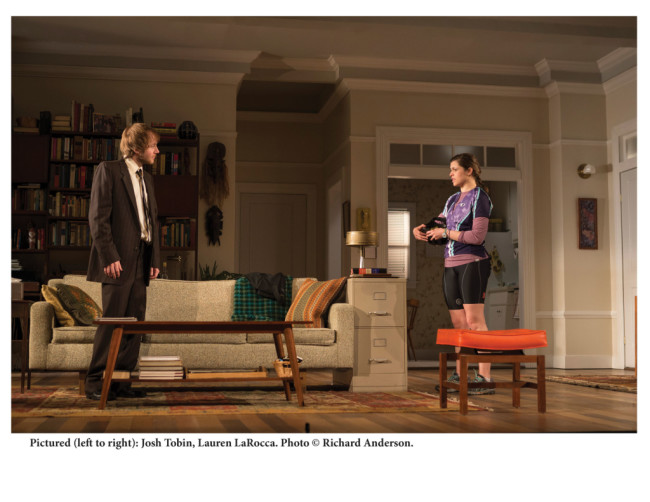 The two supporting characters of Bec (Lauren LaRocca) and Amanda (Jennifer Tsay) shape the play into a palatable piece of drama, rather than just a touching exchange of lost relations between grandmother and grandson. While Herzog's work is a quaint examination of relationship dynamic and how two lost persons can reconnect with one another despite loneliness and trauma, it's the addition of the spastically charged ex-girlfriend and the abrasively eccentric one-night stand that carve depth and dimension into the work. Both LaRocca and Tsay interact primarily with Leo, never crossing paths with each other, though their character's existences serve similar purposes in his life.
LaRocca delivers a fiery stand-off of emotions in her initial encounter with Leo, but continually meets a physical barrier in this expression of anger and bitterness during their fighting. There are moments where watching her body stiffen with arms clutched at her side as if she's purposely trying to keep herself from moving become painful because it stagnates her evocative turmoil in the argument.Her final scene with Leo is of a similar emotional intensity though the feelings have changed.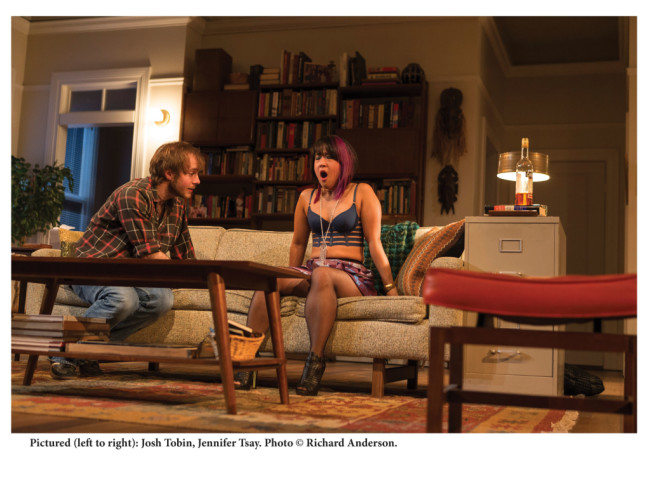 Tsay delivers a poignantly obnoxious and exotic character portrayal in the sense that she is bombastic, loud, and peculiar by comparison's standard to the other three characters in the play. Though Tsay makes it easy for the audience to dislike her character because of extroverted and upended nature, she gives a sturdy performance in the supporting role.
Leo (Josh Tobin) and Vera (Lois Markle) are the focal point of the story. With Markle existing as the only crossover character in the repertory cycle; the dynamic of their relationship becomes an intricate hybrid of dysfunctional families that cannot relate tied into the trappings of age— both old and young— juxtaposed against living and death. The chemistry between Markle and Tobin is in perpetual motion, but it is strong whether they are shouting at one another, with Tobin's character doing a great deal of emotional projecting at Vera, or taking solace in the other's company; the way they feed off one another naturally from scene to scene, moment to moment, conversation to conversation is genuine and occurs easily.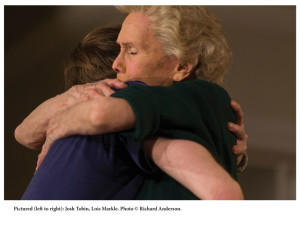 Tobin is the epitome of a stressed out hippy. His emotional demons taunt him and when they manifest physically and vocally they possess his body in a way that is both mesmeric and terrifying to behold. The scene in near darkness where he confesses his own trauma and coping issues is truly harrowing; a striking and bold comparison to the rest of his more surface conversations held throughout the play. Tobin's ability to adapt the scene to his character's mindset and emotional state is sharp; each scene raising the stakes of the relationship between he and his Grandma Vera.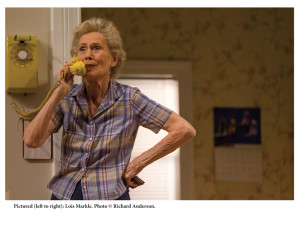 Markle delivers a compelling performance in this production. Her doddering inability to grasp words is painstakingly accurate to the octogenarian generation that so often struggles with words slipping in and out of memory. Her shuffling and physical commitment to the character is uniquely grounding and helps to develop the sense of distance and difference between her and Leo's character. When she has advice,  you hear it, and she is not without her quirky charms. Delivering a healthy dose of comedy throughout this meandering drama, Markle provides exacting precision to her more comedic moments, even finding the dark warped humor in Tobin's post-confession scene.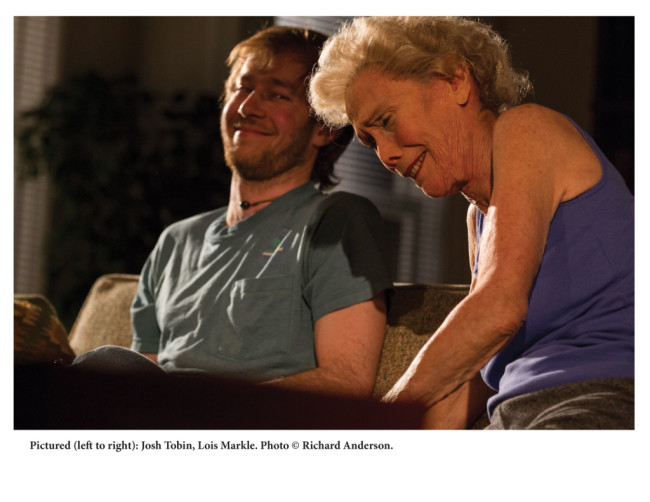 The pair work exceptionally well together. The scene of the play coming midway through when they are discovering and discussing both everything and nothing while bonding on the couch. Markle's physical ease and Tobin's intellectual proclivity in that moment charge it both humorously and emotionally making it a scene worth remembering.
4,000 Miles serves as the more impressive of the two in the festival, and as they have virtually nothing to do with one another, they could be seen independently outside of one another. If only one of the two can be seen, this is the one to choose.  
Running Time: Approximately 100 minutes with no intermission
4,000 Miles plays through May 24, 2015 in The Head Theatre in rotating rep as a part of The Herzog Festival at Centerstage— 700 N. Calvert Street in Baltimore, MD. For tickets call the box office at (410) 332-0033 or purchase them online.
To read the review of After the Revolution, click here.