Oh she of skin so pale, eyes so black, and dress cut down to Venezuela; Morticia Addams is muddling through plums as she discovers that not each husband is a gem! Fortunately, death is just around the corner and she's happy being both the mourned and mourner! Settling in for the penultimate piece of the Move Toward the Darkness interview series, we sit down with Priscilla Cuellar and discover what life is like as Morticia Addams in the Toby's Family Household.
If you could give us a quick little introduction and a brief performance history where people may have seen you last in and around the area over the last year we'll get started!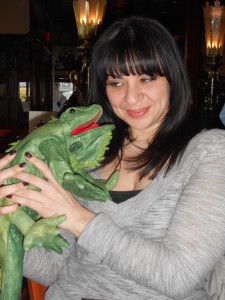 Priscilla Cuellar: I'm Priscilla Cuellar and I am playing Morticia Addams this time around. A year ago I was in Spamalot at Toby's as The Lady of the Lake, and between then and now I did Into the Woods at Next Stop Theatre Company. I played The Witch. It was such a great part!
What was the appeal to want to come and be a part of The Addams Family at Toby's?
Priscilla: Well, a good friend of mine from school was actually on the first national tour. My friend Brad Nacht. He's actually worked at Toby's and he's from the area. He's done a whole bunch of stuff up in New York, Broadway,  and all that. I went to see him in it and I really enjoyed it. I thought it was really fun. It was silly and a good time. When I heard that Mark (Director Mark Minnick) was directing it; I absolutely wanted to be a part of it. That's actually really all you need to see when you want to get my attention for a show: Mark Minnick.
Did you go to auditions with Morticia in mind or were you just hoping to be a part of it in whatever capacity they would have you?
Priscilla: I'm not the biggest dancer so I figured I probably wouldn't be in the ensemble. I know I'm not a Wednesday. Pretty sure I wasn't a grandma. I felt like I related to Morticia the most, so I guess to answer your question, yes I was hoping for Morticia, and that was what I went in for.
Why do you feel like you relate to Morticia?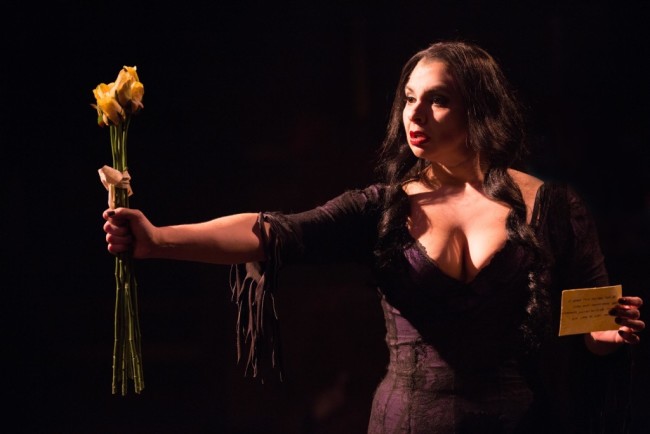 Priscilla: Good question. There's a few traits about her that are a lot like me and then there are a few traits about her that are completely the opposite of me. For me, I don't have kids, but I do have a lot friends, I have nieces and nephews and people that I'm really close to. I feel like her sense of loyalty and protectiveness is very much like me. I'm very protective of my friends and family. I'm definitely one of those "…if you mess with them, you mess with me…" sort of people.
I feel very similar to her in that way. I feel very different from Morticia in her demeanor. I felt very silly at first because she's so sexy. I don't feel like I'm a sexy person. I'm very clumsy and silly. So it was really, really tough for me at first to just be this person who feels so sexy and confident all the time. I just had to realize, "you're not being you, Priscilla, you're being this other person." And I just embraced it. Eventually I gave in and went for it. And now it's fun. Of course with that costume you're getting sexy whether I feel it or not.
Tell us more about your dress cut down to Venezuela. And the overall look of Morticia? What's the trick?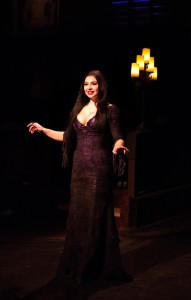 Priscilla: The dress fits me extremely well. Everything is pretty secure and tight in there. I do a little check every time before I go out on stage. For the most part I'm secure but if I do feel I'm on the brink of exposure, I do a little "cross-my-arms-and-sweep-back-in" move that I've created just to make sure there's no inappropriateness. And Morticia crosses her arms a fair bit, so I've got it all worked into her character.
The movement of her was difficult at first too. I really had to think about it all the time. Now it comes relatively easy because I'm used to it. But learning how she walks and how she stands, the dress definitely helped with that because it is quite restrictive in the legs. My posture isn't that great in real life, so I was constantly thinking about how to keep her upright every time I was on stage until I had trained that into my body. It definitely took some getting used to.
Then you add on the layer of the shoes, and her makeup, and it all comes together. The shoes? Still a little painful but I'm used to it. They're actually pretty high heels. I want to say they're like four or four and a half inches? They're pretty tall. I'm 5'5, and then you put another four and a half inches on that— that puts me almost at 5'10, but Larry (Lawrence B. Munsey, Gomez Addams) is like 6'2…maybe I should switch shoes with Lurch. He wears those big foam platforms; they're probably more comfy than mine.
You know I'm still terrified of falling every day. I'm going to trip on my dress or trip out of my shoes, something. The lace on my dress gets caught on everything. I'm generally pretty clumsy and Morticia is not at all clumsy so it's really scary to think about what would happen if Morticia stumbled or fell because she just doesn't do that. I think that fear helps keep me upright, honestly.
What has this role been like vocally for you in comparison to other roles you've undertaken?
Priscilla: It's actually been really nice and relaxing. Morticia's songs all sit in a really good and easy place in my voice. I think that's because Bebe Neuwirth (originated the role of Morticia in The Addams Family) couldn't go too far note-wise. I do sometimes get jealous when I hear Beth (Elizabeth Rayca, Alice Beineke) or MaryKate (MaryKate Brouillet, Wednesday Addams) because they have these great crazy belting songs that they sound amazing on and I miss that. But at the same time I still think Morticia has really great songs and they're fun.
What are these fun songs you speak of? Tell us a little bit about them and how you're working your dancing, that you don't do, into those numbers.
Priscilla: I love them both. I like "Secrets" because it really establishes who Morticia is from go. From the beginning. Now if you've only seen the Broadway show or you only have the Broadway cast recording, this song was not in that show nor is it on that soundtrack. It's part of the rewrite for the tour. I actually watched some of the YouTube videos from the pre-Broadway run in Chicago, having only seen the first national tour live, and just remember saying "what is happening here? This is not the show I saw."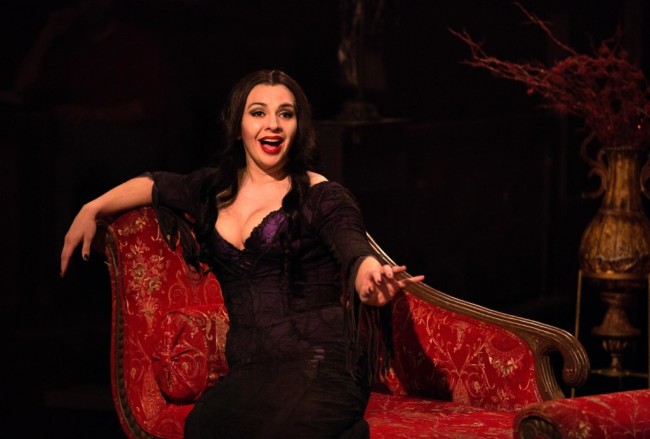 But I love this song because it establishes Morticia's need for honesty and loyalty. This is the Addams way and this is how we do it. The dancing is fun. I fight Mark every time he tries to get me to dance. I don't mind a little movement; you know a grapevine or a little box step? But when it's anything more than that I get really nervous. But that's my thing. Mark wouldn't put me in the role if he didn't know I could do it. I always fight him about it, and I'm sure he hates every single dance rehearsal he's ever had with me because I get frustrated and crazy. And then I stop myself and I say "Mark wouldn't let me do anything that I couldn't do and he is just pushing me to do the best that I can do." And we work through it and I dance. It's a lot of fun now, but getting there is always an interesting process.
I love "Corner" ("Just Around the Corner") I love that I get to come out for a big opening number for the beginning of the second act. The song is funny and I really enjoy singing it. It's this big old-time group dance number. I feel like a lot of musicals these days don't necessarily have those anymore. Everyone is out there having a great time. I love being able to look out at the ensemble and they're all smiling and dancing; it just makes my heart sing.
This is the second show in a year's time wherein you've played romantically opposite of Larry Munsey. What's it been like working with him for Addams?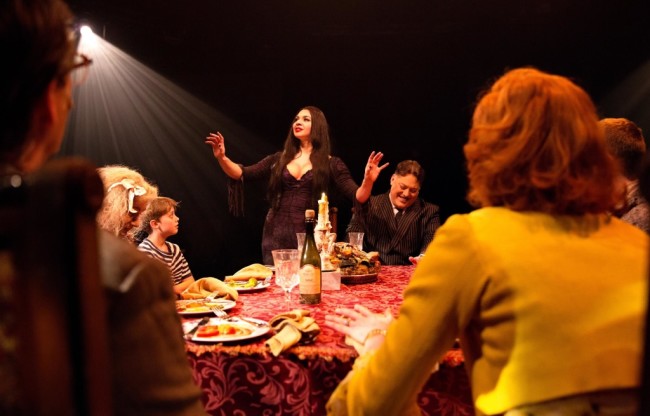 Priscilla: Secrets! Spoilers! Backstage romance. You know it's happening all the time with him and I. Just kidding. I do love working with him. Larry and I just click on stage. And off, actually, I mean obviously we're friends and we hang out and get along great. But there is just a certain chemistry that him and I have where we just know what the other one is going to do and how to react to that. We're still finding new discoveries with each other.
For me, it's the little moments that I have with him, that we have together, where we're not the focus. Those little moments really do it for me. You know a touch of the hand, or a little look that we have that no one else really sees. He and I just know each other  onstage very well. And it never gets old; we're still discovering new little things with each other and that keeps it fun for us both.
Talk about the "Tango De Amor."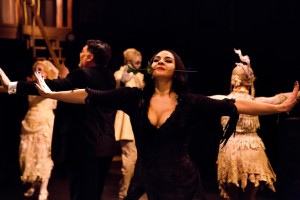 Priscilla: Again, I have to apologize to Mark Minnick in that rehearsal because I surely got frustrated. But again, that was just me being in my head.  But Mark, is always so good with making sure I'm comfortable and is always so encouraging. Now, it's one of my favorite routines to do. It's so much fun. I love looking around, seeing all us of doing the same thing, and seeing all of us really enjoying it. I think it looks cool. Well, I can't actually see it, but I feel like it looks cool. I love the whole "challenge" bit where Larry gets us going back and forth between me and the girls and him and the boys.
We know you saw the first national tour, but what was your cultural familiarity with The Addams Family outside of the musical?
Priscilla: I remember watching the TV show a little bit when I was younger. Reruns, obviously. But I mostly remember the movies. I've seen them both and I think they're just great. I love that dry, witty, humor. It's certainly more up my alley than other types of humor. The straight-faced, sarcastic joking; I love that. I more know Angelica Huston than any other Morticia; I adore her and I think she's brilliant in the movie. I had a hard time character-wise because there are things that you can do on screen that you can't necessarily do on stage.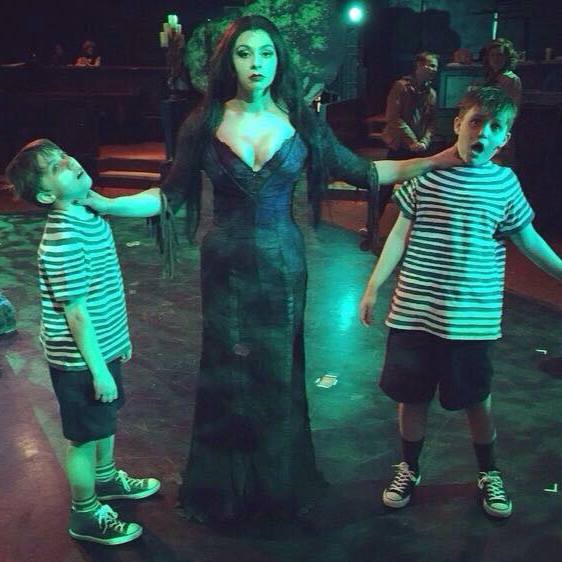 I had a hard time deciphering what I could and couldn't do because I wanted to do Morticia justice in the way that she is— that very dry, deadpan flat type humor— but I also realize I'm on stage. So I can't be this quiet, TV character. I'm in a musical. Thank God for Mark because he really helped me with that struggle. He helped me find the balance between keeping the campiness that is The Addams Family and keeping her dry sense of humor but also remembering that we're in a musical and we don't want to put people to sleep. I think that was the biggest difficulty I had in this role; finding the balance between staying true to her while being entertaining on stage and keeping the campiness and sarcastic witty humor of it all.
You mentioned that you are like Morticia. Is there an Addams character that is your favorite? Or that really speaks to you?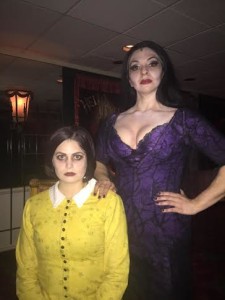 Priscilla: In this show? Or just overall? I guess from the movie and from this show I really like Wednesday. I think she's kind of a cool chick. She knows what she wants, she's confident and she doesn't really take any BS. Morticia raised her right.
"Move Toward the Darkness" is the 11 o'clock number that brings the show around full circle. What does that mean to you as a performer?
Priscilla: I remember hearing the song on my— I don't want to say CD player, you know what I mean, on my phone— in my iTunes. I remember trying to familiarize myself with it in the car on my way to rehearsal, just sort of hoping to catch the tune. And I started to really listen to the lyrics and I remember thinking, "Wow! This song is kind of amazing." The lyrics are beautiful. I hope that people are actually listening to them because they are really, really meaningful.
My favorite lyric in the whole show is "only at our lowest can we rise above" and that comes from "Move Toward the Darkness." I had actually thought that someone would have said that already in your interview series, but reading back through them I see that we've all picked out different lines in this number and that in itself is amazing. That line for me— it's just a true statement of life. I love how it brings the show all together. For as funny and silly and sarcastic as the show is there are a lot of hidden life lessons tucked away in places throughout. That song brings it all together.
In real life when I started rehearsals for this show I was going through a personal rough patch and I just remember thinking "wow, this song just makes sense." It's saying "you have to get to the bottom to get to the top in order to get even higher than you were before." You know the song sounds all dark and very "Addams Family-y" but I really feel like it's saying "don't be afraid, go for it, try something new, try that new door that you've never tried before." Sometimes you have to be willing to lose everything to do that. It always excites me when we sing it.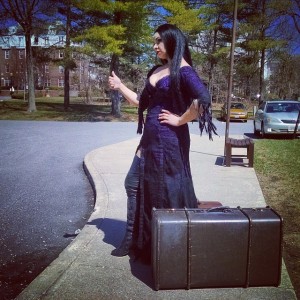 I hope people hear the words and the messages in this song. I know it's a ballad song and it gets going kind of slow, but I really think people should listen carefully to the words. It's deeply profound. I mean it's Andrew Lippa. I think people forget that he wrote these lyrics, and he's a really smart writer. That song is my second favorite. It just has so many little messages, plus it's beautiful with all the harmonies. It brings the show together perfectly at the end.
Why see The Addams Family at Toby's?
Priscilla: I just think it's a good time. You want to sit back, relax, laugh, and you can because you know these characters. You're familiar with them so come spend the night with them. Well not spend the night with them.  You know what I mean, spend an evening with the Addams Family. It's just such a great show and we all have a great time doing it. I think the can see and feel that and they have a great time watching it. Like I said, there's some good stories and good life lessons in there. The music is fun and it's just a silly good time. You can't come see this here and not laugh.
I mean we're trying really hard not to laugh at each other because it's so funny. Sometimes I want to not look at Larry because he makes me want to burst out laughing. Like at the end when he impersonates my father? It's just not like anything else he does and it makes me want to laugh so bad. It's so funny. We all love performing it. And if you come see it you will love it too!
Finally, the hardest of all questions. It is time to play Obligacion de Revelar! Full Disclosure time— one from Morticia and one from Priscilla, if you please!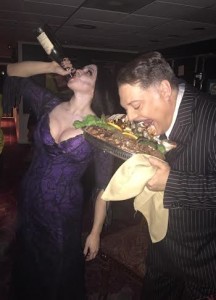 Priscilla: You know what's terrible? I have been thinking about this because I've read the other interviews, so I knew it was coming. But I kept saying I didn't need to really think about it because it would just come to me when we got here. And now we're here…and I've got nothing for Morticia or myself really. I don't feel like I have anything that's crazy! Oh wait! I just thought of something for Morticia. It's funny, though, it's kind of silly. Morticia's full disclosure is that she secretly likes Taylor Swift. Imagine her enjoying it. But she would never EVER tell anyone. She would do a little "Shake it Off" dance and sing around the kitchen when nobody else was home. But she would never ever let anyone know that she loved Taylor Swift.
Oh god, now I've got to come up with me. I like men with beards. Well, I guess that's not really a secret though, at all. I like wenises.
I'm sorry. You like what?
Priscilla: Maybe I shouldn't say that. It's so weird. I'm sorry, I said I liked beards and then I started thinking about other things that I like. Let me clarify. A wenis is the skin that's right on the tip of your elbow that you can pull. And for some reason, whenever I have a boyfriend or I'm dating someone, I tend to— it's like instead of holding hands? I just hang onto that little bit of skin. I don't know why I said that it's so weird! I am so embarrassed! Oh and please make sure you spell it correctly! Priscilla Cuellar likes wenis— with a 'W.' It's just so weird. Everybody I've ever dated has always just been like "What are you doing?" Oh gosh! See I should have just said I talk to myself. Or I talk to my dogs. I even talk to dogs that aren't mine. But I guess that's not so much a secret as something everyone does, right? On a completely unrelated note? Full Disclosure: I want a puppy really bad.
I still can't believe I said that thing about wenises! I actually had a whole other thing that was kind of floating around my mind, which I guess now by comparison is not as fun. When I was younger I used to really hate my name because it was really long, and uncommon. People could never spell it right. So my middle name is Cynthia. I used to tell people that my name was Cindy. And to this day whenever I order take out or Starbucks, anything where I have to give people my name? My name is Cindy. I literally cannot stand to see my name misspelled. It makes me crazy. Like SUPER crazy, watch out Starbucks. Full Disclosure.
The Addams Family plays through April 19, 2015 at Toby's the Dinner Theatre of Columbia— 5900 Symphony Woods Road in Columbia, MD. For tickets please call (301) 596-6161 or purchase them online.
To read the TheatreBloom review of The Addams Family, click here.
To read Part 1 of Move Toward the Darkness: Ancestor Addams— Julia Lancione click here.
To read Part 2 of Move Toward the Darkness: Lurch Addams— David Bosley-Reynolds click here.
To read Part 3 of Move Toward the Darkness: Grandma Addams— David James click here
To read Part 4 of Move Toward the Darkness: The Beinekes— Darren McDonnell and Elizabeth Rayca click here.
To read Part 5 of Move Toward the Darkness: Wednesday and Lucas— MaryKate Brouillet and AJ Whittenberger click here.