She's holier than thou! Supreme chief nun, as it were, the big momma in charge! Finishing out the TheatreBloom exclusive interview series (a part of Imaginative Interviews featuring characters from musicals and plays) with the Little Sisters of Riverdale is Revered Mother, Sister Mary Regina. And she has some explaining to do about those poor nuns stuck in the freezer!
Mother Superior? Reverend Mother? What should we call you?
Reverend Mother: My name is Sister Mary Regina, but you may call me Reverend Mother. I am the lead nun. I am in charge of everything. Everything.
And you've always been with the Little Sisters of Riverdale?
Reverend Mother: Yes I have. Our roles have changed. We weren't always in Riverdale, you know. We did mission work all over the place. But now we are here in Riverdale.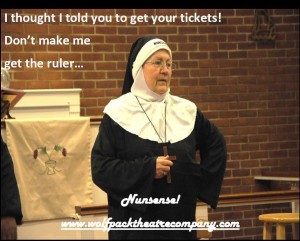 And you're putting on a Talent show here? Why is that?
Reverend Mother: Yes we are. It's a very sad story. Oh…where should I begin? Oh yes, well…Sister Julia, Child of God, who is our cook, she has never really gotten a hand on her vocation. Recently she served some vichyssoise soup. Unfortunately it instantly killed all of the sisters who ate it.
How did you manage to not be one of those terribly unfortunate sisters?
Reverend Mother: Well there was a group of us, a small group of us out playing Bingo that night. And when we came home, we came 52 of our sisters face down in their soup. It was horrible. We prayed on it. We found a way to raise some money and we were actually quite successful. We started up a greeting card company. We raised quite a bit of money, we were doing great, and we buried 48 of our sisters.
What happened to the other four? You said 52 of them died.
Reverend Mother: Well, that's the problem. We ran out of money.
How did you run out of money?
Reverend Mother: Well…there might have been a few purchases that were…ill-advised.
Oh, I see. But who—
Reverend Mother: We were feeling like we had some disposable money left over from the greeting card venture, when actually we did not. So we ran out of money and unfortunately had to put those four sisters in the freezer. In the food freezer and that is where they are now. So we're hoping to raise enough money with this talent show to bury those last four sisters. It's a desperate situation. We have been in desperate straits before, and we have prayed and we have always come through it. I have no doubt that with the help of all the good people who are coming to see the show that we will come out of this situation as well.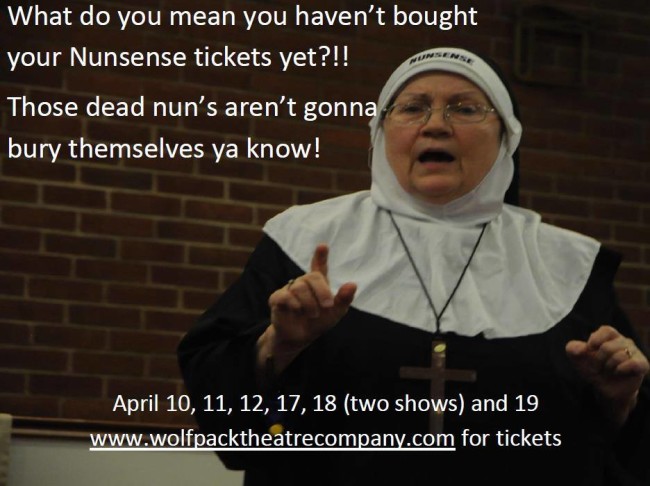 So you only have a few nuns left?
Reverend Mother: There are actually 19 of us, but there are only a few of us in the talent show. They were the ones that showed a modicum of talent. Oh and Sister Robert Anne. Because we need an understudy…just in case Sister Julia, Child of God, starts cooking again.
So what are they doing in this talent show?
Reverend Mother: Well there's some singing and some dancing. There's some jokes and…well whatever our sisters felt they had talent for, I've asked them to bring that to the show.
And what do you have talent for?
Reverend Mother: Oh…well…I'm not sure I want this to appear in print because the other sisters don't know this, but I actually come from a family of tightrope walkers. My parents had a tightrope walking act and all of us kids were in the act. So that's what I thought I would be when I started out in life.
How does someone who thought they were going to be a tightrope walker end up as a nun?
Reverend Mother: Well…there was a time when we had a big act. We had strung the tightrope wire over the river as a publicity stunt. There was no net. Unfortunately, my mother and father ended up falling down into the river and it did not look good. So I prayed to the Lord to please save them. I promised that if he did I would become a nun. And they were saved as you can clearly see. I didn't feel like I had any choice, but the Lord works in mysterious ways and I feel like this is where I was meant to be. I feel that I am a mother figure to these girls. Sometimes they need a strong hand, and coming from a large family I feel like I am good at providing that strong hand to them.
It must be nice to have to a little assisted guidance with all these musical theatre consultants they've brought in to help you sisters along. You were working quite closely with Jamie Crown?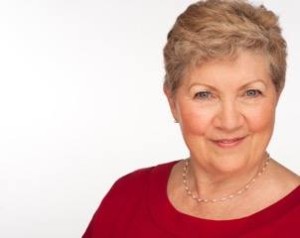 Reverend Mother: Oh yes. She's very encouraging. I have needed quite a bit of encouragement. I have no problem with being on the stage and expressing myself but my voice definitely needed some encouragement because I'm not a singer. So just to have someone who could encourage me was wonderful. Of course there are times when I simply speak my lines instead of singing them because my voice is just not strong enough, but she has been most encouraging for me. She's helped me over the rough spots. It's funny, Jamie comes from a good-sized family. And she was from one of those families that when they were kids they would all say "let's put on a show!" So everybody, the cousins and the siblings, all the family members got together and did something fun like that.
Your order is still one of the orders that wears your habits, why is that?
Reverend Mother: Well we feel that it adds something to the relationships that we have with other people. When they see us as a nun they can immediately understand something about us. It imparts to them a certain amount of the spirituality that we try to live.
What is the vow that speaks to you the most?
Reverend Mother: Well the one that's hardest to do is the one that speaks to you the most. That's always obedience. In spite of the fact that we are human, that we have our own desires and things that we wish to do, we have to remember that isn't always what the Lord has in mind for us. So to be obedient; it's not my favorite to do, I do like being in charge, but sometimes I just need to listen to what the Lord has in mind for me.
Now they tell me you have nun jokes?
Reverend Mother: Oh no. I do not have nun jokes. I'm Reverend Mother, the authority figure. I do all the disapproving of the nun jokes. The other nuns have nun jokes. That I disapprove of.
We're here to discover the humor of the nun, what is it that makes nuns so funny?
Reverend Mother: I think many of us have had experiences of nuns that were just the serious side. A lot of us had teachers who were nuns and their positions in life were such that they had to be serious. But we as nuns are real people and we do like to have our own kind of fun, whether it's playing Bingo or like in the case of Robert Anne she does these little tricks with her habit…I try not to laugh but they really are funny. I guess it's just the hope that people will see us as something more than just the authoritarian figure. I've tried very hard to be open-minded about what the girls were going to do in this show and that is definitely challenging.
Oh I heard that Sister Leo might be doing a questionable performance. How do you feel about that?
Reverend Mother: I try to stay backstage when Sister Leo is on because otherwise it just gets my blood pressure up. And you do not want to get my blood pressure up.
What would you say to get people interested in coming to see this little talent show that you and the sisters are putting on?
Reverend Mother: We're very funny. It's a funny show. If you have experience of nuns or if you have no experience of nuns. Even if you just have a passing recognition from popular culture, it's just funny. It will be a funny night and everyone will have a good time. And hopefully we'll raise the money to get those sisters out of the freezer. God willing.
Nunsense plays through April 19, 2015 at Wolf Pack Theatre Company playing at the St. John Evangelical Lutheran Church— 5820 Riverdale Road in Riverdale, MD. For tickets call (240) 271-5471 or purchase them online.
To read Part 1 of the Habit-forming Nunsense Interview series with Sister Julia, Child of God, click here.
To read Part 2 of the Habit-forming Nunsense Interview series with Sister Mary Amnesia, click here.
To read Part 3 of the Habit-forming Nunsense Interview series with Sister Mary Amnesia, click here.
To read Part 4 of the Habit-forming Nunsense Interview series with Sister Robert Anne, click here.
To read Part 5 of the Habit-forming Nunsense Interview series with Sister Hubert, click here.