Are you ready for political shade? Are you ready to be offended? Political satire at its musical finest from Washington's only original political satirical musical comedy revue, Hexagon is putting on its 60th Anniversary show: The Spoof, The Whole Spoof, and Nothing but The Spoof! Inspired by a long standing tradition, the oldest in Washington in fact, the show sets out to offend everyone through humorous political sketches and musical numbers. TheatreBloom was granted ten brief minutes during a rehearsal with Director Malcolm Edwards to get his take on the show and here's what he had to say!
Let's start off by having you tell us who you are and just how long you've been involved with Hexagon.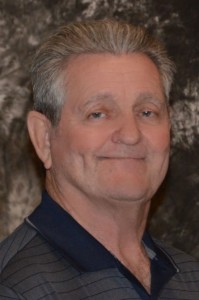 Malcolm Edwards: I'm Malcolm Edwards and I've been involved with Hexagon since 1981. March, no April of 1981. It's when I was a child, of course. I was a child actor that's how come I look so young, you see. I had to have a chaperone in my first show. And I'm a Brit. From England.
How does an English guy end up in a company that produces nothing but American Political Satire?
Malcolm: Girls. It's true. When I was young I was at the British Embassy when I first came here, and that was actually in '69 and '72 and then I just came back because I enjoyed it so much. I joined a theatre group, the British Embassy Players as it was in those days, now they're The British Players, now that we've morphed over. Now after just one show I was dragged down to Georgetown for Irish coffee. And to audition. And I must have done them both really well because I got cast. And I got me Irish coffee.
This year marks the 60th Anniversary for Hexagon. What does that mean for you to be a part of it by directing it?
Malcolm: Actually, I really asked to direct this one because I directed the 40th anniversary show and I directed the 50th anniversary show. Last year I directed the 50th All-Time Musical for the British Players. Are you seeing the pattern? So I wanted to do the 60th here. I'm delighted to be doing it because we were going to have a lot of older stuff, which was relevant, but then we ended up getting so much new good stuff, and we do still have two or three pieces of the older stuff in there. I'm just delighted, it's been great.

Now you're also a part of the writing and materials team for this?
Malcolm: No, no. I just Direct. Neil McElroy is my materials coordinator and I just tell him what I want. I throw out what I don't want and keep what I do want. That's the hardest part. Because there's some wonderful material written but you have to think, 'is it relevant for March of next year?' We usually get this material in October, or September and November. You've got to decide is it relevant, should you be using it, that's the tricky part.
What are you hoping audiences of DC will take away from this? Or maybe what they won't take away from it?
Malcolm: Well I'm hoping that they're going to recognize that we're a professional group. We do a top-class show; bright, breezy, full of good-looking girls and boys. We have material that's up to the minute. We introduce numbers on closing night if they're relevant. We have "News Breaks" which Saturday Night Live stole from us. They pinched that from us, but hey, it's nice to be copied, isn't it? I just hope people leave here saying "I really enjoyed that show. I was upset with that one number, but the rest I really enjoyed." And I hope they'll come back next year. And tell everyone. The whole object of this show is that at some point in the night every member of the audience has to be offended. Otherwise it isn't satire. I'm British. I think we have a good grasp on satire.
How do you get the cast that's involved with this show?
Malcolm: A little bit of everything. We audition. We have a lot of people who return every year. We have new people who have never done this sort of thing before. We have a lot of people who meet at Hexagon and marry. Like the Kaplans. It's a great family. In this day and age entertainment is entirely different from what it was. Twenty years ago this group was the best party crowd in town. Of course we're all getting older now so maybe that has something to do with it. But we're still a good party crowd, we enjoy our puns, we have a lot of them. We enjoy the pubs. We go and have a pint every Thursday night.
Why use musical theatre as the vessel for your political satire mission?
Malcolm: It was musical when I joined so there's no point in changing it. I think writing the material to music makes it brilliant. You could stand at the front of the stage and read all the songs, all th sketches and get the audience laughing. But with the music it's a bit more professional, a bit more West End. Or Broadway.
What's your favorite number from this year's production?
Malcolm: Oh, well, I can't tell you because I told the cast I'd write it down on a piece of paper and put it in a sealed envelope and at the end of the closing night party I'd open it. But I've got some really good ones that I like. "Redskins" (A League of Our Own) is a great number. "Faucet's on Fire" is a great number. It's a solo number, it's a terrific number.
What is it like being British and being an integral part of this huge political piss-take in Washington?
Malcolm: Well it's great! I mean…we didn't win that thing in 1776, but we won the War of 1812, well, we almost won the War of 1812, we haven't forgotten. So we keep coming back. This might be our comeback.
Any final words for the readers?
Malcolm: Well it's a great location, we're on the tube. Oh what do you call them, the metro. It's just across the road here. It's a great night out. There's nothing that you can't bring your children to, but it is an adult performance. And the pub is 100 yards away. It's a great performance. And we support a charity. Don't ask me which one, get that from Jennifer. But it's always a DC charity. Something to do with the Lawyers Library or the Justice…something. It's the last thing on my mind, but we do want to fill seats in this beautiful theatre so that we can give that money to that charity.
This year is a new venue for us so we can do slide projections, that's a new thing for us. We can use them to enhance the show. We've got some nice touches. I think we've done a great job. We have a great tech team and a whole heap of people who build sets and paint sets. Bill Rippy— oh you should read some of his emails about set building, he just about writes them in Latin! He speaks tech. But he's great.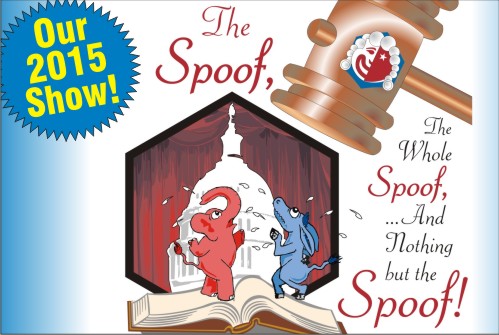 I'm so excited to be a part of it. It's been a part of my life for 30 odd years. It's been a terrific time, a great time being a part of this. And we're all volunteer. The group has raised thousands and thousands for charity— a different one every year maybe that's why I can't remember who it is this year— and we all enjoy doing it too. My wife's in the show. This is our outlet. She's a dancer. You should always marry a dancer. Soloists will come and go, but dancers they stick. The only true statement at Hexagon is "don't get between the dancers and the buffet."  
I think people will be pleasantly pleased. We go to great lengths to ensure that the audience can hear all the words of the songs because they're all original written. It's not My Fair Lady but we stress diction. You've never heard these songs before but you'll pick them up halfway through. We've got a great sound system in here so people will hear everything through it. It's a lot of hard work, but it pays off. There's no doubt in my mind that you're going to see an incredible show.
Click here to read the TheatreBloom review of The Spoof, The Whole Spoof, and Nothing but The Spoof.
The Spoof, The Whole Spoof, and Nothing but The Spoof plays through March 28, 2015 at Hexagon, currently playing at the auditorium of Woodrow Wilson High School— 3950 Chesapeake Street NW in Washington, DC. Tickets can be purchased an hour before each show at the box office or in advance online.