60 years is a very long time to be poking fun at politics and not have gotten arrested. In a form that is true to satire, where absolutely everybody leaves offended, Hexagon is proud to present their 60th Anniversary show: The Spoof, The Whole Spoof, and Nothing but The Spoof. As Washington's only original political satirical musical comedy revue, Directed by Malcolm Edwards with Musical Direction by Brock Holmes, this zippy, zingy and zany show lands its mission of offending everyone and tickles the ribs (and perhaps the nickels?) of the audience throughout the entire performance. With live newsbreaks— stolen later by SNL— from local celebrities and enough puns, laughs, and jokes to pay-up the national debt, it's sure to be a grand old time at this 60th Anniversary show.
Being a labor of love for this family of theatrical celebrants there is little to be said in the way of negatives about the production. Sometimes it's a little difficult to hear all of the brilliantly penned original lyrics, a few notes might end up in the wrong key, and occasionally a joke misses its punch-line, but for the most part the creativity and sheer hilarity that this theatrical group is cranking out is sure to lighten even the dourest of politicians' moods. With toe-tapping tunes, sassy quips, and enthusiasm aplenty there are a great many reasons to rave on in a positive vein about the wildly entertaining production.
It almost looks like a gala night at the Tony Awards; picture Saturday Night Live, only more politically relevant, decked out to go to a red-carpet affair and you'll have the ideas behind Eleanor Dicks and Richard "Bat" Battistelli's Costume Designs. The ladies all look swell in their glittering and flattering evening gowns, and the men look ever dapper and dashing in their suits.
It's a night of glitz and glam from the opener to the closer with a great deal of more casual costumes outfitted in-between. Dicks and Battistelli outdo themselves when it comes to the dancers— really dazzling these ladies so that they stand out from the rest of the performance ensemble.
Set Designer Dave Means works with Scenic Artist Ray Rozycki to filter a little class onto the scene. While the stage is mostly an open space there are bright blue and pink side columns that flank the stage creating that "awards ceremony" look. The backdrops are crisp as they roll up and down, between the capitol and the white house lawn; there are easily recognizable locations in DC to be seen. Projection Designer J. Andrew Simmons deserves a nod as well, if for nothing else but his hilarious, and most definitely offensive, design work featured during "A League of Our Own."
For a community organization the dancing and general movement featured within is impressive. Hexagon on the whole should be created with great praise for playing to their strengths and not attempting to become to elaborate in their showmanship. Choreographers Bethany Blakey and Karen Batra, responsible for tap and the kickline respectively, present simple dance routines that are made to look fancy by the costumes the dancers and performers wear. Batra's kickline, featured near the end of the show, is received with thunderous applause and gives the audience the old razzle-dazzle of a real musical revue.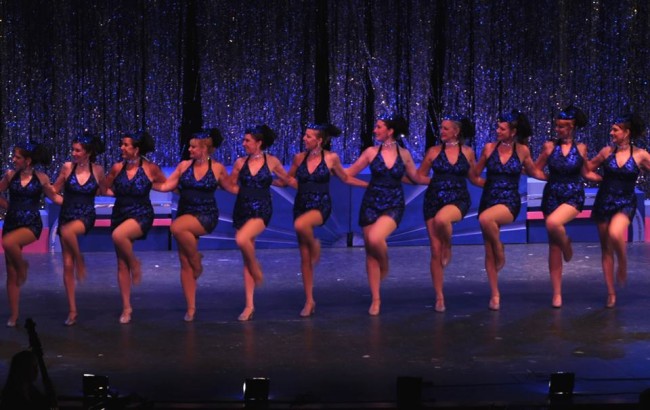 With sketches and musical numbers— from swanky jazz, classically hilarious ballad and everything in-between— Musical Director Brock Holmes and Director Malcolm Edwards have their work cut out for them. Nearly forty performers grace the stage throughout the evening and yet the show that is experienced has a professional feel to it. The cohesivity of the show and the flow of one number or scene to the next moves smoothly and the musical numbers have a solidarity to them that speaks of dedication from both Holmes and Edwards.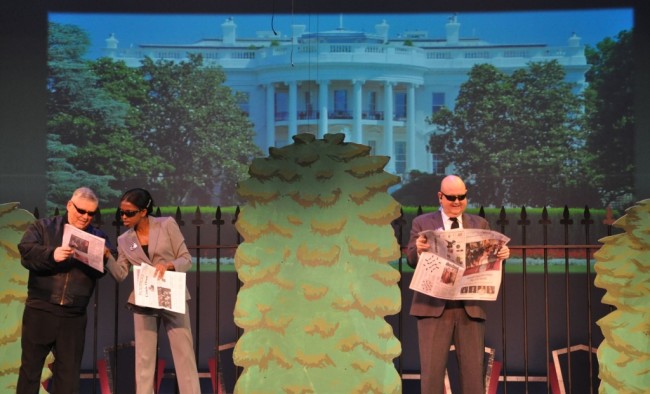 Great comic moments, like puns and witty one-liners, occur during sketches entitled "The Secret Service Makes Me Nervous" seen in two parts, one in each act of the evening. Topical tidbits pop up frequently in these sketches as well as in the four Newsbreaks that happen throughout the evening. Saturday March 14, 2015's evening performance featured local celebrities Megan O'Rourke and Kristi King from WTOP Radio. Newsbreak Coordinator Gene Tighe III and a team of nearly a dozen and a half writers, bring up-to-the minute live news hilarity into the show for an extra spicy edge.
Where every song has a different lyricist, musical composer, and coordinator (and sometimes it's one person on a song and other times it's three or four) it would be impossible to credit them all. But everyone involved in the materials process, overseen by Materials Coordinator Neil McElroy, brings moments of genius to the show whether it's through humorous silly songs like "The Nonsense Song" written, composed, and arranged by Doug Maurer, the "Blessed Bargains" sketch featuring the Catholic home-shopping network written by Bill Karukas, or the very popular musical number "If Only Life Could be like Downton Abbey" with musical and lyrics by Phyllis Gerstell and arrangement by Walter Gilbert. These are just a few of the nearly two dozen instances where Hexagon will be inspiring your funny bone to have a serious evening of pleasure.
Performances worth mentioning would take up a whole secondary, tertiary, and quaternary review if they were all to be listed. Scene stealer Joe Kaplan is featured at the top of Act II in the show's title number "The Spoof, The Whole Spoof, and Nothing but The Spoof," as the ornery judge who keeps things flowing in and out of the courtroom as Washington's fine judiciary institute goes on satirical trial for their flops and mishaps. Keith Bayha and Mike Meier light up the show early on with their hipster acoustic number "To Be a Liberal." But the man worth keeping an eye on is Chad Ramsey who appears as Vladimir Putin in a number called "Putin on the Ritz." His savvy movements and charming voice give this number a real flavorful zest that augments its utter hilarity.
The three big group numbers worth lauding with praise are "Speed Trap City", "Binge TV", and "A League of Our Own." With all three having relevant and relatable topics from Washington's unnecessary speed camera traps to the controversy over the Redskins Team name— and that indescribably feeling of binge watching your favorite TV show— all three numbers come complete with simple but highly amusing choreography— particularly speed trap city where there's a traffic jam right on stage. While the first two are humorous, it's "A League of Our Own" that will really get the offense on the move, though in the most uproarious way possible.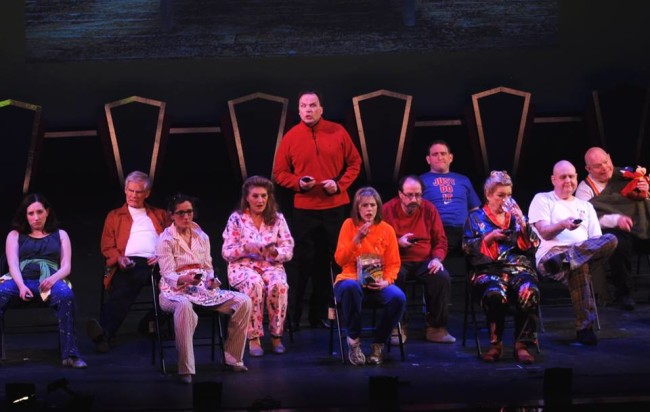 To quote their opening number, "Come to Hexagon! Come to Hexagon!" It's a night well worth enjoying and shouldn't be missed. Plus the proceeds go to charity— this year it's DC's Employment Justice Center— so it's an evening that will make you feel good in exchange for making others feel good by raising money for a good cause. What's not to love and laugh about?
Running Time: Approximately 2 hours with one intermission
The Spoof, The Whole Spoof, and Nothing but The Spoof plays through March 28, 2015 at Hexagon, currently playing at the auditorium of Wilson High School— 3950 Chesapeake Street NW in Washington, DC. Tickets can be purchased an hour before each show at the box office or in advance online.
Click here to read the quick-shot interview with Director Malcolm Edwards.