It's a big bright beautiful world, with possibilities everywhere— including the Charm City Players as they mount their spring musical production of Shrek. The big green ogre and all his friends from the original DreamWorks animated feature movie are coming to the CCP stage all spring long. Directed by Stephen Napp with Musical Direction by Kathryn Weaver, this musical party is showing that traditional fairytales are indeed overrated. The Books and Lyrics by David Lindsay-Abaire and Music by Jeanine Tesori reminds theatergoers everywhere to wave your freak flag and to wave it proud.
 Shrek the musical is all the rage, with no fewer than two companies doing the show in Baltimore County simultaneously, and a third having just closed a production a few weeks prior. But the Charm City Players are out to prove the show's ultimate message— that beautiful ain't always pretty. While their scene changes might not be the cleanest, and their set designs simplistic, there is honest beauty in a community theatre that comes together for an undertaking as massive as this particular production. And to do so as well as CCP does, despite drawn out transitions and squeaky scene changes, is in itself a thing of admirable beauty.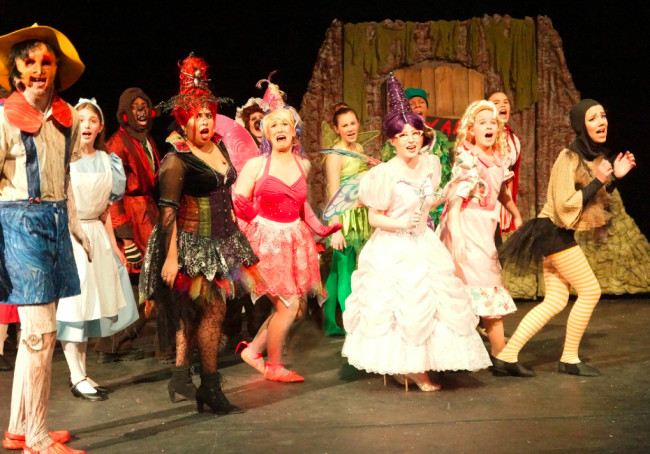 A quintet of costumers outfits the cast of 25 to look their fairytale best. Mary Gorman, Mary Hoover, Tina Karavedas, Lynn Keller, and Kathryn Weaver create exceptionally diverse and clever costumes for the various fairytale creatures of Duloc. Sparkly layers for the fabulous Peter Pan, gorgeous glitter laced into the Wicked Witch's spidery tutu; a whole array of colors comes out to play in the costumes of this show. The highlight of the quintet's work is an altogether magical pink dress saved for dragon, complete with sparkly 'wings' that really make her pop visually to match her big boisterous voice.
Pink is a favorite color among this Costume Designing Team as it appears frequently throughout the fairytale ensemble, including the electric shade that highlights the Sugar Plum Fairy fashion. They even cleverly design the Three Little Pigs costumes in shades of the color with carrying cases made of straw, sticks, and bricks to match. Hannah Gutin-Creech deserves a nod for her Wig and Makeup Design, making both Sugar Plum Fairy and Pinoccio look like something out of this world.
CCP also deserves an impressive nod for the construction of their very own Dragon. Though Director Stephen Napp's choice to have the actress on-stage during her featured vocal number detracts from the massive puppet that the company has created, the ingenuity behind constructing this massive figure is to be commended and admired for its valiant effort. "Dragoneers" J. Hargrove, Stephen Napp, and Annmarie Pallanck also deserve a nod for managing to inspire the Dragon's movement, replicating fluid sweeps during "Forever" all across the stage.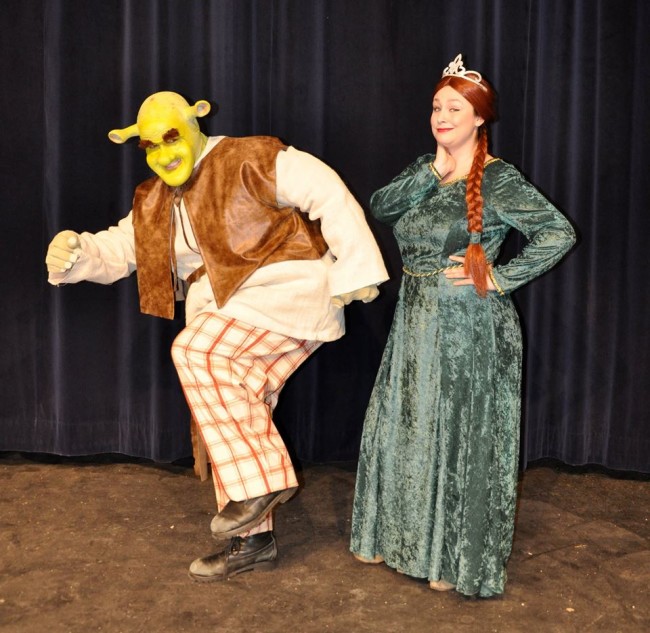 Choreographers Jason Kimmel and Karen Daniels tailor the dance routines of the show to fit the performance levels of the large cast. Daniels, who serves as the Choreographer for the tap routine featured during "Morning Person", delivers the most satisfying dance number in the production. The taps are clean, albeit simple, but her basic steps keep the energy and tempo of the number moving among the six Rat Tappers (Kirsti Dixon, Hannah Gutin-Creech, Melissa Ann Martin, Annmarie Pallanck, Emma Patterson, and Miranda Snyder.) Kimmel relies on a lot of box-step, stomps and snap to get the ensemble through the bigger numbers like "Freak Flag" but these tried and true steps work to pump up the enthusiasm.
Musical Director Kathryn Weaver hones in on the casts vocal strengths and guides the performance in their direction. Taking out the ensemble back-up voices during "The Ballad of Farquaad" and dividing more of the solo lines to the fairytale ensemble for "Freak Flag" are tasteful and smart choices that play to the cast's singing abilities. Weaver encourages tremendous ensemble sounds from "Story of My Life" and the "Finale" number.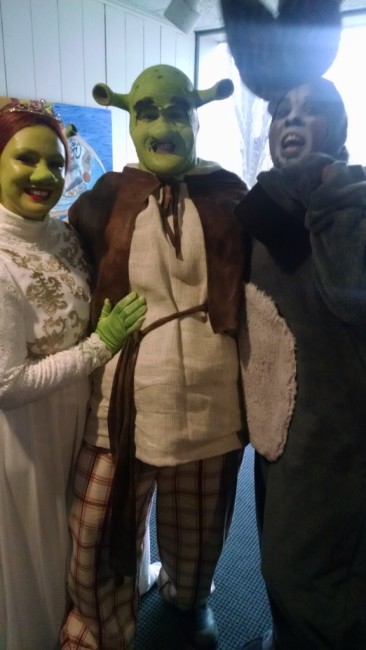 Director Stephen Napp deserves praise for his witty signs featured during the storming of Duloc castle near the end of the show, including phrases like "Don't Blame Me, I Voted for Old King Cole" and "Make Wishes! Not War!" The use of authentic looking 'snuthers' during the scene leading up to "Make a Move" is another highlight in Napp's creative work. His transitions and use of three-way entries make "I Know It's Today" a magical number as Princess Fiona (Malarie Novotny, Dani Kellner, and Susanna Hoffman) shifts through her years in the tower.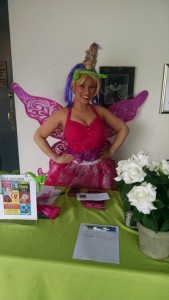 The Sugar Plum Fairy (Christina Napp) and Pinocchio (Ryan Roberts) are waving their freak flags at top speed. Roberts, who plays the reedy-voiced real-boy wannabe, has a sarcastic spirit that translates well into his singing voice for "Story of My Life." Napp, who doubles as the Gingy, puts on a Russian accent for her Sugar Plum Fairy— a recent popular trend in productions across Baltimore— but manages a perfect falsetto voice for the puppet-character. Her bold pipes really shake the house down for "Freak Flag" as she leads the ensemble in this empowering number.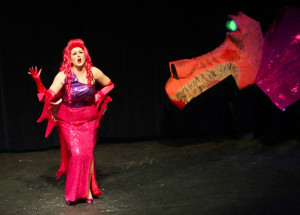 While Napp may rally the fairytale ensemble, Melissa Ann Martin is starting a revolution all her own as the Dragon. Not discounting the fact that Martin blasts her sonorous vocals as Mama Bear during "Freak Flag" and "Story of My Life" and as Mama Ogre during "Big Bright Beautiful World", but her feature number is "Forever." With a radiant soulful sound fiery enough to shame the boiling lava of the dragon's keep, Martin really belts it out during this number; her vocal prowess packing a powerful punch all through the song. Sass, class, and a whole lot of— face…Martin reigns supreme in this cameo role.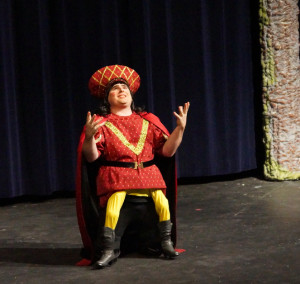 Men of Steve Wannall's personality are in short supply making Wannall a solid fit for the diminutive Lord Farquaad. His rich robust voice for "Ballad of Farquaad" and "What's Up, Duloc" offsets his initial unease moving about on his knees. Though there are times when the illusion is broken (a lengthening of his cape might easily fix this problem) for the most part Wannall is on point with keeping the magic of his miniature stature a mystery. It's the hot-shot dancing during "What's Up, Duloc" that makes Wannall's portrayal of egomaniacally obnoxious character memorable.
Donkey might as well be a pig for all of the hamming it up that J. Hargrove is doing in the role. With cheeky little ad-libs between scenes, Hargrove steals the spotlight both entering and exiting scenes. Saucy and savvy, Hargrove really lays into the vocal calisthenics of "Don't Let Me Go," racing through the number with urgency. The sturdy harmonies shared with Shrek (Dean Davis) for "Travel Song" are a testament to his vocal abilities. But it's "Make a Move" that really puts the icing on the cake. Busting insane dance moves all over the place, Hargrove makes this Donkey's signature number without a doubt.
Davis, as the title character, brings a durable accent and robust set of pipes to the role. His ability to articulate with precision all through "Who I'd Be" while maintaining his character's accent is impressive. This song and "When Words Fail" are imbued with a great sense of passion, echoing up from deep inside a vulnerability cavern of Davis' heart. "Build Me a Wall" is a forceful number that Davis really layers his anger into before wowing the crowd with a striking belt and sustain at the end.
The humorous chemistry Davis shares with Princess Fiona (Malarie Novotny) grows ripe from the moment they begin to see eye to eye. Starting with burbling detestation in "I Think I Got You Beat" Davis and Novotny quickly fall in sync with each other's strange habits, and when their voices reunite for "Finale" it truly reflects true love shared between their characters.
Novotny really nails the attitude of the strangely unorthodox fairytale princess. Her singing is decent, her bubbly personality filling in the gaps where her vocal range lacks. The impressive factor of Novotny's performance is her crafty ability to thoroughly complete the tap routine in "Morning Person." Too often productions defer the tap to the Pied Piper and a Dance Captain cleverly disguised as a Rat-Tapper. Novotny takes point here and showcases her dancing ability while delivering a vigorously enthusiastic rendition of the song.
Be sure to investigate this big bright beautiful world that the Charm City Players has crafted with their production of Shrek. Even though they don't' fly an actual freak flag, they sure know how to be proud and embrace their inner freak all throughout the show!      
Running Time: 2 hours and 40 minutes with one intermission
Shrek plays through May 3, 2015 at Charm City Players in the Hannah More Arts Center on the campus of St. Timothy's School— 8400 Greenspring Avenue in Stevenson, MD. Tickets are available for purchase at the door or in advance online.