Being comfortable in one's own skin is the most important type of success one can achieve in life. Who better to kick off the interview series, "Express Yourself: Love from the Inside Out" than the mother of "Mother Monster" one of the founding discoverers of Lady Gaga, Rob Fusari. Living life to the fullest as the new stage personality Cary Nokey, TheatreBloom readers get a sneak peek into the performance life of Cary Nokey in preparation for the DC leg of the RuPaul BOTS 2015 Tour.
Thank you for taking time to phone-in with us today. I've been reading up on how you started out as a music producer, in fact a relatively successful one since you had a hand in the Lady Gaga project. But I'm curious as to how you go from being a successful music producer to putting your own show, with Cary Nokey on the road.
Cary Nokey: You know, it came when I really couldn't identify with what to do after I had developed Gaga. All through 2006 and 2007 and actually into 2008 I had worked on that project from the ground up. It was my baby. After I had finished and the record was released, I wanted to stay in that vein of developing artists. I didn't want to go back into just writing songs. I didn't want to just write a song here, or produce a track there for a random artist. I wanted to do it again.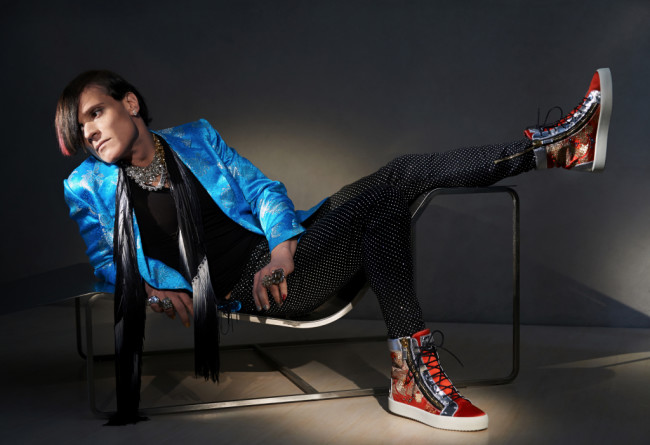 It seemed very realistic that I could find another superstar. Now, realistic in the realm that it would happen because of the number of unknown artists that were reaching out to me. At that time all of these unknown artists were researching how Gaga came to be and my name was attached to it. So they were reaching out to me in hopes that I would be interested in developing them as the next big thing. Everybody wants to be the next Lady Gaga. I was receiving thousands and thousands of emails, letters, and packages of all these undiscovered artists and what they hoped to become. I was confident that there's got to be one in there.
Unfortunately, I think the bar was raised and my expectations were raised. Where do you go after Gaga? I did not identify anyone that really floored me the way that she did. As you can imagine I couldn't take on something that was just ok or less than that. If it wasn't going to be as good as the Gaga Project…I mean it had to be better. You can't put out Gaga and then come back with something not at least as good as that. It just wasn't working.
I did try to work with a few artists, thinking maybe if I tweaked some things I could make it work. But I couldn't. It has to be there from the start. I was getting very frustrated and I was getting very down. I didn't know what to do. I was at the point where I was saying "what the hell do you do after finding and developing Lady Gaga?" Where do you go from there?
I started getting into reality TV and some documentary stuff, but music is in my heart and soul. It's just always something that's going to be there. So I had to basically kind of cut the cord in a way in the whole scene of attempting to find and develop the next artist. I started doing music just for the sake of music. I love music. I started writing songs that had no immediate direction. They weren't meant for a particular artist and I wasn't going to try and sell them or pitch them or find an artist to do them.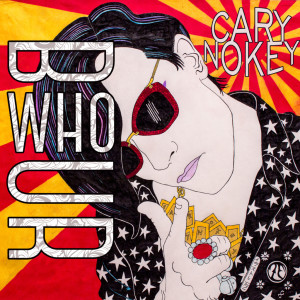 So one morning I wrote a song called "Master of None" and it had a very Depeche Mode, kind of 80's flavor to it. And I decided that I was going to go into the studio and sing it just for the hell of it. I knew exactly how I wanted it to sound and I didn't know of anyone else who could do it. I went into the studio and I did this Depeche Mode thing. The reaction that I got from the people who heard the recording that night was astronomical. It was better than what I had ever expected. I had people say to me in the studio that night, "Why are you racking your brain over trying to find another artist when it's right there? It's you."
So that was it. That was the day that changed everything. That was first page of the next chapter. Cary Nokey.
How did you decide that Cary Nokey was the way to go with the music? Why create this persona rather than just put yourself out there as Rob Fusari doing music?
Cary: I don't even look at her as a different character. Cary Nokey is me. I felt like I had to leave Rob behind to some degree. It felt like this whole new chapter in my life. I was raised by my mother for the most part, and I was the youngest of three sons and she kind of treated me as the daughter that she never had. I had that feminine influence growing up. Whenever we would go to a friend's house or a relative's house, I always enjoyed sitting at the table with the ladies more and talking with them than playing around with my brothers. I enjoy the refinement of women. I kind of always tried to model myself that way because I was around it all the time. I enjoyed that persona. I enjoyed that feeling of being elegant with women more than I enjoyed being around boys and men. I didn't even like the rough and tough stuff, the football games and all that. I never got into it. I've always been very in touch with my feminine side.
So when I started looking for my style and how I wanted to portray Cary Nokey in the artistic sense of fashion, I couldn't find anything in the masculine sentiment that felt right. I always admired the more feminine male artists like Prince and Bowie, they had this very androgynous way of putting themselves together. I looked for something that was more along those lines. As you can imagine they don't make a lot of men's clothes like that. So what I had to do was find my female size and start going in that direction.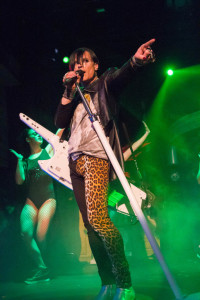 More and more I just started shopping in the female section of stores. I would meet with designers and build feminine pieces with them. The process of representing her fashion took on this very female persona. But not in a cross-dressing kind of way. Or not even so much in a drag way. The persona is really me and that's how I dress every day. Of course it's a little more glam and a little more over the top on stage, but it just became something that I was comfortable with. My legs fit better in female jeans than they do in male jeans.
So this is not a drag persona, this is you being comfortable in your own skin with a slightly more glamorous approach for when you're on the stage.
Cary: Yes! Exactly! That's exactly what it is. I'm sure when I open the show as a part of the RuPaul tour (RuPaul's Drag Race Battle of the Seasons Condragulations 2015 Tour) I'm sure that people do think that this is me in drag, but it's not. It's just me. But I mean it works, it compliments what the girls do as a part of RuPaul's show, one of their big messages is loving yourself, and how can you love yourself if you aren't comfortable with who you are? Cary Nokey basically became the vehicle that allowed me to be comfortable enough to express who I am. I had never really been able to express myself in the full way that I had wanted to before Cary Nokey.
Cary Nokey has a really intriguing style of music. What is it that making this kind of music means to you and how do you think it fits into today's music industry?
Cary: You know, it's interesting because I don't necessarily think it fits into today's music industry. But that is always the thing I have strived for in making records. If you listen to the records I've done for other artists, I've always had this motto when I produce or write songs, "If it sounds like something that's already on the radio after I finish it, then I put it in the garbage." It's not because I think I'm re-inventing the wheel or I think I'm so different than anything else out there— it's not that. It's just a feeling of what I'm going for— this is so much harder to put into words than I thought.
You know how you hear those songs on the radio and after a while or even right away you start thinking "wow, they all sound the same." I don't think radio when I do records and songs. I think personality. Cary Nokey is emotional in her personality. Emotion doesn't really lend itself completely to dance music. But I've found this balance between the emotional and the vocal that lays upon a very deviant dance track. But it still has this very rock-n-roll sentiment to it. When you see the show there's something very rock-n-roll about it. It somehow blends all these all these different worlds into an emotional storyline.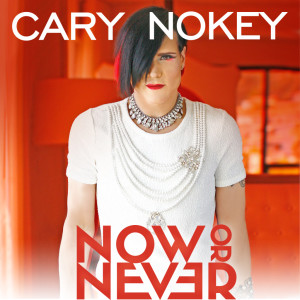 The lyrics aren't "let's go out to the club, let's lose our phones, and let's get drunk." Don't get me wrong, the lyrics aren't all the way to the point of being that historically important thing, but they're somewhere in the middle of all that. There's more emotion and sometimes more of a spiritual wave to them. It's almost more lyrically like Bono or U2 in sentiment. There's a poetry to it.
What do you hope that people take away from getting to see Cary Nokey in concert? Do you call Cary Nokey's performance a concert?
Cary: You can call it that. I mean we open the show with a 20-minute set. It's a good question. What people take away from the experience of Cary Nokey is the "wow factor." And I don't mean people walking away saying "Oh my God! He's an amazing singer or he's an amazing dancer." I think it's more like "damn, I haven't seen something like that in a long time." The spectacle is raw emotion. It's not like where you're going to see this polished refined thing like Britney Spears. Every show and every night is different. The energy is different. There is a level of mayhem in it. It's controlled chaos on stage. I think that's what people take away from it.
I mean they're going to take away an experience. It is all music, but I also have a dancer dancing down stage. And it's a lot of audience participation. I do a cover of Queen's "We Are the Champions" and I really try to get the audience involved with that, get the crowd singing in on it. It's a very interactive show. There's some talking, and I do a song called "My Name is Lisa" which is very much a skit, if you will. There are all sorts of different elements to the show. Come out and see the show, I don't think anyone will be disappointed.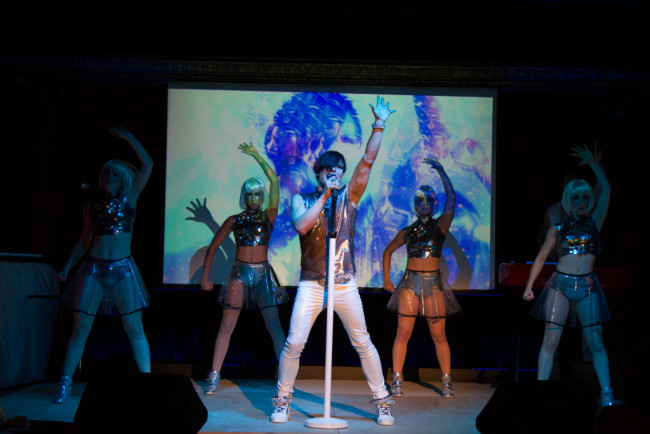 Are you familiar at all with Hedwig & the Angry Inch? Would you say that Cary Nokey has anything in common with the Hedwig persona or the concept behind that show?
Cary: Yes, I am familiar with the show. You know, it's funny you say that because someone said to me the other day that I would be perfect for that show. That I would be a perfect limited engagement performer in that role for that show. So I guess they must have similarities if people think I'd be great for it. It's the glam and the spectacle of it. Just being comfortable in your skin and being who you are. Cary Nokey is me and I am comfortable with me that way. You know I hear people make negative comments from time to time, their little remarks or whatever, but it doesn't bother me.  
If Cary Nokey had to send a message to the world— what would it be?
Cary: That's another good question. I think the message would be "The wait is over." I think everyone's been short-changed a little bit when it comes to live performance. I think that even the youth today has been a little bit skewed with what they expect from a stage show. It's time to bring back that element that was saw so readily in the late 70's and 80's. It became a culture and I think that culture has gotten lost in music. It's so subdivided in every shape and form. I think it's time— and if it's with Cary Nokey then great and if it's something else fine— but it's time that artists stop the whole "Look at me! Look at me! Come to my show and look at me!" It's not about that. It's got to be "look at us." The audience has to be in the show, if that makes sense.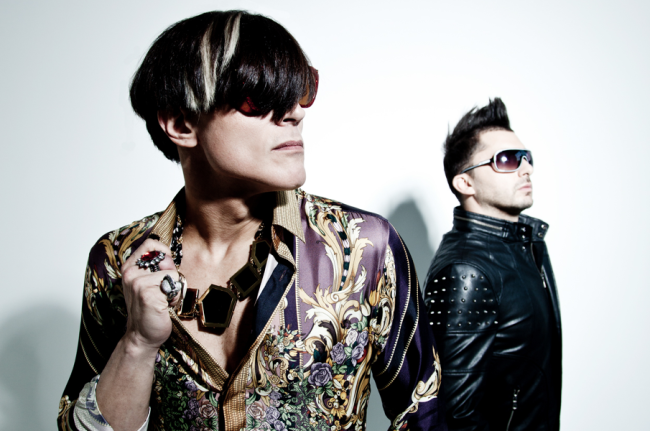 I want the audience involved. If you're sitting in the house, you're in the show. It's happening. Artists need to adapt. Nobody wants to just sit and watch anymore. They want to be a part of it, they want to touch you. They want to be you. They want to be in it. They want to absorb what's happening because they're living through it. And I want you to feel like you can do it too.
Cary Nokey will be opening the RuPaul's Drag Race Battle of the Seasons Condragulations 2015 Tour here in Washington DC at the 9:30Club— 815 V Street NW. Doors open at 8:00pm. Tickets can be purchased here.
Be sure to follow Cary Nokey online for future engagements and other exciting news.
To experience Cary Nokey live at performances in the RuPaul BOTS 2015 tour…click here.