Sensational— adj. "extraordinarily good; conspicuously excellent; phenomenal." The latest production of The 25th Annual Putnam County Spelling Bee at Kensington Arts Theatre is sensational. S-E-N-S-A-T-I-O-N-A-L. Truly a gift to the musical theatre performance genre, this highly engaging and entertaining musical, with Music and Lyrics by William Finn and Book by Rachel Sheinkin, will put a smile on the audience's faces. A delightfully comic and touching fun show, this audience-interactive and fully immersive experience is one of the best to cross their stages and an excellent representation of the impressive talent and concepts that are conceived in community theatre. Directed by Bobby Libby, this is an evening of pure joyful entertainment for all who venture to see it.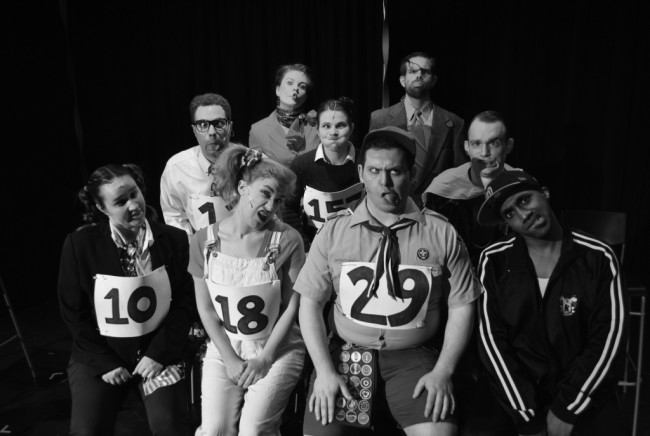 Functional— adj. "capable of operating or functioning; capable of serving the purpose for which it was designed." Set Designer Ian Hoch provides the production with a perfectly functional set for hosting a spelling bee. F-U-N-C-T-I-O-N-A-L. Hoch's simplistic yet nostalgic design work looks just like the elementary school gymnasium from the collective everyman childhood; the corny decorations, the sloppy PTA-made sign, all the hallmarks of hokey are blended into his creativity whilst remaining perfectly practical. The set is ironically uninspiring, which is a genius move on Hoch's part as the attention is meant to be on the insane quirks of all the characters featured within the musical.
Eclectic— adj. "not following any one system, but selecting and using what are considered the best elements of all systems." Costume Designer Devin Gaither involves a plethora of eclectic clothing to truly augment the curious personalities of each of the student spelling contestants at the bee. E-C-L-E-C-T-I-C. Gaither builds personality inspired costumes making them both highly realistic and flightishly fanciful. To look at them they could fit flawlessly into any elementary or middle school group of nerdy students. Everything from cleanly pressed uniform type outfits as seen on Marcy Park to the more bizarre unique threads featured on characters like Leaf Coneybear, Gaither presents a well-rounded gathering of costumes for this show. Falling under this same subheading of unusually creative is Hair and Make-up Designer Larissa Norris. Her particular flare for styling quirky children's hairstyles is worth noting and praising.
Illuminating— adj. "giving or casting light." Lighting Designer John Nunemaker does a fair bit of illuminating the cast at the precise moment throughout the production with his bright warm spotlights. I-L-L-U-M-I-N-A-T-I-N-G. Careful not to leave anyone in the dark, Nunemaker balances these moments of spotlight focus not only when the spellers are at the microphone taking their turn but also when it is time for moments of flashback, recall, or dream. The lights, much like Hoch's set, are simple, again ensuring that the focus stays on the incredibly talented performers rather than the show's spectacle.
Pandemonium— noun. "wild uproar or unrestrained disorder; tumult or chaos." Choreographer Nick Carter threads utter pandemonium throughout his dance routines flawlessly, making for one intensely wild ride during various musical numbers. P-A-N-D-E-M-O-N-I-U-M. Not only does Carter see to it that his dance routines are wildly free and inspired by swirls of chaos, but the more rigid ones, such as the kick-line featured in "Magic Foot" occur with that zany energy tucked neatly away into synchronized motions. The song itself, "Pandemonium" is a brilliant orchestration of Carter's chaotic moves swirled around with the performers and is perhaps one of the most impressive shows of organized and staged catastrophe to be witnessed.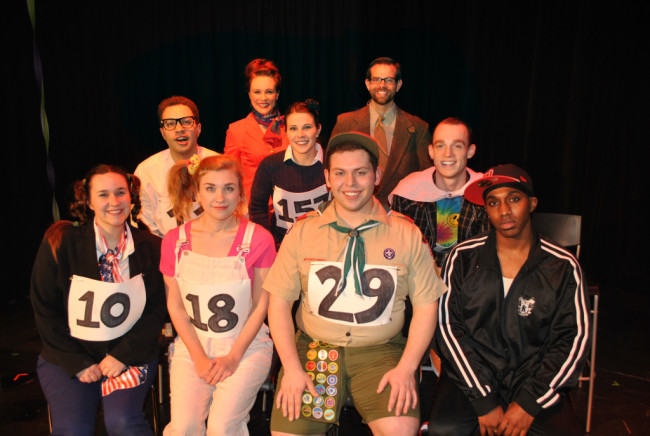 Euphonious— adj. "pleasant in sound; agreeable to the ear." Musical Director Samuel Weich has drawn together a group of talented signers, the result of which is simply euphonious. E-U-P-H-O-N-I-O-U-S. Weich conducts the live orchestra from backstage, keeping the lyrical music sounding amazing. He also encourages exceptional harmonies and a wonderfully full volume from full ensemble numbers. One of the most striking numbers in the production is "The I Love You Song" because of the gorgeous three-part harmony that Weich achieves with melodious perfection.
Visionary— noun. "a person of unusually keen foresight; a person who is given over to highly imaginative ideas; a dreamer." Director Bobby Libby is the directorial visionary of his era creating a fully immersive audience interactive piece of musical theatre that shall be recognized and remembered for years to come. V-I-S-I-O-N-A-R-Y. From the pre-show engagement with the characters fully interacting with the audience, right through the meticulous blocking witnessed on stage, Director Bobby Libby has every last detail covered in his plan. Really working the ensemble to fully develop the characters, these stories of these children and these adults become hyper realistic and the portrayal thereof is phenomenal. Understanding the nuances and importance of character development in musical comedy, Libby guides the cast to a successful production that is a delightful treat to behold. Audiences will savor each moment knowing that it was handcrafted with a genuine understanding of how musical theatre works with comedy infused throughout.
Dedication— noun. "the state of being dedicated; devoted wholly or earnestly as to some person or purpose." The cast of KAT's Spelling Bee shows tremendous dedication to their character development, vocal delivery, and all around performance of this show. D-E-D-I-C-A-T-I-O-N. Performing as an ensemble nine deep, there are simply not enough amazing words to do them all justice. Individually they are beyond impressive and together they make for the perfect cast. Full character commitment to physicalities, verbal cadences, and habits of speech and gesture without ever compromising vocal integrity; the mark of a practically perfect performance, this ensemble is stellar.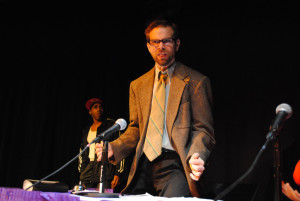 Vexed— adj. "irritated; annoyed." Vice Principal Douglas Panch (Matt Baughman) is extremely vexed by many things regarding the bee, including Rona Perretti's refusal to acknowledge his seedy advances. V-E-X-E-D. Baughman imbues the dead-pan ridden character with a stiff and stoic humor which often translates fully into his exasperated facial features and tone of voice, particularly when dealing with spellers at the microphone. Fully animated facial features and body gestures help to exacerbate his character's situation as the bee continues on and his character's placement in things slips away from him. With a few ad-libbed scene-stealer moments, Baughman is a superior supporting player in this game of musical theatre comedy.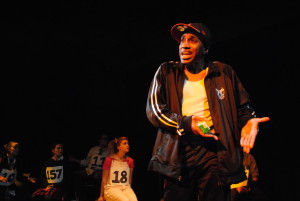 Paradoxically— adverb. "having the nature of a paradox; self-contradictory." Comfort Counselor Mitch Mahoney (Carl Williams) has the disposition of a disgruntled thug while paradoxically having the singing voice of a soulful angel. P-A-R-A-D-O-X-I-C-A-L-L-Y. Williams delivers a rather low-key rendition of the scary comfort counselor, making him even more intimidating than if he were rowdy and obnoxious. This juxtaposes divinely against his stunning singing voice, which would never be expected to come from such a character, particularly in "Prayer of the Comfort Counselor." Williams belts out soul and has exceptionally impressive sustains at the end of this number. Doubling as "dad" characters, Williams' voice is featured in the epic three-part harmony of "The I Love You Song" and brings a heavenly quality to that glorious song.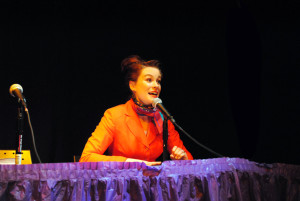 Genial— adj. "warmly and pleasantly cheerful; cordial." Rona Lisa Perretti (Teresa Danskey) is the epitome of a genial woman when it comes to hosting the bee; a beaming beacon of pride over each and every special student in attendance. G-E-N-I-A-L. Danskey's portrayal of Perretti is bursting at the seams with genuine joy over being a part of this bee. Filled to the gills with excitement for the students, these eager emotions are reflected with vigor in every rendition of "Rona Moment" and it's various reprises throughout the performance. Her calm demeanor and general comforting ease in the role mark her as a sound and impressive performer. Danskey has a sublime voice that harmonizes perfection in "The I Love You Song," a trio piece that is both haunting and serene.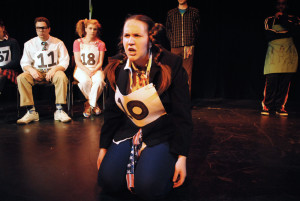 Ebullience— adj. "high spirits; exhilaration; an overflow of exuberance." There is never a moment when Logainne (Sarah King) is not radiantly bursting with ebullience throughout the performance. E-B-U-L-L-I-E-N-C-E. King, who takes on one of the most drastic character commitments in the production, delivers this little crockpot of a character with sheer excitement. Practically bouncing out of her seat, in a simultaneously dizzying combination of nerves and glee, King is a flurry of emotions and expectations and events. "Woe Is Me" becomes one of the most entertaining numbers in the production because of the intensity with which King involves her character. Spastic and yet endearing, she goes into a head-to-head, albeit inadvertent, rivalry with Olive (Emma Lord) for who gets more pity and sympathy from the audience.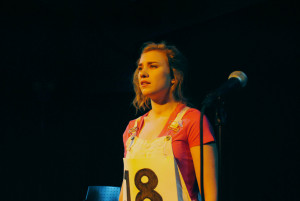 Frangible— adj. "easily broken; breakable; delicate." Emma Lord, playing the terribly frangible Olive Ostrovsky, imbues this character with a subtle strength that is rewarding to watch and hear. F-R-A-N-G-I-B-L-E. Lord's portrayal of the sweet and utterly fragile Olive is sweet and genuine. With a sense of wonder and curiosity about her, she seems perpetually grateful just to be a part of the proceedings. "My Friend, the Dictionary" is a dulcet melody that tugs gently at the heartstrings of the audience. Lord's real emotional triumph is felt hard during "The I Love You Song" and again during "Second." The latter of these two numbers showcases a curiously pleasant shift in the plot and really brings Lord's character around full circle.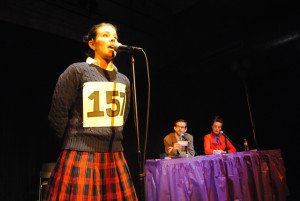 Glacial— adj. "frosty; relating to ice." Marcy Parks (Emily Dey) is assigned the leading characteristic of glacial, but don't be fooled there is much to her substance beneath the surface if you can warm her up enough to take a look. G-L-A-C-I-A-L. Dey takes on a level of pretention that defies convention in this stuffy and frigid role. Dey delves deeper beneath the surface of Parks' pretention, though she gives a rivetingly boastful rendition of "I Speak Six Languages" before going soul-searching, and unearths an acceptance that really reflects the show's overall message: embrace and love yourself for who you are and what you want to be.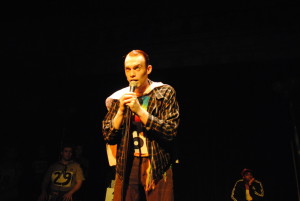 Peculiar— adj. "strange, queer, odd." Leaf Coneybear (Nick Carter) is peculiar and that's putting it politely. P-E-C-U-L-I-A-R. Carter's portrayal of the spacey and strange kid is nothing short of special in the most endearing and comic fashion possible. Again the dedication to the character follow-through, especially when singing, is astounding. Carter delivers "I'm Not that Smart" with a real pizzazz and keeps the rest of the cast on their toes as he serves as the show's Choreographer. Standing out as a character worth watching, Carter finds his own niche in this wonderfully accepting musical.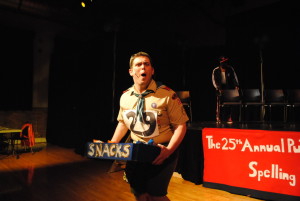 Embarrassed— verb, past tense. "to cause shame; to make uncomfortably self-conscious." Chip Tolentino (Dylan Echter) grew increasingly embarrassed as his bodily functions caused him a major incident at the bee. E-C-H-T-E-R. Echter, playing the hilariously involved young man hitting and understanding puberty, really lays into the featured solo "Chip's Lament." With a surprising belt that really shocks the audience for both its quality and its clarity, Echter earns his moment in the spotlight with the finally of that number as well as the comic hilarity that he manages to rouse to life throughout the performance.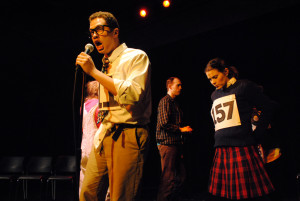 Nerd— noun. "an intelligent person obsessed with a non-social hobby." William Barfèe (Jonathan Miot) is absolutely and uncontested the king of the nerds in this production. Miot has an intense flare of geek about his portrayal that makes him a scene-stealing hilarity. A brilliant performer with his tone of voice, speech specialties, and overall mannerisms that really make his character stand out in the most awkward ways possible, Miot is a riot. "Magic Foot" and "Second" are entrancing and keep you laughing through to the end. Watch the foot and Miot's face! Both are highly amusing points of comedy featured frequently throughout.
Weltanschauung— noun. "literally world-perspective, opinion, or view." It is this critic's Weltanschauung  that this show must be seen and cannot be missed.  W-E-L-T-A-N-S-C-H-A-U-U-N-G.It will stir emotions and field laughs all night long. A true gift to musical comedy— and you might even learn how to spell something!
Running Time: 95 minutes with no intermission
The 25th Annual Putnam County Spelling Bee plays through March 1, 2015 at the Kensington Arts Theatre located in the Kensington Town Hall— 3710 Mitchell Street in Kensington, MD. For tickets call the box office at (206) 888-6642 or purchase them online.
Check out the interview featuring the Spelling Bee adults here.
Check out the interview featuring the contestants of the Spelling Bee here.