Let your freak flag wave! Let your freak flag fly! And it's waving high and proud over at the St. Demetrio's Suburban Players as they celebrate their 40th season with a production of Shrek the musical! Directed by John Desmone, this fairytale masterpiece has a happy ending for everyone who comes to see it. A truly remarkable production, the Suburban Players are getting their happily ever after on and it's a giddy delight. With Music by Jeanine Tesori and Book and Lyrics by David Lindsay-Abaire, this go-get 'em family fun musical based on the DreamWorks animated feature is a crowd pleaser.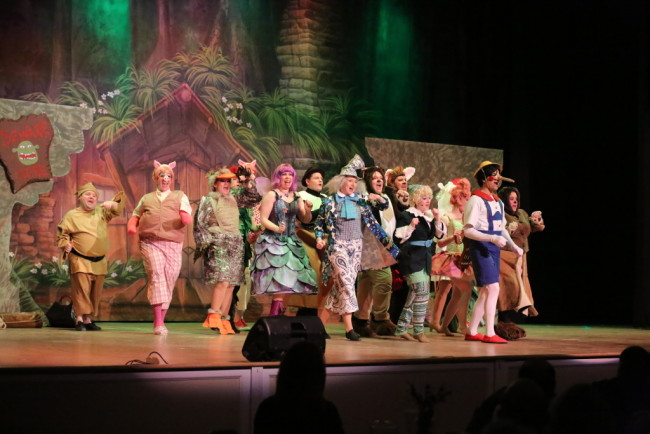 Creating just one show a year, The Suburban Players have gone all out for Shrek, ensuring that the sets are glorious, the costumes are marvelous, and the performances are spectacular. Scenic Director William Lericos selected the finest backdrops (compliments of Kenmark Inc.) for this production. Each one looks like a true page from a storybook. The exquisitely animated backdrops shift back and forth to illustrate Shrek's swamp, the Dragon's keep, Fiona's tower, Lord Farquaad's kingdom of Duloc, and several other things in-between; all creating a magical aesthetic for each unique scene.
Costume Designer Tracy Bird, working with Stage Garb Incorporated, really gets the hallmarks of the production highlighted— like the traditional blue and red garb for Lord Farquaad or the velvety emerald dress for Fiona. Bird also makes the fairytale ensemble look whimsically marvelous; one of the most inventive costume looks being that of the Mad Hatter who is donned in blue and white zany patterned fabric and marches with a teapot-topped staff. Bird keeps the ensemble, who appear as Duloc Citizens, Duloc Guards, Dragon's Keep prisoners and more, looking uniformed every time they appear on the stage not as a fairytale creature.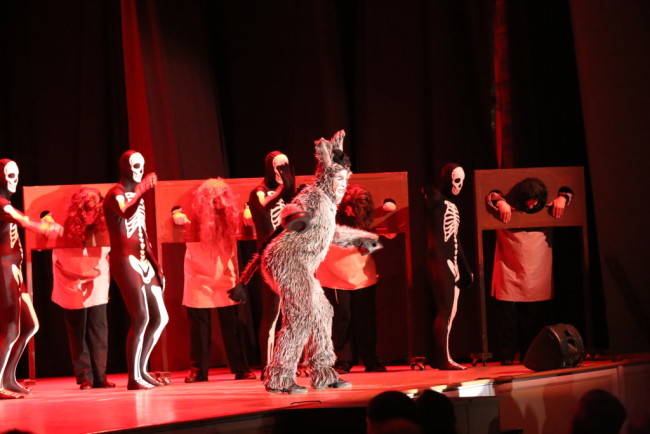 Choreographer Deborah Goetzinger does what she is able with the enormous cast of all dancing skill levels. The highlight of Goetzinger's work is the dancing skeletons featured during the Dragon's solo "Forever." They imitate moves from Michael Jackson's "Thriller" and add a humorous bone to the number. Goetzinger also mounts a successful tap routine with the tapping rats during "Morning Person." The number features Fiona and Donkey doing some impressive fancy footwork, along with nearly a dozen women in the ensemble tapping rhythmically along to the beat.
Director John Desmone keeps the show moving fluidly and really works the audience into the performance. Shrek is a musical designed to be custom-catered to specific audiences with numerous places for local flavoring to be splashed about as well as clever modern references to add that extra ounce of hilarity. Desmone never misses an opportunity to make this show that much funnier and more accessible to the masses in the St. Demetrio's audience.
The ensemble is filled with talent, to list them all would take from now through to the end of the run, and then you'll have missed the spectacular show that The Suburban Players are putting on. Performances of note in the ensemble include the Three Little Pigs (Seth Saunders, Henry Reisinger Jr., and Allie Dreskin) for their flawlessly hysterical piggy accents and thorough comic timing. Humpty Dumpty (Jim Gerhardt) gets his moment to sizzle in the spotlight during "Freak Flag" wailing away with impressive vocals as the masses of fairytale creatures crowd him and really get the energy of that number pumping. Mama and Papa Ogre (Kristen Cooley and Rick Arnold) are also worth mentioning for their bold and rich duet at the beginning of "Big Bright Beautiful World."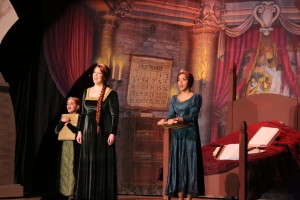 Young Fiona (Elena Tagliaferro) and Teen Fiona (Kaela Monsanto) are featured in "I Know It's Today" a trio piece performed with Princess Fiona. Both Tagliaferro and Monsanto do great jobs sing-reading through their storybooks. The facial expressions on Tagliaferro in particular are quite expressive and very funny to watch. Though these two young performers are only featured momentarily during this number, they make every moment of their stage time count and both deliver memorable performances that are not easily forgotten.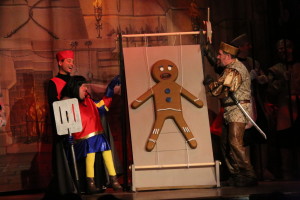 Tammy Opel, who doubles as the Sugar Plum Fairy and as Gingy, is another performance among the ensemble players worth mentioning. Her cotton-candy pink costume is as sickly sweet as her vacillating accents— something slightly Bavarian-Russian as the Sugar Plum Fairy (no doubt meant to pay tribute to Tchaikovsky's The Nutcracker Suite) and something strangely southern as Gingy. Leading "Freak Flag" gives Oppel a chance to show off her character's silly side, and she's quickly joined by Pinocchio (Kevin James Logan.) Logan, as the wooden boy with a nose-growing problem, has full character commitment that is easily entertaining. His scratchy falsetto is perfectly annoying and quite suitable for the puppet. His opening number, "Story of My Life" is a comic gem with all of the lyrical hilarity laced into the words he sings.
Dragon (Diane Maistros) may only be heard, but Maistros ensures that you hear her character loud and clear. The enormous puppet of dragon, created by John Desmone and the Creative Team, is featured during "Forever" and Maistros delivers this number as a blasting, lasting memory. Heavy on the belt and big on the vocal fire, Maistros lets her voice resonate all through the ending sustain of this song, really carrying the emotional impressions of a Dragon in love.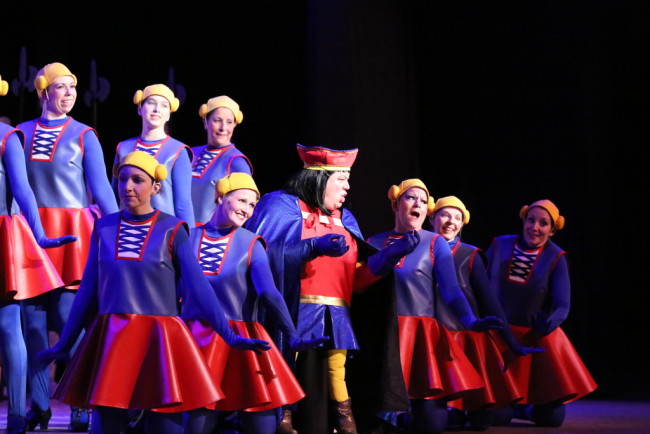 Characters like Lord Farquaad (Ken Ewing) are in short supply to say the least. Ewing gives a commendable performance on his knees, and his facial expressions are what make the performance. With a solid clear voice, he lands both of his solo numbers, "What's Up, Duloc?" and "The Ballad of Farquaad" with gusto. His pompous arrogance in the character makes him easily villainous; a suitable fit as Farquaad is nefarious and evil.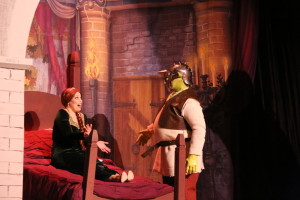 Princess Fiona (Julie Parrish) is an unconventional princess. Parrish, much like her younger character counterparts, has vivid facial expressions that really translate the crazy experiences of her character to the audience with ease. A strong, pretty voice echoes nicely with young and teen Fiona during "I Know It's Today." Parrish showcases her dancing and singing ability for "Morning Person" and again during "I Think I Got You Beat." It's her delicate candid nature in the second half of the production that endears the audience to Parrish's performance, particularly from the wedding through to the end.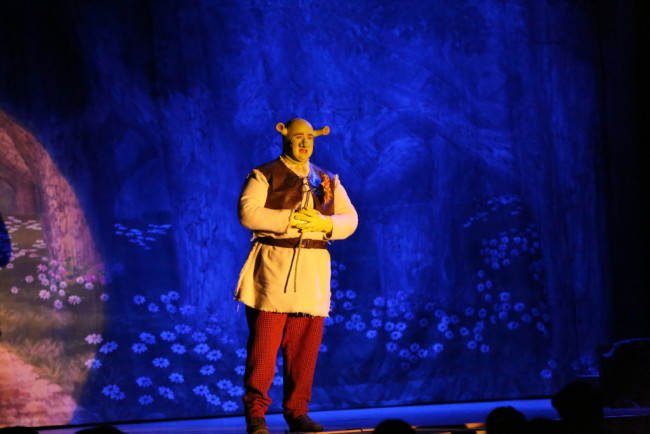 Giving a big, bright, beautiful performance is Dickie Mahoney. With a voice that is perfectly suited for the character, both with his accent and his singing, Mahoney is truly a star in this role. Funny, freakishly charming in a smelly ogreish fashion, and easily riled to extremes, he captivates the audience with his swampy humors. Mahoney delivers stunning renditions of "When Words Fail" and "Who I'd Be," both emotionally charged with a delicate and raw vulnerability that really showcase the humanity— ogre-manity?— of the Shrek character. Mahoney really bares down for "Build a Wall" and imbues this song with such anguished heartbreak that it stirs your soul and tugs at your heartstrings. An epic performance given, running the full spectrum of emotions, Mahoney is stellar as Shrek.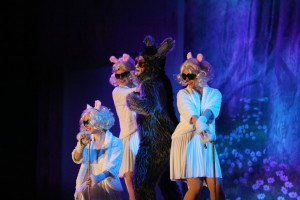 Someone call David Lindsay-Abaire and tell him we're changing the name of the show to Donkey: The Musical. Gary Dieter steals the show every chance he gets as the jackass character. Just a honky donkey with serious hilarity issues, Dieter is unstoppable once he gets going. Ad-libbing, making jokes, being ridiculous, all eyes are on Dieter all the time. The hyper spastic energy that flows through Dieter's portrayal never wavers and is exhausting just to behold. Whether he's eating the scene alive with his absurd comic conversations, or just pulling silent faces like at the end of "I Think I've Got You Beat" he's got every eyeball in the audience trained on him.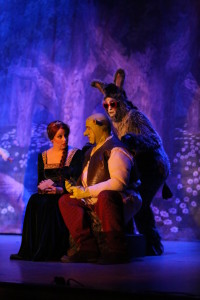 Dieter's rendition of "I Need You" is perfectly rhythmic and showcases his exceptional singing voice. "Travel Song" becomes an exercise in how thoroughly Dieter can work the audience, hoofing all over the house with ferocious charm and sass. And don't forget "Make A Move," one of the most hilarious numbers in the show, where Dieter burns it up dancing diva style. A true sensation on the stage he's the perfect glazed ham, stealing every moment he can from Shrek and the rest for a thoroughly entertaining performance.
Don't miss your chance to unite with the fairytale creatures for their happy ending, this is one happily ever after you will definitely want to be a part of.
Running Time: Approximately 2 hours and 40 minutes with one intermission
Shrek plays through February 22, 2015 at Suburban Players at St. Demetrio's Greek Orthodox Church in the Hermes Rafailides Center— 2504 Cub Hill Road in Parkville, MD. For tickets please call (410) 248-0582 or purchase them in advance online. Reservations are strongly encouraged as there is unlikely to be walk-up seating.