Sometimes it's easy to forget that exceptional theatre doesn't have to have to be a spectacle of lights, effects and sound.  Sometimes exceptional theatre can happen on a tiny stage in a black box style theatre in an unassuming storefront. Such is the case with The Highwood Theatre's current production of the drama Other Dessert Cities by John Robin Baitz and Directed by Ryan Gunning.
Set against the hot, unending sun of Palm Springs Other Desert Cities focuses on the Wyeth family as they gather to celebrate Christmas in 2004.  As the show opens, it seems as if this Christmas is like millions of others happening across America and the world; adult children questioning their choice to come home, and the parents of the children—while thrilled with the chance to see them— try to keep the apple cart that is family from tipping. This apple cart is quickly overturned. Lyman and Polly, the parents, are old guard conservative republicans who rage against liberalism while Brooke, Trip, the off-spring, and Silda, the aunt, are left-leaning, pot-smoking free thinkers.
At first it seems as if the family has had more than their fair share of good fortune and success. Lyman (Bob Chaves) was a successful actor turned politician who became an ambassador. Polly (Sue Schaffel) a former writer who created a successful television series with her sister, Silda (Melissa B. Robinson) and their son Trip (Tim Torre) is the producer of a live television courtroom show.
Then there's Brooke (Anna Jackson.) The family is especially careful with Brooke, a novelist who has not released a book in six years but has continued supporting herself with magazine articles and occasional editorials. We find that Brooke had suffered a breakdown, and was hospitalized for a year during which her parents cared for her.

However, all is not as it appears to be with this attractive, well to do family. Brooke has brought home a new manuscript— Love and Mercy, A Memoir— that has the potential to tear the family apart, and crumble the house of cards they've so carefully built over the years. It would be difficult to say more without giving the plot away, but I will tell you that the five actors are more than capable of executing the dance that the author has provided for them.
As the matriarch, Sue Schaffel is the glue that holds not only the Wyeth's together but the cast as a whole. She is a woman who will do anything to protect her family, even if the best way to protect them is to cut them out of her life. Ms. Schaffel delivers a powerhouse performance, and takes what could be a very unsympathetic role and imbibes her with emotion; ultimately gaining not only our respect, but our sympathy. Bob Chaves as patriarch is more subdued, and gives the character an air of confusion. He is not a man who chooses confrontation, and firmly believes that anything can be negotiated.
Anna Jackson as the strong-willed Brooke deftly navigates the emotional roller coaster that her character is put on. Her interpretation gives the audience the opportunity to decide for themselves if Brooke is truly the selfish, ungrateful child that she originally appears to be, or a young woman desperately trying to find a way to connect with her family and her life.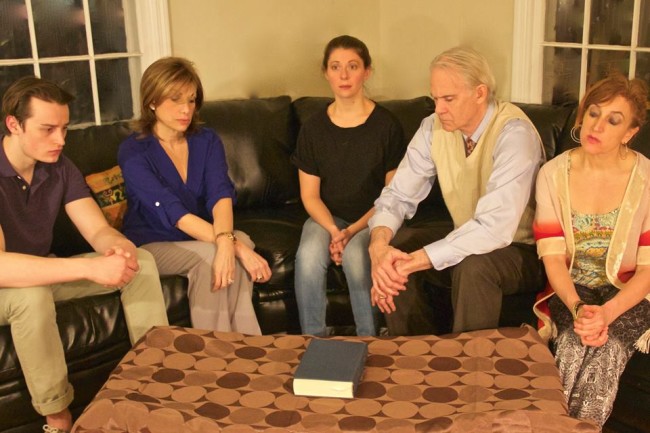 As the seemingly unflappable Trip, Tim Torre seems to be the epitome of an unflappable, self-assured yuppie. But he slowly peels the layers of polish off to show the vulnerability beneath. His line "…on your last day on earth you'll be scared…" resonated with the audience to the extent that several sitting near me had to wipe their eyes.
As the broke, alcoholic, down-on-her-luck and sneaky Silda, Melissa B. Robinson is a study in brilliance. While she says the least in the production, her ability to draw the audience's eyes to her as she watches the drama unfold is acting at its finest.
If there is a criticism to be had, it's that Other Desert Cities may not have the same resonance to those who are not of an age to understand the many references to the Reagan/Bush years as those of us who are. The script can seem somewhat dated and out of touch based on this, and while both Anna Jackson and Tim Torre give fine, nuanced performances they do seem slightly young for their roles even taking into consideration the time frame of the show. All in all, this is a wonderfully entertaining, thought provoking theatrical experience and I highly recommend you take the time to see it.
Running Time: Approximately2 hours and 20 minutes with one intermission
Other Desert Cities plays through February 15, 2015 at The Highwood Theatre— 914 Silver Spring Avenue, Suite 102 in Silver Spring, MD. Tickets can be purchased at the door or in advance online.