We sometimes think we visit our souls when we enter a museum, take a stroll on a beach, or walk through a forest. We search for a key to connecting with our roots or with reality when we take that drive-by study of unfamiliar culture or lifestyle. Woolly Mammoth Theatre Company's new world premiere work, Cherokee by Obie Award-Winning playwright Lisa D'Amour, directed by John Vreeke, seeks to expose the subtext beneath those superficial whims that drive us to seek that connection.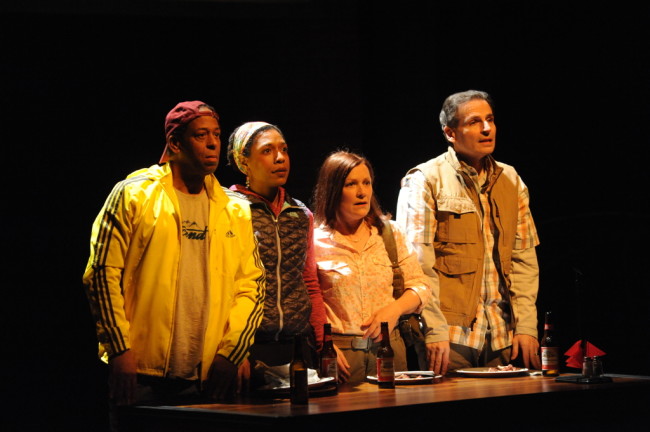 From the official description of the play: "Two couples—one black, one white—flee their suburban pressures and try to connect with nature by going camping in Cherokee, North Carolina. But their vacation is upended when one member of the group mysteriously vanishes and the others are visited by a Native American local…who unearths buried desires that might change their lives forever. Cherokee is about a disparate group of Americans grappling with vital questions: What does it mean to lead an authentic life? What are we willing to give up to have our lives transformed?"
 Cherokee begins without ceremony or warning, house lights still lit. This meta-theatre entrance to a wickedly astute study of expectations and the unknown core plunges us into the dark, and then into the world of John (Paul Morella), bored oil industry businessman, his 3rd grade teacher wife Janine (Jennifer Mendenhall), whose manic enthusiasm is peculiarly reserved for mentors of the very young, Mike (Thomas W. Jones), so terribly out of place in the forest you think he might just explode when the next gnat lands on him, and his young, enthusiastic wife Traci (Erica Chamblee) so focused on becoming the mother of Mike's child, she nearly loses herself. 
 And then there's us: The audience, voyeurs on this quartet's journey to reconnect with the primeval forces of nature. We are essential to the story, because this is as much an exploration of our own expectations as it is a journey for the characters on stage.
 At the core of every piece of drama is the caricature – the nugget of truth as the actors see it – and how we as audience are expected to relate to and interpret that truth. Vreeke takes our hands, coaxing us into this world with initial wonder and enthusiasm, until we find ourselves down in that rabbit hole with the characters, where our own preconceived notions lead us to believe we understand the roles being played, until it becomes clear we have no idea what's next.
 As audience members we acknowledge the actors and recognize their roles. We relate to the stereotypes at some level of expectation, because we are told that this is who these people are. In many ways we all operate in the same space as these characters. We all portray at any given time the roles of teacher, wife, father, daughter, student, friend, lover, spirit guide, employee, boss. Those are expectations. Preconceived notions we show to the world when we operate within its rules, so that we can survive for another day doing what we think we need to do to survive.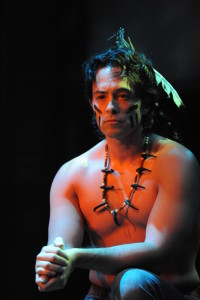 But what does it take to survive in an increasingly complex world that so often robs us of our self in every sense? Into this maelstrom of "normal" we come to know Josh (Jason Grasl) a mystical figure who finds his way to the campsite in the Great Smoky Mountains outside Cherokee, NC, not far from Harrah's Cherokee Casino. Josh's appearance is the catalyst for a journey that carries these characters far, far outside their comfort zones of high end camping gear and expensive designer shoes and into the forest of emotions as they try to make sense of their world and discover themselves increasingly untethered and adrift.
 Daniel Ettinger's deceptively simple fluid forest of wooden pillars and moving platforms combine with Colin K. Bills' nimble lighting design to frame the space with shafts of leaf-filtered sunlight or moonlight interspersed with the artificial entertainment environment of locations within the casino and elsewhere in Cherokee, give us context. Aaron Fisher's projections – a nod to ever-present documentary videos that bring us all closer to the Museum Experience – place the characters into the documentary in an almost-overdone conceit that reminds us each time how intrusive technology can become.
 Even the lobby has that museum riff going, with a short Facebook app-driven quiz that brings YOU closer to the true camping experience. (I scored "Day Tripper" in my version of the quiz – A fair cop if ever there was one for my method of travel into camping and forest exploration.) It is this extra step, for the willing participant, which helps launch the audience member into the role of willing observer and witness.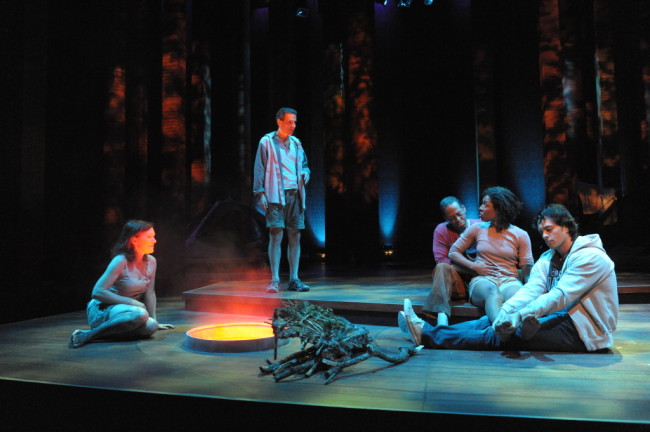 If ever a work managed to strip away preconceived notions of self, this is it. In her preface to the play, "Old Mountains", Tiya Miles says "Cherokee subtly plays with notions of primal knowledge, cultural expectation, trickster figures, and racial stereotypes and suggests that bonds of affinity can be forged across these lines of difference."
 No matter where the five characters begin in this story, they all end somewhere radically different. It's not so much magic as there is a rending, like the release of a knotted muscle under the skin that allows you to relax and then overextend just as our assumptions about reality and our place in it are torn away, stripped bare and exposed, underneath clear skies, burning embers and the enhanced beat of drums that take advantage of our senses in ways we only think we know. Five minutes into the second half of the play, we find that everything we know is wrong, and that everything simply…is.
 For anyone willing to make the investment, Cherokee is guaranteed to give back tenfold or more. Unpack your assumptions and see this show.
 Running Time: 2 hours and 30 minutes with one intermission
Cherokee plays through March 8, 2015 at Woolly Mammoth Theatre Company— 641 D Street NW in Washington DC. For tickets call the box office at (202) 393-3939 or purchase them online.