The past and the present collide very graciously on the Silver Spring Stage with a remarkable presentation of Moises Kaufman's 33 Variations. The production effectively twists a gap of almost 200 years together, showing that emotions and life situations don't change all that much through time. The play is a fictional piece inspired by Ludwig Van Beethoven's work. It takes place in two time periods; the present, and the later part of Beethoven's career in 1819-1822.  The present part of the story involves a woman, Katherine Brandt, who has her doctoral degree in classical music research, and her hell bent drive to find the meanings behind Beethoven's 33 Variations. The relationship between Katherine Brandt and her daughter, Clara, are also a part of the present day story as Dr. Brandt begins to struggle with ALS (Amyotrophic Lateral Sclerosis).
Ludwig Van Beethoven's struggle never seems to ease in the time frame given with this piece. The production begins with Beethoven sitting in a chair with a blanket over his head, trying to compose, as he shouts and whispers in complete frustration. The entire story line, aside from the modern day interaction of characters, seems to be historically accurate. Having grown up playing the piano and having a love for Beethoven's works, helped me to understand and enjoy the story. Joseph Mariano, who played Beethoven, was very enjoyable and heartbreaking to watch. He really captured, especially towards the end of this play, the emotional turmoil and stress Beethoven dealt with as he was almost completely def and struggling mentally.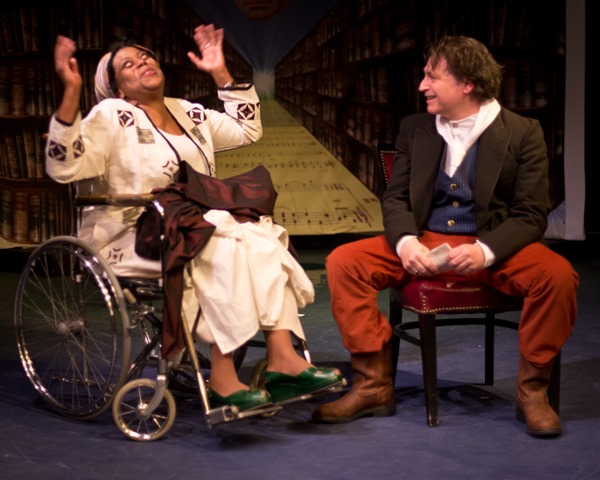 The role of Dr. Katherine Brandt was played by Yvonne Paretzky and this is a MAJOR role for an actress to play. Ms. Paretzky plays a mother, a driven doctor, and a woman dealing with all of the horrific complications of ALS. She accomplishes these tasks with great endurance and perfection. The emotion behind her 'letting go' towards the end of the piece is rather powerful and the reactions a few of the audience members were having over her performance were causing a ripple effect in the house.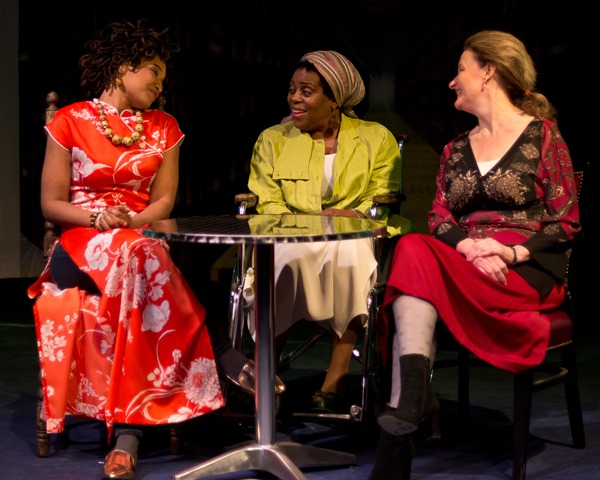 If I were to give an award to any of these actors in this production, I would give it to Malinda K. Smith, who played Dr. Gertrude Ladenburger. She showed the utmost dedication to her character. The pride Ms. Smith has for this role and for this piece shows greatly in her performance. The delivery of several lines gave audience members the opportunity to ponder a deeper meaning into the situation. This is a superior performance by an actress.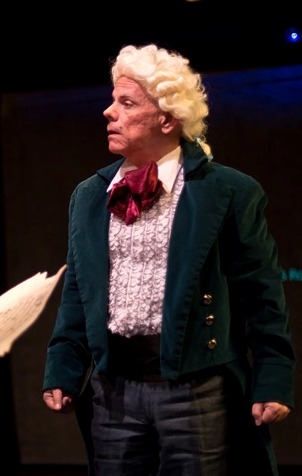 All of the characters within this piece did an admirable job. A few cast members seemed to have a little bit of opening night jitters, however, by the second act all of those jitters were gone and all cast members were immersed into their characters. Thank God for the comedic relief of the character Anton Schindler, who was played by Mario Font, because there were many serious moments that his humor softened and this was necessary to keep the show from being a complete downer.
The use of props and scenery is very minimal in this production. The theme of this production really does not require heavy propping or massive set pieces. The morals and meanings of the play could even be picked up on a bare stage. However, the use of screens and projections really add to the flow of the play. Many of the projections were beautiful and helpful in depicting time and place within the story. These projections are the work of Set Designer Eric Henry, and his work should be praised for creating so many believable locations.
Natalia Gleason was the Director of this project and she really worked wonders with this play. It would seem that this is a rather difficult play to direct due to it really being two plays in one. Difficult or not, Ms. Gleason pulled it off. It was very enjoyable to peek at her in the audience during the performance and seeing her face light up during certain scenes. She seemed to show a great love for this piece through her direction of the performers.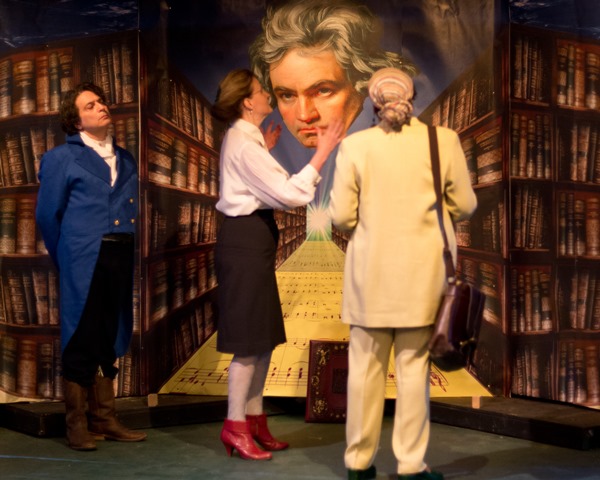 Silver Spring Stage's production of Moises Kaufman's 33 Variations is really a wonderful production. This production would appeal to anyone from a history buff to a mother and daughter having an evening out. Well worth checking out.
Running Time: 2 hours and 45 minutes with one intermission
33 Variations plays through March 21, 2015 at Silver Spring Stage— 10145 Colesville Road in Silver Spring, MD. For tickets please call the box office at (301) 593- 6036 or purchase them online.