Are you ready to witness the impossible? Theatrical magic at its utmost spectacular, The Illusionists: Witness the Impossible have arrived in a puff of glorious smoke and are ready to impress theatergoers across Washington DC as they take their illusions to the stage of The John F. Kennedy Center for Performing Arts. Directed and Choreographed by Neil Dorward, this high-octane, riveting magical show defies description with its flashy and edgy new approach to magic— bringing big tricks an uncanny intimacy from the even bigger stage. A truly marvelous experience, this magic show is not your corny days of yesteryore performance, it's a sensational spectacle that will blow your mind.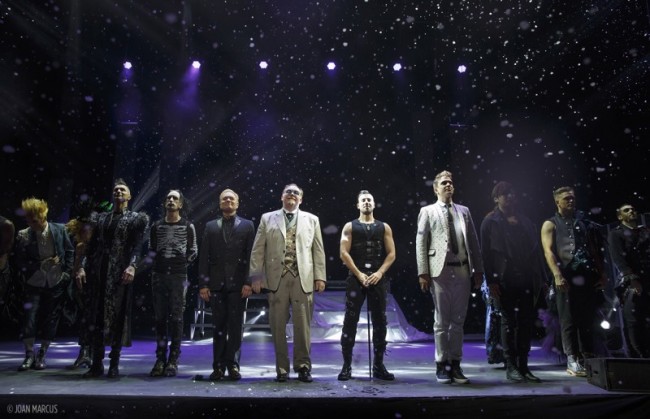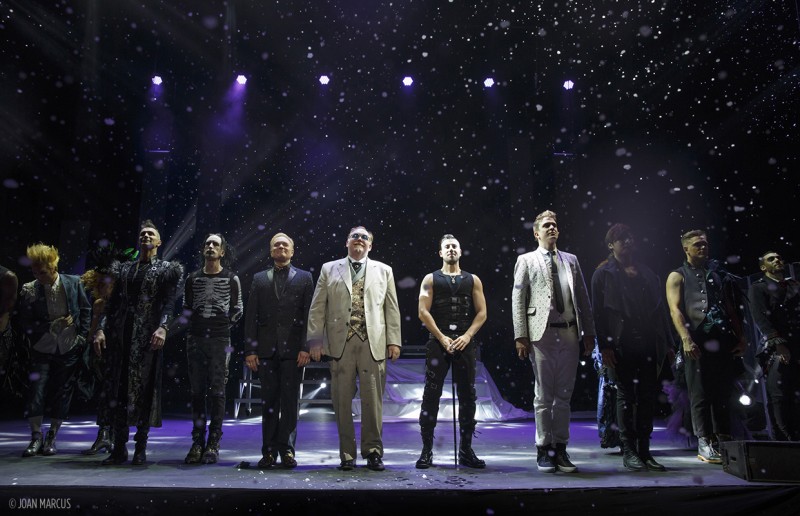 A team of stellar production designers fortifies the basic elements of magic tricks with a striking aesthetic. Starting with Illusion Designer Don Wayne, who crafts the visual constructs of how the more grandiose tricks come to fruition, and working through Lighting Designer Paul Miller, Costume Designer Angela Aaron, and Composers Evan Jolly, Eddie Cole, and Dustin Moore— all of whom fill in the gaps of entertainment with their mesmerizing lighting effects, dazzling costumes, and enchanting soundscapes respectively— the team does exceptional work to pull out all the stops in this grandstand of a show.
The unique feeling of the show comes from Director and Choreographer Neil Dorward. While each of the seven sensational performers are in their own right striking and astounding, it's Dorward's ability to infuse a fluidity between their acts on stage that really speaks to the audience. Pumping a furious pace throughout the show, Dorward keeps the audience ensnared in the magical illusions as they unfold. Never a dull moment as even the scenic changes are in their own way an enchanted dance, Dorward conjures a magic all its own when it comes to the mechanical operations of the shows inner workings.
Adam Trent, better known as The Futurist, warms the audience and gets things started with a healthy dose of showmanship and corny jokes that really involve the theatergoers out in the enormous house of The Kennedy Center's Opera House space. Focusing on presence and presentation, a frenzied flurry of flashy magical tricks flies across the stage— serving as quick introductions to all of the artists that will peddle their plethora of prestidigitation throughout the evening.
The Futurist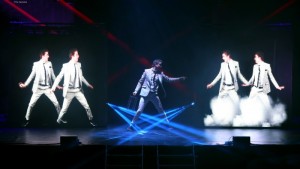 Trent, who serves as more than just a conduit between the magicians and the audience, has his own unique breed of trickery that he brings to the stage. Preferring to keep with the times, Trent infuses digital media projection into his routine. Video Designer Darrel Maloney assists with the flawless transition of bringing virtual graphics and moving holograms to vivid life as Trent proceeds to pull various objects— including at one point himself— out of a video projection and into the actual reality of existence. Great showmanship and polished presentationalism, Trent is ideal for his namesake, focusing on the technological aspects of how to move magic forward into the future.
The Trickster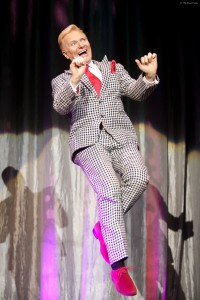 No queens or jokers in his deck of cards, claims Jeff Hobson. They won't be needed as he's there already. With a charming and slightly sassy sense of humor, Hobson's tricks rely more heavily on his cheeky nature and well-sniped delivery of taking the piss out of himself and his participatory audience. With flare and panache his subtly hinted homo-erotic humor is real crowd pleasure throughout the performance. Hobson possesses an innate mystique about his charm that really harkens back to the days of yesteryore when it comes to romping gaily through the house. A true personality with a warm and salty sense of humor, not dissimilar from a fondly remembered gameshow host, Hobson is the cat's meow when it comes to presentation and showmanship, truly understanding how to eek humor out of well-crafted silences and awkward moments.
The Inventor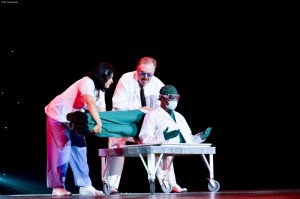 Mad scientist in a frightening laboratory comes immediately to mind when Kevin James, The Inventor, takes to the stage. Outfitted by Costume Designer Angela Aaron to have a uniquely SteamPunk-ish look, James has charisma that is both haunting and endearing as he struts through his doodads and gadgets of his play space. The creepy dark lighting (again the handiwork of Paul Miller) mixed with all of the fantastical assistant costumes of Aaron's craftwork really augment the experience as James puts a new spin on an old trick classic— sawing a person in half. Only this is more assembling a person from a shamble of parts and its execution is striking and leaves the audience gasping in awe. Reappearing later in the show, his innovative tricks— particularly with snow— give him sturdy ground to stand on when it comes to his show-name.
The Anti-Conjuror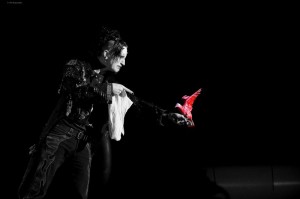 Looking like a Tim Burton creation gone wrong, Dan Sperry dazzles the audience by appearing on-stage as a hybrid between Marilyn Manson and Edward Scissorhands. His grotesque little tricks, while better served by an up-close and more intimate audience, are brilliantly underscored by the compositions of Evan Jolly, Eddie Cole, and Dustin Moore, creating a disturbing sense of off-kilter serenity. This is mismatched discord between his appearance and what is heard makes for a truly unique magic experience. It's the morbid and macabre bird tricks that are truly stunning and breathtaking.
The Warrior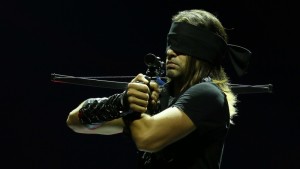 Armed with a cross-bow in one of the most interactive tricks experienced in the first half of the performance, Aaron Crow sets his sights on the dangerous side of things when it comes to magic in practice. Another routine that is underscored and focused primarily by the engaging compositions of Jolly, Cole, and Moore, Crow understands how to keenly work the beats and breath of his routine to the music in a most enthralling fashion. Freakishly silent with his Gothic-donned assistants, Crow also relies on the motion of his spinning platform to disorient the audience, which in magic is always a bonus.
The Escapologist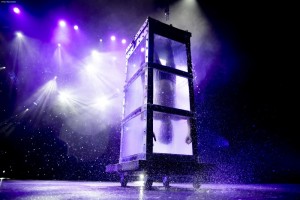 Houdini did it first, but now we have Andrew Basso. Delivering the most death-defying and dangerous trick of all time— the locked water suspension chamber— Basso knows how to get the audience's attention. Filling the Act I finale with his masterful attempt to escape from the water chamber of death, the audience is on tenterhooks with held breath and lungs all but bursting to see if he can pull off the daring feat. With a sharp understanding of dramatic build, Basso works the crowd over into a frenzied state, really hyping up the energy before he dive into the trick. A true escapologist, his masterful ability to attempt and hopefully pull off such a trick is one of the most exhilarating moments in the performance.
The Manipulator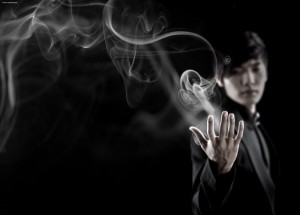 Last, but certainly not least, Yu Ho-Jin is a wonder. There is no better word for what he is able to do with cards and other miniscule objects during his time on the stage. Complete silent and fully engaged and engrossed in his trickery, Ho-Jin is an incredible mastermind when it comes to sleight of hand. Bending the senses, he entrances you with his grace when handling cards. There is a majestic fluidity to his routines, a flawless execution of grace and certainty that really captivates the eye, entangles the mind, and impresses the audience beyond compare. Closing the show with his unimaginably beautiful trick, Ho-Jin truly possesses the spirit of magic.
An exceptionally dazzling performance across the board with old school tricks, fantastic personalities, and new-age magic, there is something for everyone to see in The Illusionists: Witness the Impossible. But it's only in town for a limited time. Be sure to catch them before the vanish into thin air!
Running Time: Approximately 2 hours with one intermission
The Illusionists: Witness the Impossible plays through January 11, 2015 on the Opera House stage of the John F. Kennedy Center for Performing Arts— 2700 F Street NW in Washington, DC. For tickets call the box office at (202) 467-4600 or purchase them online.