It's a playwright's prerogative to be mysterious. But when mystery and intrigue turn into scandal and spookiness there's thrills to be had around every corner. A titular and haunting production of D. D. Brooke's Rehearsal For Murder, based upon the teleplay of the same name by Richard Levinson and William Link, is setting up shop at the Reston Community Players this January. Ready to purge the audience of any remnants of the saccharine holiday, this suspenseful production weaves deception and shock into every scene. A vivacious and gripping thriller Directed by Jessie Roberts, the RCP production is a high-quality thriller set to send shivers up your spine.
Creating the reality of a murder mystery on stage is no easy task, not to mention one that combines element of memory and recall play. The Scenic Design Team— including Ian Brown as Set Designer and Cathy Rieder as Scenic Artist and Painter— captures the notion of Broadway from a time that seems so long ago it nearly feels lost. Both Brown and Rieder envelop a feeling of nostalgic New York in their creation. The detail in Rieder's painted backdrop that represents the posh study of Monica Wells' apartment is flawless; looking realistic enough that you'd hardly notice it was a backdrop.
Aiding the mysterious feeling that the Scenic Design Team manages to render with their production elements is Lighting Designer Jeffrey Scott Auerbach. Although his lighting cues at times feel overstated and heavily smack of overt symbolism, they do inspire striking beauty. Fading out on the typewriter in a blinding spotlight at the end of a scene inspires a moment of emotion not dissimilar to those created in films of this genre. Auerbach's subtle shifts in lighting ease the transition from moments in the present reality to recreated memories as the story moves along as well.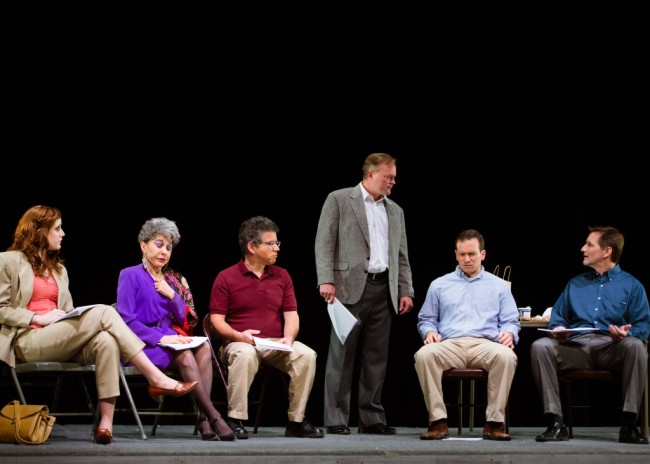 Costume Designer Judy Whelihan understands the gilded age of the Great White Way and has this concept well represented in her fashion style. Whelihan pays particular attention to the character of Bella Lamb, a wealthy Broadway producer, and her outfits are particularly outlandish but always in the highest of taste. The rich purple tones accented with sequins make the producer character sparkle and Whelihan's impeccable knowledge of how to perfectly accentuate the natural figure of a performer shows through in the strikingly cinched waistlines of every one of Bella's costumes. Whelihan uses subtlety to connect costumes from the scenes in the past to the scenes in the present; Karen's salmon dress reappearing as the primary color under her business blazer being a prime example of this clever carryover.
 Murder mysteries and whodunit plays only actualize their full potential for an audience if a skilled director drives the pacing and keeps the action moving. Director Jessie Roberts possesses a great deal of this directional skill and moves the large cast forward at a breakneck pace. The scenes of recreated memory feel exceptionally vivid and the character profiles pop in and out of them realistically. Roberts' approach to the multi-faceted characters featured throughout the performance is praiseworthy, being outdone only by her ability to truly blindside the audience with all of the shocking twists and turns the play has to offer.
The cast has a convivial working relationship that sours almost instantly as soon as accusations among the characters start slinging around. From minor performances like Heather Miska, who plays the overeager assistant Sally Bean, to the cast of seven principle performers, they create a working murder mystery that delivers intense thrills with every passing scene. The relationships formed on stage showcase intense bonds particularly as the characters begin to shift and show their true colors.
Kathy Ohlhaber, playing the late Monica Wells, gets far more stage time than one might imagine a dead character would. Ohlhaber's performance is magnificent as she embodies a wide range of strange personalities all embedded within the Hollywood starlet turned stage star. The juxtaposition of her nervous disposition against the feral ego displayed in later scenes is both intense and fascinating. Ohlhaber's ability to transform the seemingly one-dimensional character into a rich, multi-layered entity is striking and suits the unpredictable nature of this production.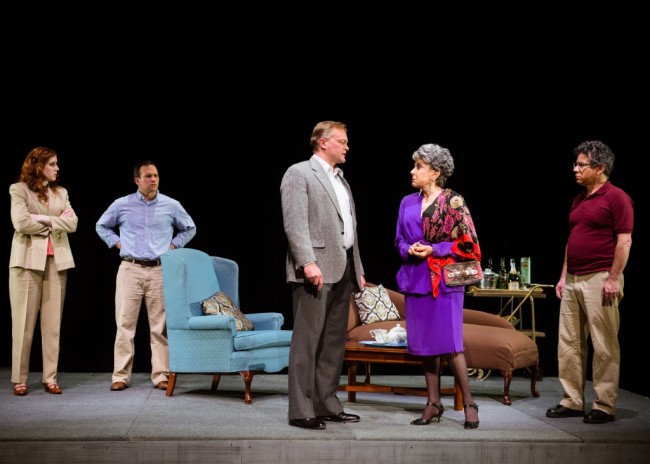 The five friends who all find themselves in a curious situation feel like featured cameos. The usual suspects, as it were, working together like the well-oiled cogs in a murder mystery machine. Lloyd Andrews (Jay Stein) and Bella Lamb (Joan Susan Zeigler) are the quirky offbeat Director and Producer pair that nip little moments of comic flavor into some of the more banal scenes. Zeigler's stage presence exudes that natural Producer quality that is difficult to pinpoint with one adjective; a hybrid blend of phony feelings and mental calculations that result in melotheatric deliveries, and she delivers these qualities with sharp vigor.
It's sassy biting Karen (Christine Carter) that draws the attention to her, even in her initial encounter as the bubbly young eager actress. Carter delivers a snappy energy throughout the performance that grounds her character in a suspicious but solid manner. Her interactions with Leo (Wilson Paine) drive a fair bit of the darker humors that permeate the show. Paine carries the comedic elements tucked away in this play with great ease upon his shoulders; his absurdly stupid outbursts arrive with flawless timing. Paine understands the layers of his character and adjusts his performance accordingly. As does Kevin Walker, playing the leading man David. Walker embodies a charming suaveness that reads just a hair annoying and slightly unctuous; the perfect blend for his male-star personality. Despite his character's ego, the sharp mental facilities bargained into the role are delivered with a forceful punch.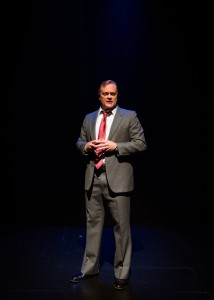 Alex Dennison (Ian Brown) serves as the jack-of-all-trades everyman in this production. As the narrator, the protagonist, the antagonist, and so many other things, Brown's performance is exceptional. Embodying the era as well as the persona, Brown delivers quality work while twisting and turning the audience through this startling plot. Like a true man of the times when bad news strikes him there is a moment of exceptional emotional outpouring which is quickly swept away for fear of seeming not masculine. Brown, albeit whispering a bit too much at times, delivers his story almost like a film noir detective. The dichotomy of this narrative character and his anger-driven madman is a splendid and titular creation to behold. Brown's work is impressive and throws the audience off-kilter every time a moment of clear plot-predictability comes along.
Excitement and suspense never felt so good as it does on the RCP stage; it's a thriller you won't want to miss, but it only runs a short while so don't be left out of the murderous mayhem.
Running Time: Approximately 2 hours with one intermission
Rehearsal for Murder plays through January 31, 2015 at the Reston Community Players on the Reston Community Center Centerstage— 2310 Colts Neck Road in Reston, VA. For tickets call the box office at (703) 476-4500 ext3 or purchase them online.