Telling the truth is an expensive hobby. The costs are steep, the prices are high, and in the end the results can be catastrophic. In this riveting and politically charged Pulitzer Prize-winning drama by Jon Robin Baitz, Fells Point Corner Theatre showcases an extraordinarily talented cast under exceptional direction with their production of Other Desert Cities. Directed by Michael Byrne Zemarel, this intense familial story focuses on opposing political views across the parental and child generations with a shocking family secret that can destroy the foundation upon which such a life was built. Zemarel's full-length directorial debut is a striking success with realistic justice served to this theatrical modern classic-in-the-making; a show worth marveling over, absorbing, and savoring.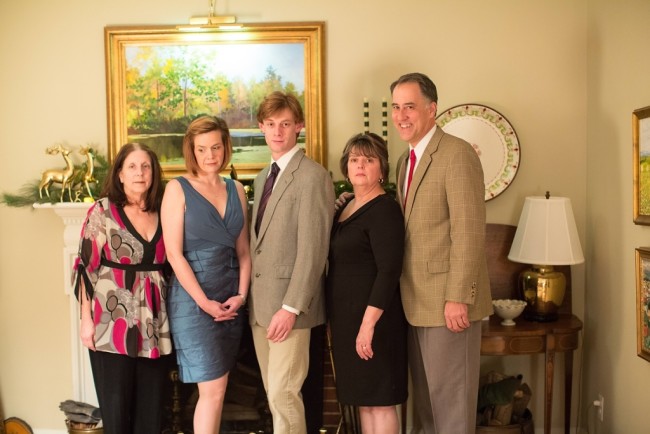 Set Designer Bush Greenbeck has created a lavishly agreeable set; suitable for the cultural atmosphere in which the show takes place. The furnishings are modern; a tasteful display of sophistication with a hint of reserved pride. Greenbeck's design work reflects the wealth and aristocracy as well as the political climate of the Wyeth family without appearing ostentatious. The spatial alignment of the decorated proscenium feels organic and is simultaneously functional; allowing for flow of scene and a natural expanse of the house's remaining rooms without a sense of clutter or artifice.
Director Michel Byrne Zemarel navigates the treacherous emotional waters of this drama with the certitude of a seasoned director. There are precious few moments where a beat is missed and the show's pacing is consistently on point, particularly in the earlier dialogue exchanges between the daughter Brooke and the father Lyman. It's the forceful surge of emotional undercurrent that lies burbling beneath the surface of the dialogue exchanges that Zemarel takes charge of with vigor and sets into motion in a fashion that doe Baitz' play great theatrical justice.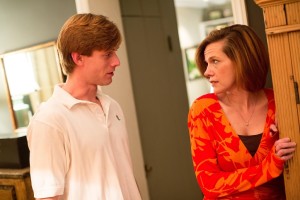 Trip (David Shoemaker) is the stoic, albeit humorous player among the five characters. Fully articulating the notion that sarcasm is charming and alluring, Shoemaker has quite the handle on his poised irreverent delivery. He successful diffuses tense situations with well-formulated quips spoken at precisely the correct moment. The devoid detachment with which Shoemaker approaches the character is surgical; intentional and direct. There is a simmering frost in his demeanor; as contradictory as it is refreshing, particularly when blasted at Polly (Lynda McClary.)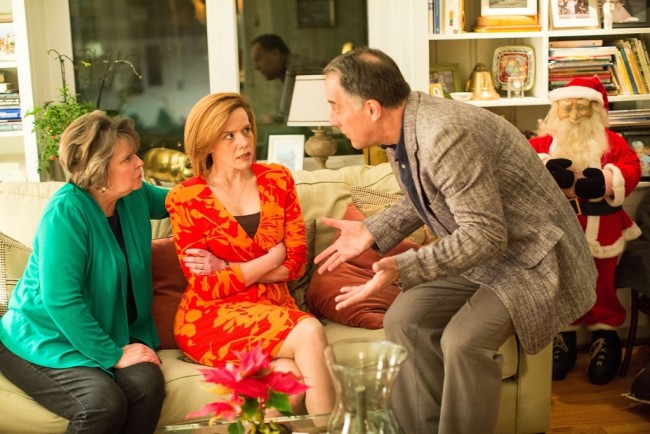 As mother characters go, McClary delivers this pill of a matriarch with turgid grace. McClary's portrayal is ripe with bristling edges and dripping with sarcasm. Beneath the surface layers of those descriptors McClary finds a tension-strung core and exposes it in glimpses, making the character's existence in the production both multi-faceted and intriguing. Impressing the audience with her sudden shift into vulnerability, McClary renders a dynamic portrayal of the toll familial secrets can take on such a revered and proud matriarch.
Dave Gamble, as the father Lyman, gives a similar portrayal to McClary's. Grounded and driven by undiscovered emotional turmoil, his juxtaposition of pathos against reality is striking. Always with a firm hand of restraint are his feelings expressed until the emotional dam bursts and a flood of repressed and discarded sorrows and confusions come bursting forward later in Act II. Gamble has impeccable timing, particularly in his earlier exchanges with Polly (Laura Malkus.)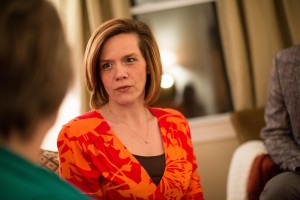 Malkus is a gem to the stage; a radiant beam of psychological instability and emotional Precarity that penetrates the existence of the performance. He genuine emotions worn on the character's sleeve and waved around like a hailing banner for a revolution are a zesty accompaniment to the play's drama. Her masterful performance showcases unyielding emotional complexities and varied degrees of bonded interaction between Polly, Lyman, Trip, and Silda (Linda Chambers.) Malkus delivers stunning blow after blow as the scenes push forward; a remarkable command of her stage presence blended to perfection with her emotionally vibrant convictions.
The consequences of choosing art over life are fully experienced in this brilliant production that crackles with emotional electricity; a sure-fire production not to be missed.
Running Time: 2 hours and 20 minutes with one intermission
Other Desert Cities plays through February 8, 2015 at the Fells Point Corner Theatre— 251 S. Ann Street in Fells Point in Baltimore, MD. Tickets may be purchased at the door in advance online.