Murder. Madness. Mayhem. It's all there awaiting you behind the façade. A darkened alleyway; a decent down stone stairs to the underbelly of Saint Paul Street and you shall find yourself amid the most diabolical musical mastery The Audrey Herman Spotlighters Theatre has offered up on its stage in a great many years. Jekyll & Hyde sets to the stage with relentless power; a beast of a musical under the refined Direction of Fuzz Roark and superb resplendence of Musical Director Michael Tan, this valiant effort at taming the darkness within shakes audiences to the core. Conceived for the stage by Steve Cuden and Frank Wildhorn, Book & Lyrics by Leslie Bercusse, and Music by Frank Wildhorn, this unfathomably dark journey is a soul-searing nightmare disguised as a darkened daydream; a musical malady with twisted roots that tear straight to the heart.
Creating a world outside of the present day is an elusive task that does not so easily skate by Resident Costume Designer Laura Nicholson. The amount of dramaturgical research present in her handiwork showcases vast knowledge of the era. The jarring choice electric pink hair on the proprietor of the den of sin is a reflection of the dyed wools and colors women of the time used in their hair. The ostentatious gold curtain-esque fabric used for one of the aristocratic skirts replicates a sense of wealth well traveled. Her overall achievement in successfully outfitting the numerous ensemble members of the cast is worthy of great praise.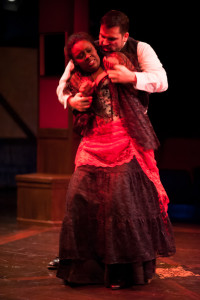 The muddled element of light in this musical serves the show well in places but fails it in others. On the whole, Lighting Designer Allison Ramer uses the lighting dynamic of red and white to its fullest purpose and potential in "The Confrontation." It is no small task to make a notable difference between Jekyll and Hyde as they are played by the same actor, and the use of Ramer's designs could have been more soundly actualized in this arena, further highlighting the disparity.
Musically the production is striking. Intricately woven rhythms and a daunting score meet their match at the hands of Musical Director Michael Tan. Encouraging a robust sound from the ensemble with the visceral biting nature of the music's lyrics imbued fully in the larger group numbers, Tan succeeds with gusto in making this production a musical success. The haunting blended harmonies, particularly in the quartet "His Work and Nothing More" are striking to the ear in a hypnotizing fashion.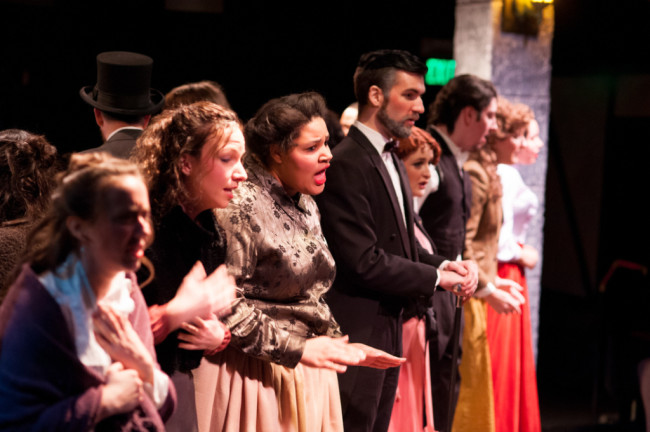 Director Fuzz Roark astounds the audience with the capability to pack a full cast of nearly two dozen onto the intimate space of the Spotlighter's stage. Despite dampening the choreographic potential of the show, Roark shows exceptional vision in his ability to correctly block and move the ensemble for larger numbers like "Murder, Murder" and "Façade." His curious gender-bent casting for the role of Spider keeps the audience bemused as they query the intention behind the choice. Parker Bailey Steven, as Spider, is a vicious and venomous creature, living up to the namesake in accent and portrayal of the character.
Voices of note include Jeffrey Coleman who delivers an almost operatic quality to his featured solos first in "Board of Governors" and later in "Engagement Party" playing the unctuous, albeit composed, Sir Simon Stride. His classical sound echoes with chilling fervor both when addressing Jekyll and Emma. Christopher Burns, playing Jekyll's butler Poole, is also worth mentioning for his strong sense of character delivery and his dulcet yet powerful voice.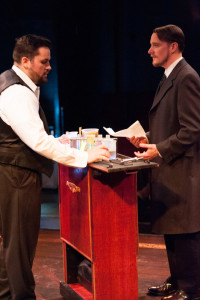 Both Sir Danvers (Jim Baxter) and John Utterson (Brian S. Kraszewski) bring a classy and formidable sense of aristocracy to the performance that settles in the comfortable zone of enchanting. Though Baxter and Kraszewski's voices are not often featured as soloists, the lines they do have in songs where they are featured, ring out warmly and firmly. There is a stern edge to both of their portrayals; Baxter's performance tempered with reason and concern for Emma, and Kraszewski's tempered with loyalty and devotion to Henry Jekyll.
Emma (played normally by Patricia Hengen, but due to illness at this performance was performed by Autumn Boyle) adds a delicate balance to the mixture of bold masculine voices in this production. Boyle, undertaking the role with only a days' notice, performed divinely managing not only to clear the soprano range of the character in pitch but with a great deal of emotional proclivity. Her duet with Lucy, "In His Eyes" is an eerily serene number which wends their voices and their hearts' intentions together in a remarkable fashion. Boyle's duets with Jekyll are equally compelling; compassion and kindness present in the essence of her character portrayal not just vocally.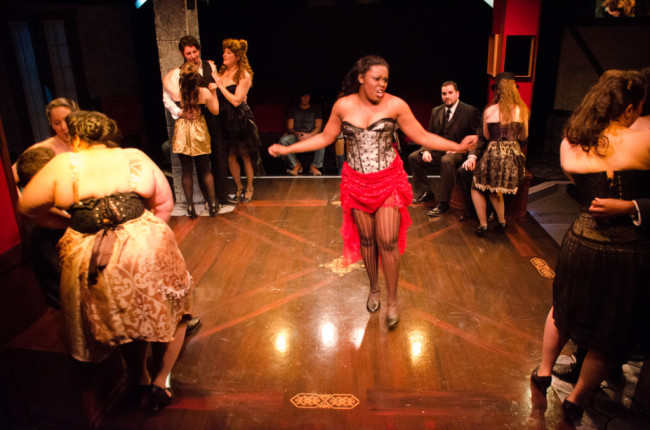 Lucy (Renata Hammond) is the cat's meow after hours. Hammond delivers a delicious dynamic performance as the street girl with ambitions. From her desperate yearning and hopeful ambitions felt wholeheartedly in "A New Life" to her unctuous and scintillating turn of phrase and physique in "Bring on the Men," Hammond captivates the audience with her titular portrayal. There are moments of all-encompassing fear that quake through her body but never once compromise her vocal prowess in the more fearful moments shared with Edward Hyde. "Sympathy, Tenderness" and "Someone Like You" are the two most exceptional numbers performed in the show, second only to the title character's dueling solos, "Alive" and "This is the Moment."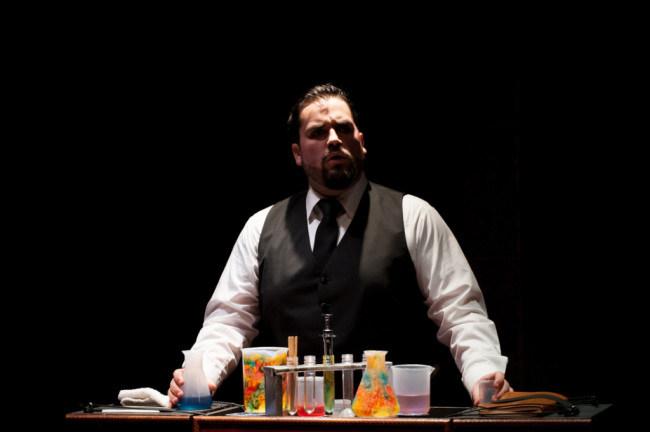 Duality within a character is one thing but embodying both man and monster is quite the task that Ryan Wagner lives up to in his portrayal of both Henry Jekyll and Edward Hyde. Though there is no fantastical transformation, Wagner jarringly adjusts his physicality and his vocal timbre to delineate man from monster. His vocal prowess is inspiring; a phenomenal rendition of "This is the Moment" strikes the heart of the audience like a carefully guided arrow. Haunted and possessed by demons of curiosity this number erupts with blasts of powerful feeling. This strikingly beautiful number juxtaposed against "Alive," a solo wherein Wagner delivers guttural growls of harrowing proportions, creates the ultimate dichotomy of good and evil. Perfection delivered in the two faces of the character, Wagner is sensational and the epitome of torn throughout the production.
Dare you look at what lies beyond the façade; the berserk and perverted, the deliciously dark; all await any willing audience member who wishes to experience this detrimentally beautiful work of musical theatre in all its terrifying glory at Spotlighters theatre.
Running Time: Approximately 2 hours and 50 minutes with one intermission
Jekyll & Hyde plays through February 8, 2015 at The Audrey Herman Spotlighters Theatre— 817 N. Saint Paul Street, in Baltimore, MD. For tickets call the box office at (410) 752-1225, or purchase them online.