The pure science of criminology will bring about the truth of the matter in this delicate situation: Prince George's Little Theatre has filled their stage with disastrously hilarious mayhem by mounting A Shot in the Dark. Directed by Keith Brown, this dated whodunit mystery is receiving a refreshing makeover upon the PGLT stage this winter season. An honest hoot, this murderous marvel is packed full of laughter, surprise, and a rousing good time for all.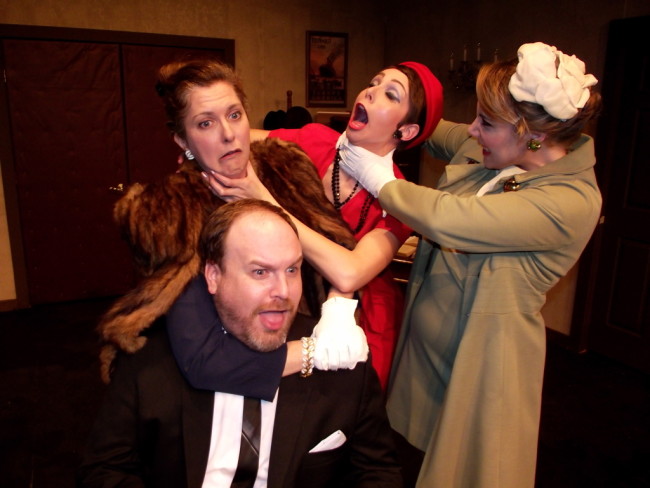 Despite its dated framework and esoteric locale, Director Keith Brown maintains a feeling of modernity to the performance. This could just as easily be set in modern France, save for the costuming effects and a few references peppered throughout the dialogue. The show is long, but moves along fluidly, with the first half being as long as the second. Brown's edits and cuts which condense the show from a grueling three-act show down to a much more concise two-act performance are merciful and well placed. Even with the actors moving at top speed under Brown's guidance, the dialogue is heavy and clunky in places, a fact owed largely to the translation and adaptation of Harry Kurnitz from Marcel Achard's original work L'ldiote.
Brown also serves as the show's Set Designer and works along with Linda Swann, the show's Costume Designer, to create the effect of high class Paris in the early 1960's. Brown's set is simple, a stuffy office that could belong to any magistrate, but well defined in its usefulness regarding entrances and exits. Swann's costumes are on the finer end of the creative scale; the eye-popping red ensemble piece used on Josefa insinuates her saucy nature in a fashion most blatant. The couture look of gay Paris at the time is reserved for Antoinette, the main magistrate's wife, and Madam Beaurevers, both characters make lavish entrances decked to the nines in the latest of styles for the era.
It's the aforementioned women who pop up throughout the performance that really drive comic indecencies into the production. Madam Beaurevers (Mary Koster) is the epitome of bitter aristocratic society; oozing pompous arrogance from her character in her physical arrival alone. Lea Scherini, as the doting Antoinette, displays an air of the provincial, which is quickly turned by a green-eyed monster and the dichotomy between the two is splendid. When Scherini begins her antics of returning to her husband's office to catch a glimpse of the murder suspect she earns the well deserved uproarious laughter of the audience for her amusing approach to the scene.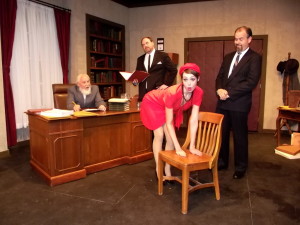 Other supporting characters worthy of note include Master Beaurevers (Brian Binney) and Morestan (Martin Hayes.) Particular praise for Hayes' endurance should be noted as he spends nearly the entire show on the stage, observing and taking notes as is his character's description yet he remains lively and engaged with each passing moment. The facial responses he pulls forth, especially when responding to some of Josefa's wildly off-color statements, are undeniably hilarious. Binney brings a similar level of humor to the scenes, though often driven through his flawless articulation of his character's overly verbose dialogue. Delivering a particularly flirtatious series of interactions once the plot unfolds, Binney holds his own in this curious character role.
 Playing the main interrogator Paul, Matt Leyendecker has his work cut out for him as his character is forced to go head to head with the intense stage presence provided by Erica Jureckson, playing the vapidly absent ingénue murderess, Josefa. Despite some minor slips and nervousness, Leyendecker finds a comfortable niche with his character relatively early on in the performance. Establishing a sense of authority and determination Leyendecker carves out the deadpan comedy into his role and makes it thoroughly enjoyable. The "which Rolls Royce" bit becomes one of his funniest deliveries.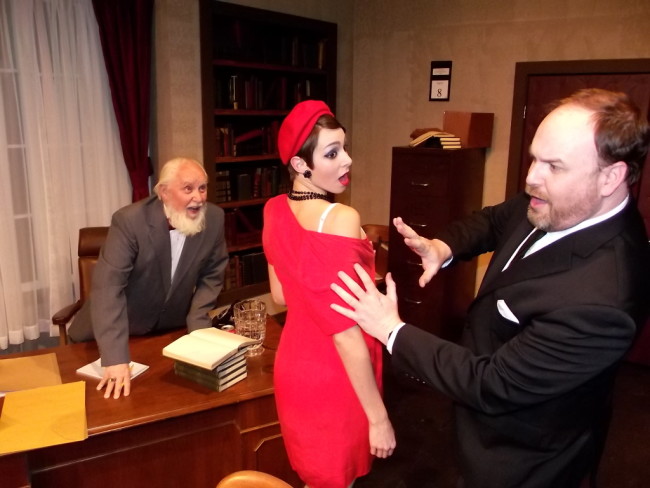 As for Jureckson, her performance is dynamite. A loaded pistol, in the fashion that shoots water in your face when least expecting it, Jureckson understands all of the subtle and silly nuances of her character's naivette and blatant stupidity. Her flighty and bright personality is a vibrant as the red dress she wears and saunters into every comic opportunity with impeccable timing draped over her like a lavish mink stole. Jureckson drives the comic tension between her character and Leyendecker's; easily flustering him to a boiling point with her simplistic antics. Like a fancy French soap, Jureckson bubbles up and slips under his skin, irritating him beyond compare; her performance glistens and truly makes her a star in this production.
For an afternoon of serious entertainment, Prince George's Little Theatre has a ticket with your name on it, but don't wait too long as this whodunit show isn't sticking around very long!
Running Time: 2 hours and 30 minutes with one intermission
A Shot in the Dark plays through January 24, 2015 at Prince George's Little Theatre at the Bowie Playhouse— 16500 White Marsh Park Drive in Bowie, MD. For tickets call the box office at 301-937-7458 or purchase them online.