Deck the halls with boughs of holly! Fa-la-la-la-la! La-la-la— wait a minute— that's a different Christmas story all together. Of course, so is the inventive reimagined retelling of the Dickensian Christmas classic this holiday season at Adventure Theatre Musical Theatre Center. Making its world premier in Glen Echo Park, this exciting new adaptation by Ken and Jack Ludwig engages children of all ages into the fantastical Christmas tale written by Charles Dickens so many years ago. Directed by Jerry Whiddon, this production brings holiday enchantment for everyone— especially the younger audiences— with a pie man, a puppet seller, and Tiny Tim all grown up! A holiday delight and delicious treat for the whole family; the essence of the story becomes an awfully big adventure for the players involved in telling the terrific tale!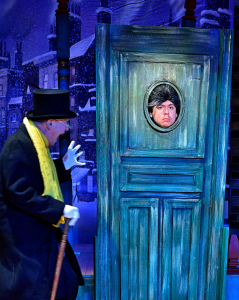 Drawing the audience into the intimate play space with a Victorian flare, Set Designer Dan Conway fills the stage with tilted shelves stuffed to the brim with accoutrements that accent the era. It's the wheel-on door and pop-up bed for Scrooge that adds the elements of adventure to Conway's design; much like a storybook come to life upon the stage. Blend these splendid set design notions with the work of Props Designer Dre Moore and the show exudes a whimsical element perfect for young audiences' imaginations. The large push-carts for the street merchants are realistic with a hint of magic infused in their craftsmanship. Moore and Conway work together to fuse their designs together for a little added holiday happiness on the stage.
Adding to the visual spectacle, a crucial engaging factor for younger audiences, is the resplendent work of Costume Designer Collin Ranney. Finding the balance between the earthen hues for the casual wear of the street vendors and the exorbitant glory for the fancy outfits seen on the charity collectors and later the ghosts, Ranney develops eye-popping costumes that are both fascinating and intriguing to behold.
The new adaptation conceived by Jack and Ken Ludwig takes the well-known Christmas classic and spins it around in a proactive, children friendly approach that sends a powerful message to every audience that sees it. Children have the ability to make a difference in the grown-up world and when grown-ups treat other grown-ups unfairly, there is something to be done for it. Tiny Tim is now a healthy boy of 15 on the streets of London town which is busy bustling with the soundscape of Christmas.
Ludwig and Ludwig wend the Dickensian tale as a reflection through the young boy's eyes— the ghostly visits that Scrooge encounters a device of Tiny Tim and his precocious friend Charlotte's imaginations in order to teach the mean old miser a lesson in humanity. Using clips of the original text throughout, as well as clever rhymes, cute story-bending points, and other innovative new ideas, Ludwig and Ludwig have created something spectacular with this new adaptation. Populated with familiar and new characters alike, the show is a brilliant exploration of adapting classics for imaginative young audiences.
Director Jerry Whiddon leads a fine team of actors to enticing success with this performance; the cast of six engaging with the audience on just the right level to keep them a part of the story without making it an interactive event. The chaotic commotion that clusters throughout the performance every time there is a scramble or a situation among the characters is honestly amusing and naturally augmented by the talents of Sound Designer Neil McFadden and Lighting Designer Martha Mountain. Whiddon keeps the show moving so that even younger audience members can enjoy the experience from beginning to end.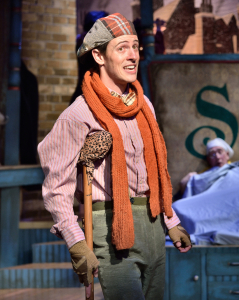 With a cast of only six it's hard to conceive that over a dozen characters present themselves throughout the performance. While Chris Dinolfo only ever plays Tiny Tim, his natural enthusiasm and eager sprightly physicality is top notch. Brittany Martz plays the precocious best friend Charlotte with an attitude ten times the size of her character's tiny stature. Martz and Dinolfo pal around with great clowning antics; a true match of friendship when it comes to teamwork and creative thinking.
Cast members Megan Dominy, Danny Pushkin, and Phil Reid each take turns rotating through a series of characters that range anywhere from silly to scary and back. Reid stands out with his comic timing, and epic portrayal of more characters than anyone else in the show. His natural humorous nature lends itself to the multiple roles he concocts on a whim throughout the performance.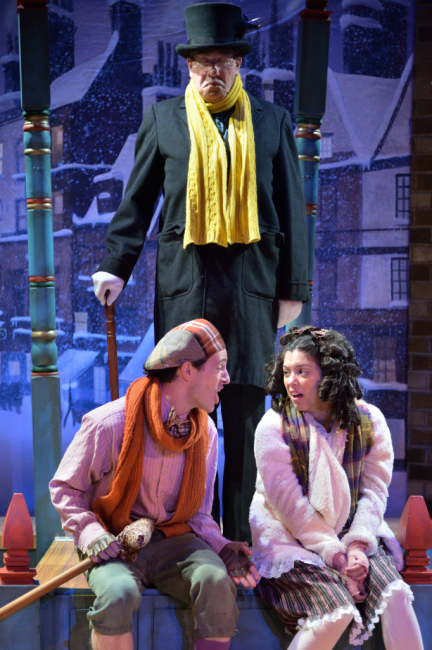 A Christmas Carol, regardless of which version, is not complete without a clutching, covetous, miserly old wretch named Scrooge (Conrad Feininger.) Though still bitter and the epitome of doom and gloom with a solid bah humbug in his bark, Feininger toes the fine line of comic tomfoolery in his presentation of Scrooge. When encountering various ghosts the screams of surprise are hilarious and his rhyming rhythms of Jacob Marley being food come to life are a hoot. The true essence of Scrooge and his complete transformation are captured in Feininger's performance; a Christmas reckoning to be reckoned with this season.
Wonderful and engaging for the whole family, Tiny Tim's Christmas Carol has something fun for everyone and is a great way to celebrate the holidays at the theatre.
Running Time: Approximately 55 minutes with no intermission
Tiny Tim's Christmas Carol plays through January 1, 2015 at Adventure Theatre-Musical Theatre Center in Glen Echo Park— 7300 MacArthur Boulevard in Glen Echo, MD. For tickets call the box office at (301) 634-2270 or purchase them online.