There's no place like home for the holidays. Everyman Theatre is bringing home five of their company members for a holiday performance like no other this December as they mount Ira Levin's classic thriller Deathtrap on their stage for Christmas. Directed by founding Artistic Director Vincent M. Lancisi, a little suspense makes the perfect stocking stuffer this season. Equal parts comedy and suspense; the precarious balance between darkly humorous and spine-tingling is delivered exceptionally in this devilishly thrilling performance.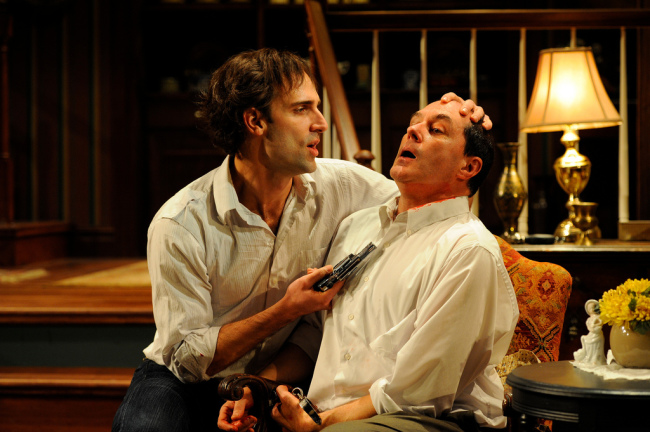 Breathtaking is a most appropriate word for Scenic Designer Timothy R. Mackabee's set. Enchantingly beautiful and yet simultaneously foreboding, Mackabee's stage inspires a sense of unsettling dread ever-present in the atmosphere. Visually striking, the way the study matches the textual description is sublime. Mackabee's understanding of interior space creates a living character from the set; the study and connecting chambers of the house are no longer just cogs in a theatrical device designed to entice the audience, but exist as ominous entities that play a crucial role in the plot.
Creating authentic times of day and night can be a tricky task when the set is solely interior, but Lighting Designer Jesse Belsky masters this notion with ease. Both the side door that leads out to the vegetable patch and the front door of the house cast remarkable hues of daylight with Belsky's design work playing through them. The lightning effects during the storm, combined with Sound Designer Stowe Nelson's thunder, are haunting and unsettling. So perfectly timed are these effects that one might almost say a storm was in full brew just outside the theatre walls as well.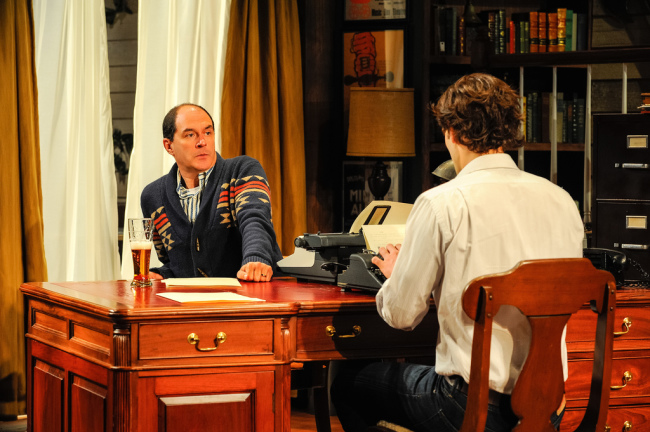 Stowe Nelson underscores the production with a series of orchestrations that enhance the suspenseful moments of the performance. Almost like the audio cues from a thriller movie Nelson's aural accents strike a comic nerve across the audience, augmenting moments of mounting tension infused with dark humor. The sounds of growing treachery and inexplicable dread as represented in these strummed notes and struck chords hone in on the hybrid of comedy and suspense; immersing the audience in their fusion. 
The resplendent glory of the set and technical design elements of the production sets a high bar for the actors' traffic of the plot. Director Vincent Lancisi delivers star quality performances across the board with his quintet of company members. Dialing back the histrionic theatrics of the Helga Ten Dorp character, Lancisi fits this quirky comic relief role into the plot divinely, allowing for the other characters to actualize their comic potential. Lancisi conceptualizes the piece by never specifically outlining a time frame. There are delicate insinuations that the action might be taking place in a more modern time frame, perhaps even the present, but nothing so forward or garish as to choke this concept fully down the audiences' throats. Lancisi's ability to make the timeframe of the work illusive adds a scintillating layer of intriguing mystery to the performance as a whole.
What makes the performance truly exceptional is the stellar Fight Choreography imagined and actualized by Lewis Shaw. A visionary artist when it comes to realistic stage brawling, Shaw delivers stunning moments of convincing violence between the Clifford and Sidney characters. The special effects, for which he is also responsible, are remarkably believable; blood, gore and weaponry all mastered in Shaw's sharp focus of theatrical illusions passing for reality. Brutal in nature and convincing to a worrisome point, the stage violence is delivered with biting precision.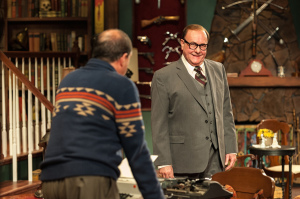 Though company member Wil Love's appearance to the stage is brief, his cameo role of lawyer Porter Milgrim is worthy of note. The congenial nature with which Love approaches the character's limited lines makes him a fully developed character, however momentary his existence may be. The same can be said of Deborah Hazlett's performance of Helga Ten Dorp. Her accent, consulted on by Dialect Coach Gary Logan, treads the fine line of subtly that makes it pronounced without sounding melotheatric. Hazlett delivers a mild rendition of the supporting character, relying as Love does on congeniality rather than contrived theatrics to make the character work within the confines of Lancisi's modernized concept.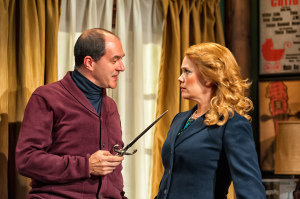 Worrisome is a word that best befits Myra Bruhl (Beth Hylton.) In a perpetual state of consternation, Hylton delivers the nervous character with conviction. Her hyper excitable facial responses, particularly when trying to interject between Sidney and Clifford, are driven with dread and create a great deal of suspenseful tension throughout various scenes. Hylton achieves a heightened state of hysteria, jumping from her continual state of anxiety to a catastrophic level of anguished terror. Her shrill shrieking screams are blasted in top form; a tribute to the thriller films of times gone by.
Moments of deliciously dark comedy are peppered throughout the plot and revolve around Clifford Anderson (Danny Gavigan) and Sidney Bruhl (Bruce Randolph Nelson.) Juxtaposing these moments of haunting humor against those more fraught with serious suspense, both Gavigan and Nelson take the audience for one hell of a roller coaster ride. Sharp plot twists and unexpected moments of surprise leave the audience breathless in the hands of these well seasoned performers.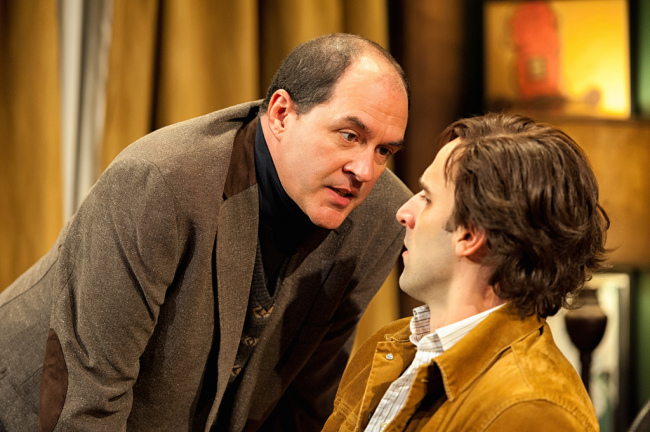 Gavigan creates a dynamic character within Clifford; an aloof, albeit foolhardy, admirer steeped deep in awe over the great playwright Sidney Bruhl. Revelations that are peeled away and exposed as the performance carries on showcase Gavigan's ability to play such a multifaceted character. The dramatic tension that is strung between Gavigan and Nelson, especially in the middle scene of both acts, is both intense and striking in a manner that sets a palpable discomfort into the air.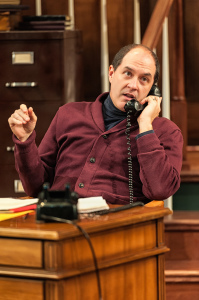 Bringing that inevitably delicious flavor that only he can bring to a character, Nelson turns Sidney Bruhl into a treacherous nightmare the likes of which leaves the audience flummoxed and stupefied. Exploiting both the humanity of the has-been playwright's plight and the monstrous undertones of Sidney's baser human nature, Nelson drags the audience to the edge of their seats in spine-tingling suspense. The natural ease with which he delivers Sidney's sardonic quips leaves a biting chill snapping fresh in the air. He zings with panache but just as quickly delves deep into the fury-laden psyche of the character's volatile emotions, erupting in an unpredictable fashion at precisely the right moment. Brilliance incarnate in this dynamic role, Nelson's performance is imaginatively intoxicating; acting at its prime.
Deceptively delicious in all of its guises, this chilling thriller is riddled with comic outbursts; a more perfect way to celebrate the holidays with friends and family will be difficult to find this season. Stuff your stockings with tickets to Everyman Theatre's Deathtrap, it's a real holiday killer.
Running Time: 2 hours and 35 minutes with one intermission
Deathtrap plays through January 11, 2014 at Everyman Theatre— 315 W. Fayette Street in Baltimore, MD. For tickets call the box office at (410) 752-2208 or purchase them online.