At this festive time of year when everyone is presenting their decorated version of Dickens' holiday classic (and yes, even MET is doing that in their family series) it comes as a revitalizing surprise to see the Maryland Ensemble Theatre producing a Christmas original on their main stage. Written by company member Reiner Prochaska, this quaint tale is richly populated with local flavor and all the right notions to tug gently at the heartstrings for this spirited time of year. Directed by Suzanne Beal, A Revolutionary Christmas is a touching story of family and traditions at Christmas time. This new work is a perfect and refreshing alternative to the well-recognized classics that are paraded onto the stage throughout December and offers insight into other holiday traditions.
Authenticity is the word that comes to mind when examining Set Designer Allison Duvall's creation. Her attention to detail is impeccable down to the way the rooms lead into one another. The rustic charm of the farmhouse is etched into the walls as well as the floor; the hearth for hanging cast-iron cookery a perfect touch of historic colonialism threaded into the scene. Working in tandem with a Properties Team (Tracey Pluckett, Katie Rattigan, Joann Lee, Rona Mensah, and Doug Grove) Duvall completes the realistic ideas of life inside the farmhouse on Christmas Eve. Fresh churned butter actually appears from the churn and a great many other intricate nuances complete the reality of this performance throughout the show.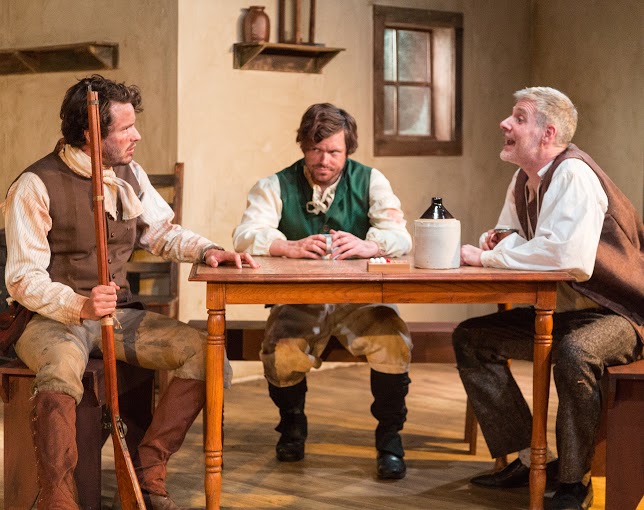 Furthering the authentic feel of the revolutionary era is Costume Designer Julie Herber. True to the fashion of the time, despite their lowly farming station, the women are corseted and done up in modest layers of skirts and bustle. The uniforms on both militia man Richard and prisoner Peter are exquisite in their attention to the minutest of details. The filth and ware marks of soldiers at war look realistic and Herber's efforts in distressing these garments should be commended for its realistic appearance.
Playwright Reiner Prochaska has a carefully crafted Christmas tale that is both inspiring and precious. Sentimentality as well as forgiveness and acceptance are the forerunners in the plays' thematic elements. Prochaska's work is a little sluggish at first, the initial scenes feeling a bit off-beat in the sense that they are neither action-focused nor laden thick with exposition. While the writing is crisp and fluid the overall passage of time throughout the performance as well as the dialogue feels like a novelization; one can hear the pages turning as the characters progress from moment to moment. The dialogue at times feels stilted, though this may be in the delivery, only when more honest emotions are being plucked from the lips of withholding characters like Richard.
Two little children underfoot can often make for mischief in a Christmas story but Prochaska's writing treats the younger characters like functioning members of the central conceit of the show. Fiona (at this performance Chloe Johnson) and Johann (at this performance Daniel Pluckett) provide a delicate balance of cheer and curiosity in what could otherwise be a bleak midwinter's tale. Pluckett delivers a precocious side of young Johann that is well suited for any little boy wishing to wield an ax before his family is ready and Johnson's gentle nature is well received, especially toward the end of the performance.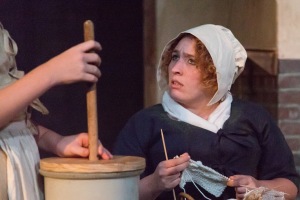 As the mother of the household Glenda (Caitlyn Joy) keeps a weather eye on both of her charges. Though Joy's accent takes a meandering stroll across the Irish countryside, fading in and out depending upon where she is in the moment of the show, her reserved nature suits the character well. She draws forth a true outsiders tension, feeding on the lines that Prochaska has crafted into the script about her character marrying into a German family. Joy's stern temperament regarding the prisoner juxtaposed against her gentler interactions with her children make for a well-rounded performance.
Playwright Reiner Prochaska serves as the leading grandfather figure in the performance as well. His ability to blend his natural German accent into something a bit softer is an honest nod to foreigners attempting to make a go of "new life in America." His stalwart silence toward Richard (Todd Mazzie) is delivered with punctuated grace. Prochaska's finest moment is delivered during the more jovial interactions with his character's grandson; the Indian-sauerkraut story adding a great deal of levity to his character in that moment.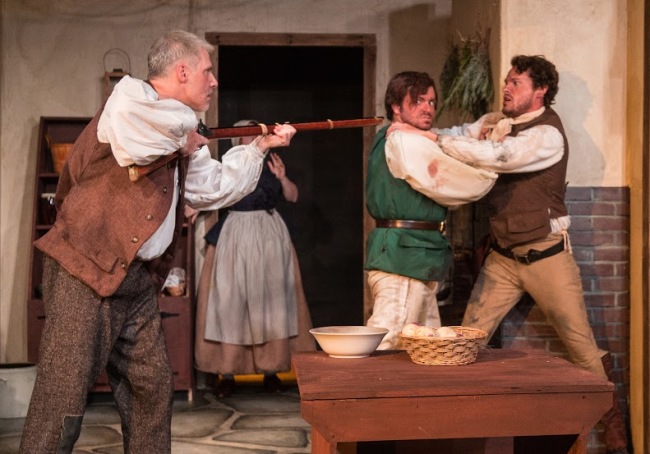 Nothing interrupts Christmas quite like the unexpected return of a long-lost family member and in his tow instead of gifts he comes baring a prisoner. Peter (Steve Custer) upsets the family dynamic like being marched into the farmhouse for Christmas, a prisoner of Richard. Custer's congenial nature brings balance and ease to the mounting tension within the Kober family home. His accent is delivered with resplendence; not too cartoonish or caricature-like while still passing for overly complex. A natural born storyteller, Custer launches into story after story and drives the momentum of the performance with his tales. There is heart and genuine longing in Custer's delivery, the ramblings of his former life in the homeland delivered with poetic justice.
If for no other reason than to avoid the onslaught of Dickensian traditions this season, Maryland Ensemble Theatre has an intriguing new holiday show that will hopefully become a tradition of its own as the years march along. See A Revolutionary Christmas this December for a different perspective on what the holidays can mean to a family.
Running Time: Approximately 70 minutes with no intermission
A Revolutionary Christmas plays through December 28, 2014 at the Maryland Ensemble Theatre— 31 W. Patrick Street in historic Frederick, MD. For tickets call the box office at (301) 694-4744 or purchase them online.