The bells of St. John are ringing you in for holiday season. Wolf Pack Theatre Company is proud to present an original adaptation written and directed by William Leary of Charles Dickens' A Christmas Carol. When everyone is popping this holiday classic onto their stages this time of year as the Christmas Cash-cow, Leary's socially brilliant commentary brings the story to modern day times and highlights the social issues that are so prevalently buried in Dickens' original text that are all too often forgotten or overlooked in favor of spectacle. Fittingly hosted inside the worship hall of St. John Evangelical Lutheran Church this holiday season, this limited-engagement performance will warm the cockles of your heart and remind you of the true meaning of Christmas.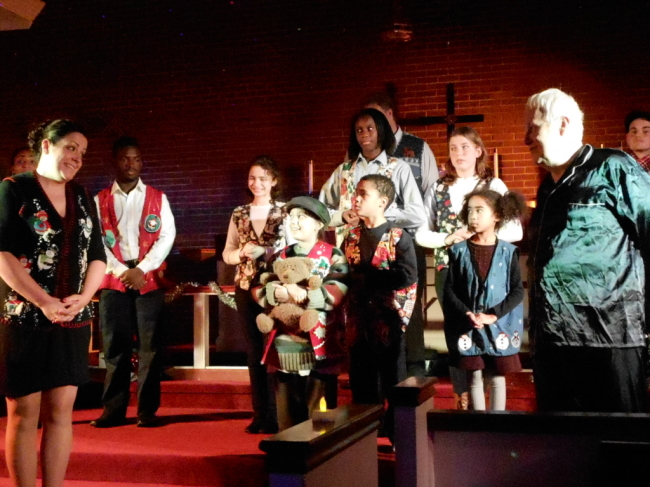 Founder and current Artistic Director William Leary has taken the traditional Dickens classic and extrapolated the social messages from within the text for the audience at this time of year. During the holidays when the juxtaposition of wealth and poverty are more strongly noticed and the vices of need and want are more sharply felt, Leary's script is visceral and potent. The adaptation draws a strong religious and faith-based through line to the story as well as drawing a sharp focus to the reality of poverty and homelessness at this time of year. Leary's writing is exceptionally well penned and while he is not the Dickensian poet in the sense of florid literary flights of fancy, his dialogue and honest conversations are grounded thoroughly in reality and fall soundly and smoothly on the ear.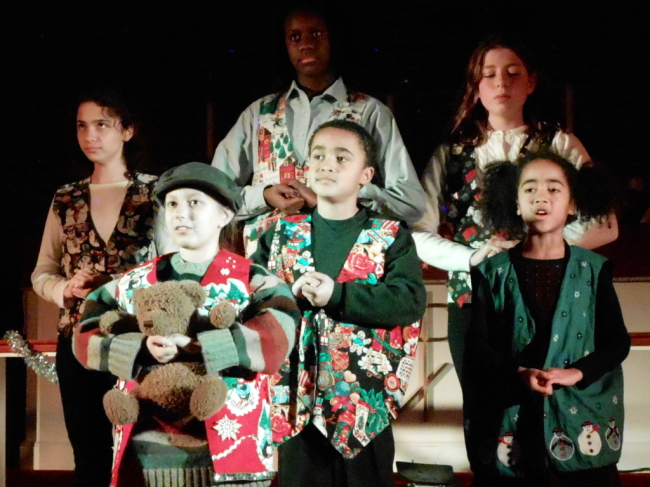 In addition to adapting the words and updating the setting to a modern day time, Leary moves the play into the church's homeless shelter program to further enhance the social experience. The Cratchit family are seeking refuge on Christmas Eve as a part of the "warm night" hypothermia program sponsored by the church because Tiny Tim's medical expenses have cost them their home among other things. This harsh reality is thoroughly executed both the writing and blocking of Leary's work and rings true to the situations that so many families face at this difficult time of year and all year round. Leary also adds poignant Christmas carols throughout the show to further augment the emotional effect of the show. "Hard Candy Christmas" and other well recognized carols are sung at the peak of emotional turmoil throughout the performance, and many of the performers have gorgeous voices that give the songs peaceful and truly moving resonance.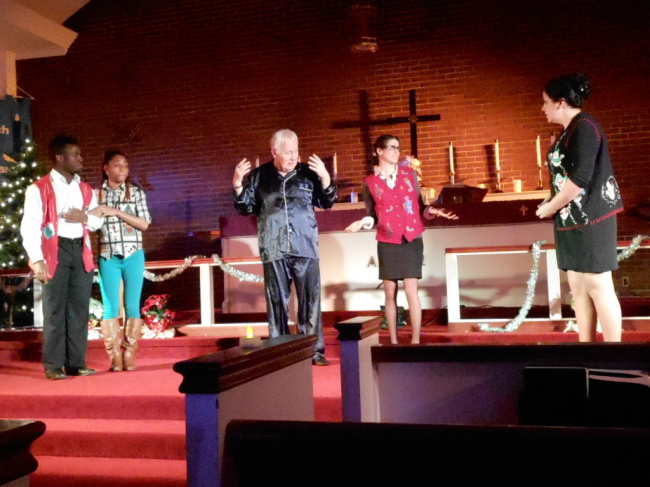 The pacing of the show, which will no doubt improve with time, requires tightening to keep the brilliance of the words and the message alive. A great deal of the pacing issues falls on Scrooge, though there is something to be said for his confused state of delivery given the strange situation his character finds himself in. The songs that are placed throughout the show in their entirety are beautiful but in places could stand to be a verse or two shorter simply for the sake of time.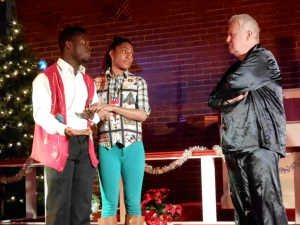 The conceptualization that Leary puts forth falls on the shoulders of a talented cast. Taking on traditional roles that have been shaped to serve the message of an important social agenda is no small task, and can become daunting if not well delivered. Leary's cast, under his perceptive direction, does ensure that the hallmarks of A Christmas Carol are struck like the midnight bells of mass while simultaneously bringing this fresh perspective to the table. Faith and hope resonate in this production, particularly in the Pastor Charlotte (Sarah K. Scott) character and Scrooge's nephew, Edward (Alie Kamara.)
Both Scott and Kamara are no stranger to working with Leary and the understanding of his work that they bring to the performance enhances the emotional connections they are able to provide to the characters. Kamara delivers strong passionate scenes emblazoned with emotional turmoil that often erupts in bursts of raw frustration whereas Scott remains level-headed and collected, composed and gathered until Scrooge sets her off and she is forced to vehemently hold her own beliefs against his idling tongue.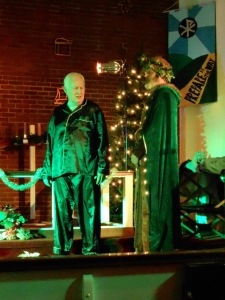 Leary's rewrite includes curious characterizations of the spirits that visit Scrooge including a more immersive family notion for Ebenezer. Andrew, the miser's father, whom Leary takes to playing himself, serves as the ghost of Christmas Present, while Martha, Scrooge's Mother(Casey Hobart) appears as the ghost of Christmas Past. This fascinating rewrite provides deep levels of introspective analysis into the existence of "Scrooge in all of us" as everyone can relate to having a family of some sort. Hobart delivers a tender touching rendition of the character and her scenes with Scrooge (Ray Converse) are sentimental and emotionally informative.
The most intense scene delivered in regards to emotional expressivity occurs during a past scene where Leary, as Scrooge's father, goes to bat with Young Ebenezer (Tim Jansen) over the values of Scrooge Enterprises. The frustrations and furies that fly between them in this tense scene are astonishing and not something one expects from A Christmas Carol, but its overall relevance is both provocative and moving. This scene compares in intensity to one of the more harrowing scenes later in the production featuring Bob Cratchit (Robert Scott) and Tiny Tim (Sophia Nasreen Riazi-Sekowski.)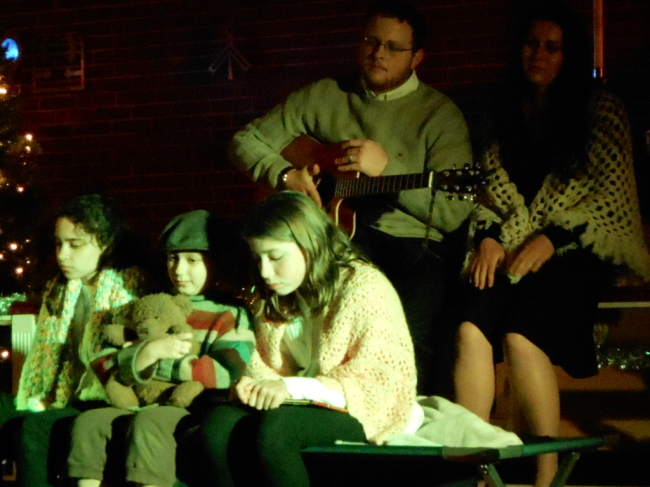 Riazi-Sekowski, along with the young performers that play her siblings Hope (Emilee Schmidt) and Joy (Samantha Roberts) deliver sweet innocence and have angelic voices for the songs that they sing. Delivering verses of "Little Drummer Boy" the trio of young singers are serene and sublime. Riazi-Sekowski is stunning as Tiny Tim, and hearing her articulate the reality of being a sick child is haunting and truthful. Her rendition of "Silent Night" is striking.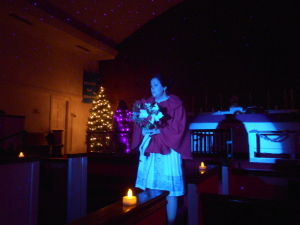 The other voice that stands out exceptionally in the production is that of Lauren Giglio who plays Belle. Both in the present day when she encounters Scrooge and in past memories, Giglio is grounded in a faith-based reality that is unshakeable. Her unyielding love carries the character to new emotional heights and her singing voice is nothing short of a herald for Christmas spirit. Giglio delivers "Blue Christmas" perfectly and poignantly placed after the Scrooge-Belle break-up scene, with such heartache in her voice that it draws tears to the eye.
A powerful message to receive at this time of year, Wolf Pack Theatre Company has a version of Christmas Carol unlike any other and is well worth attending this holiday season.
Running Time: 2 hours and 30 minutes with one intermission
A Christmas Carol runs through December 14, 2014 at Wolf Pack Theatre Company at St. John Evangelical Lutheran Church— 5820 Riverdale Road in Riverdale, MD. For ticket reservations call 240-565-4144 or purchase them online.