Dreams are what sustain the human need for remaining alive. They perpetuate the notion of living until they are achieved. But what happens when one's dream is to no longer be living? Reality implodes upon itself in a chaotic and cosmically imbalanced sense the result of which is life viewed through the lenses of comically dark reality. Everyone has problems, some more than most, and Theater J proudly presents the Washington DC area premier of The Intelligent Homosexual's Guide to Capitalism and Socialism with a Key to the Scriptures, written by Tony, Obie, Emmy and Pulitzer Prize-Winning playwright Tony Kushner. The most emotionally, politically, and socially relevant and poignant piece of evocative theatre to cross the stage in the last decade, Kushner's work, Directed by John Vreeke, captures the quintessence of humanity and all its drama and baggage. Penned to perfection with riveting plot sparks that expose deep vaults of emotional trauma the work is exceptional and divinity to the written and performance craft.
Maintaining a simplistic set for a realist modern piece of comedic drama seems the natural approach for a play whose focus is meant to be on the characters, their developments, and their overarching storylines. Set Designer Misha Kachman finds intriguing and exceptionally clever ways to layer symbolism and artistic beauty into the stage without cluttering or crowding it. The brownstone, around which a central plot point of the show revolves, is hung suspended above the stage jutting out toward the audience. This physical representation of its weight literally hanging over the characters is balanced perfectly with the projections of the interior that appear on the back wall throughout the performance. Kachman uses these projections throughout the performance to take us from inside the family home out to the streets of Manhattan in a flash. The design work is crisp and focused; realistic but not without meaning.
Playwright Tony Kushner pens perfection with this new work. It is a story whose broad strokes touch on capitalism, Marxism, Communism, religion, and politics as a whole. The more intricate threads woven into the play are steeped in shades of romance, personal struggle, love, death, and raw human emotion. The way Kushner creates these hyper-realistic characters takes the audience so deeply into their lives that it never feels like watching a play. The characters have identifiable points of relativity that makes them open to the communal human experience; a highly dysfunctional family that sure has fun killing each other. Kushner's words allow the audience to experience a great deal of hilarity at these characters plight while simultaneously exposing raw nerves that generate feelings of sympathy and empathy.
Each of Kushner's characters is thoroughly developed and startlingly dynamic in their existence. His work explores the balance of personal drama verses family drama, political beliefs juxtaposed against core morals and principles. The stories wind themselves around each other; an intricately woven loom of real human life— all the hilarity and drama and agony— creating a tapestry of striking beauty that plays out over the course of the evening upon the stage. Kushner has created theatrical genius with this work; a stunning play that engages the mind, captivates the heart, and touches the soul deeply.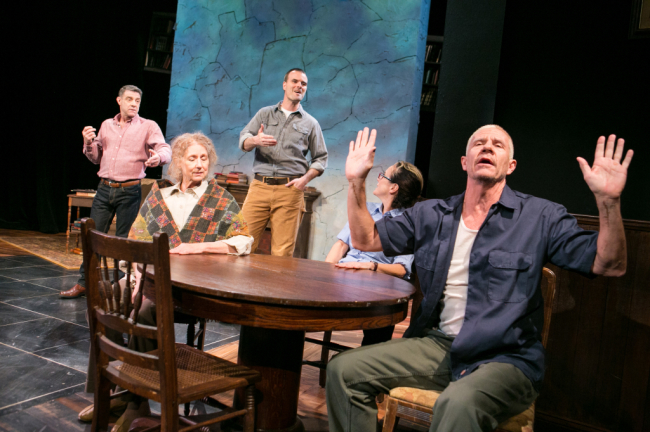 Director John Vreeke completes the inconceivable task of pacing the lengthy show with ease. Never once does the play falter in its pacing and by the show's end it seems impossible that nearly four hours has passed. Vreeke works through complex sections where the dialogue of various arguments overlaps severely and creates an authentic family experience in those moments. Kushner captures reality; families do not argue in segments, they often shout all at once with a great deal of topics thrown in the mix and Kushner translates this process onto the stage. Under Vreeke's practiced direction these moments read like deliciously organized chaos; stimulating and exciting to behold even if not everything that's happening can be absorbed all at once.
Vreeke has gathered an eclectic cast to fit the strange litany of characters constructed within the production. Together as a whole their performances are as fascinating and impressive as they are when they are performing one-on-one scenes. The constant fluctuating dynamic of the arguments in the performance keeps the audience on their toes; no one person ever seems truly on one side of any argument or debate; the perpetual upheaval an emotionally rewarding, albeit dizzying, experience.
Everyone is given their moment to radiate in this production and those moments of radiance only serve to enhance the performance as a whole. While Adam (James Whalen) may not seem like much at first, his ties to the family are strong and his moment comes along near the end of Act II. A spastic outburst from Whalen's drunken character in that moment extrapolates one of the major plot shockers that furthers the absurdity, hilarity, and overall dysfunction of the family. Rena Cherry Brown, playing the focused Zen Aunt Clio, has similar moments throughout the performance though in a vastly different fashion. Brown calmly delivers sarcasm with a tranquil approach to her zingers; a curious juxtaposition that would otherwise be at war with itself if not delivered in the talented hands of this particular actress. Brown's scene-stealing moment arrives when she makes her grand exit later in the show; a moment too hilarious for words.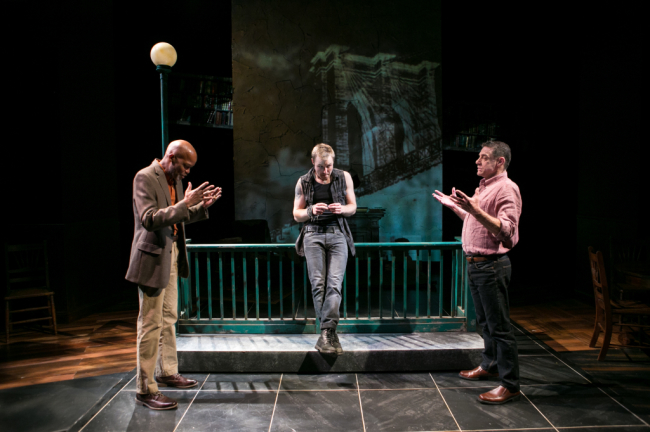 Hustlers and Theologians have their place in this production as well. Eli (Josh Adams) and Paul (Michael Anthony Williams) find their worlds colliding around Pill (Lou Liberatore.) Liberatore's character is one of three children in the Marcantonio family, Paul his husband, and Eli his hustler lover that has jeopardized his marriage. Both Adams and Williams have exceptionally well-developed characters, portrayed thoroughly and uniquely by these actors. Adams is the epitome of a streetwise book-failed hustling youth; the modern slang, the nervous energy always bounding through him. Williams is much more stalwart in his physicality and his emotional unwillingness; a temper seething through him that erupts frequently.
Liberatore, as the eldest son, masters the affectations of a flamboyant gay man who is not afraid to hide who he is or what sort of trouble his current addictions have caused him in his life. Liberatore runs the gambit of emotions throughout the performance; some of his most vulnerable exposures occurring during intimate scenes with Adams. The heartfelt conversation shared with his character's father, Gus, tugs firmly at the heartstrings and draws a tear to the eye most naturally.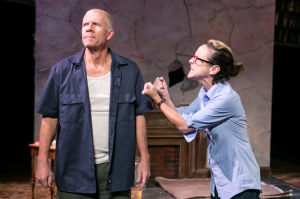 Empty (Susan Rome) is a truthful spitfire, much like her hot-headed younger brother Vito (Tim Getman.) The pair are constantly at odds throughout the performance, though Rome's character takes far longer to boil, much like a pressure cooker left on too long while Getman erupts more volcanically; sporadic and frequent. Both give intense emotional portrayals, particularly in their scenes with Gus. Getman finds his character's vulnerability and delivers a rewarding catharsis late in the production. Rome delivers a truly exceptional performance later in the show as well; a harrowing emotional eruption that underscores all of her turmoil up to that point.
Gus (Tom Wiggin) is the central focal point of the play. Wiggin delivers the character with vigorous justice to a man on a mission. His vocal gravel adds to the character's natural age; his tottering gate to creating the illusion that he has lived as long as he has. Thoroughly engulfed in the beliefs of the party and of his own history; the dynamic portrayal is phenomenal. The emotions felt are expressively intense in Wiggin's performance; award and praise worthy for a stunning show well delivered.
The opportunity to see one of the most relevant pieces of theatre of the time won't last long, and should not be missed. Theater J's production of Kushner's newest work is the theatre in which humankind can experience life fully and thoroughly this season.
Running Time: Approximately 3 hours and 40 minutes with two intermissions
The Intelligent Homosexual's Guide to Capitalism and Socialism with a Key to the Scriptures plays through December 21, 2014 at Theater J at the Washington DC Jewish Community Center— 1529 16th Street NW in Washington, DC. For tickets call the box office at (202) 518-9400 or purchase them online.
Inside Look: The Intelligent Homosexual's Guide to Capitalism and Socialism With a Key to the Scriptures from Theater J on Vimeo.