It's family first and family last and family by and by! And the Kensington Arts Theatre knows all about families of all varieties as they present their fall musical, featuring one of the creepiest and kookiest families of all times! Andrew Lippa's The Addams Family comes to the KAT stage under the Direction of Craig Pettinati and Musical Direction of Stuart Y. Weich. With Wednesday all grown-up and in love with an outsider, the family is put to the test. Can they survive one normal night? All remains to be seen as the iconic Addams Family members are put through their paces in an attempt to not frighten the Beineke family. Secrets arise and the whole night goes awry; family fun for everyone. An exceptionally talented cast delivers stunning quality from this community organization; a delectable Halloween treat for everyone who comes to the show.
With high expectations from the audience, the creative team sets the bar for theatres that may attempt the production in the future. Set Designer Matt Karner works within the confines of the quaint space and creates the spooktacular Addams Family manor with the aid of Special Effects Coordinator John Nunemaker. While the videos come from Broadway Motion Design, Nunemaker works in tandem with Karner to create realistic scene changes from room to room in the seemingly endless mansion of doom and gloom.
Director Craig Pettinati assists in this clever visual trickery. Rather than burdening the intimate performance space with furnishings, heavy props, and scenery he implores the use of what he already has on hand: The Addams Family Ancestors. Turning the ensemble members into props and furniture is a sharp way to get them more involved in the love story as well as save space for ease of actor movement on stage. Ghosts as furniture becomes a highly amusing concept, particularly during scenes featuring Pugsley.
Pettinati puts his own spin on classic scenes from the musical as well, the most memorable being Fester's "Moon and Me" solo. A visionary approach is played out in this number wherein the notion of Fester being in love with the moon is actualized in a romantic and dreamlike fashion. Almost an homage to old school dance scenes like Danny Kaye's dream sequence featured in White Christmas, Pettinati uses this moment to put the KAT signature of unusually unique onto the show; sealing its perfection into things that no other theatre has yet to try.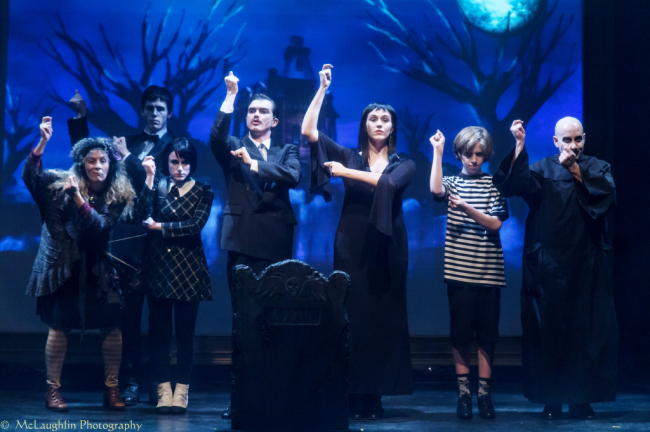 Choreographer Nick Carter zaps the cast with jolts of life when it comes to the dance routines. Carter's routines are intense and cleanly executed. The dance break in "When You're An Addams" involves several intricate moves and routines in the 'line-dance' segment alone. "Secrets" features jazzy jezebel hip swivels with dips and twirls while "Just Around the Corner" features line marching and perfect synchronization. The movement of the musical numbers is a crucial part of the musical's momentum and Carter hits the nail in the coffin with his outstanding routines.
The ensemble, which is comprised of six females and one male, under the steady guidance of Musical Director Stuart Y. Weich, creates sturdy supporting sounds and impressive harmonious blends when providing back-up vocals. The larger company numbers, like "One Normal Night" and "Full Disclosure" are powerful and sound as if they come from an ensemble of closer to twenty rather than just a half dozen. Each ancestor is afforded a brief feature intro during the opening number wherein they establish their personalities through dance; each a uniquely humorous portrayal of a very outmoded dance routine.
There are no small parts, only small actors, and despite his size, John Ray as Pugsley does an exceptional job of being a sneaky little devil. With one featured solo, his rendition of "What If?" is seriously demented. Performed with all the sincerity of an honest ballad, the song's twisted lyrics deliver hilarity to the audience as he sings them in an angelic voice. Lurch (David "DJ" Wojciehowski) provides a similar cameo style character in this musical. Despite being present for almost the entire show, Wojciehowski's never utters a word until the end of the show. His deliberate zombiesque physicality makes him the epitome of the potentially undead butler character and his voice, once heard in "Move Toward the Darkness" is deeply divine.
The Beineke Family is full of surprises whether it's Mal (Chris Gillespie) and his rigid outlook on life, Lucas (Ryan Burke) the lovestruck simpleton, or Alice (Lisa Carrier Baker) the rhyming home maker who makes everyone's home life seem cheerier and more pleasant than it might actually be. Gillespie, Baker, and Burke have an exceptional notion of normal which they quickly dispel upon meeting the Addams. Though Burke and Gillespie don't have many featured solo moments; their voices are strong and sturdy for "Crazier Than You" a duet shared with both Alice and Wednesday. Keep a close eye on Baker as she transforms from quaint and quirky into a wild and wackier version of herself during "Waiting." Baker provides a full on blast of darkness as she lets it all go in this zany number, really sinking her teeth into the darkness and embracing her inner Addams.
Who's to say if Grandma (Liz Weber) or Fester (Chuck Dluhy) is the kookiest member of the Addams clan? Dluhy's character is in love with the moon and Weber's character has dubious relations to the family tree at best, but the pair of them are a comic riot. Fully invested and committed to making these characters larger than life both Weber and Dluhy find intricate ways of manifesting their weirdness on stage. Weber causes comic calamity during her scene in "Full Disclosure" and her overall tottering gait has everyone convinced that she's 102. It's Dluhy's sprightly energy that has everyone confused as he leaps and loops all over the stage talking about love. Even when it's not his own love that he's singing for, it is obvious that Fester has been bitten by the love bug. Dluhy's voice is quite mellow and melodious for his featured solo "The Moon and Me," a charming number that fills the audience with syrupy sweetness amid the doom and gloom of the otherwise hilarious show.
Wednesday Addams (Camryn Shegogue) is all grown up and has a bone to pick with cupid. Her demeanor is fierce, the only thing more frightening might be her overall makeup look (achieved with the aid of Make-up Designer Scott Beadle) Shegogue's voice is ferocious. "Pulled" presents a sturdy blast of attitude and true vocal prowess from Shegogue; the belted hold at the end striking and stunning. Her attitude doesn't wane as the show progresses and Shegogue nails the intro for "One Normal Night" with a pounce of pizzazz and panache. Even her duet "Crazier Than You" is full of vocal drive that really explodes the internal monologues and feelings of her character directly into the lyrics.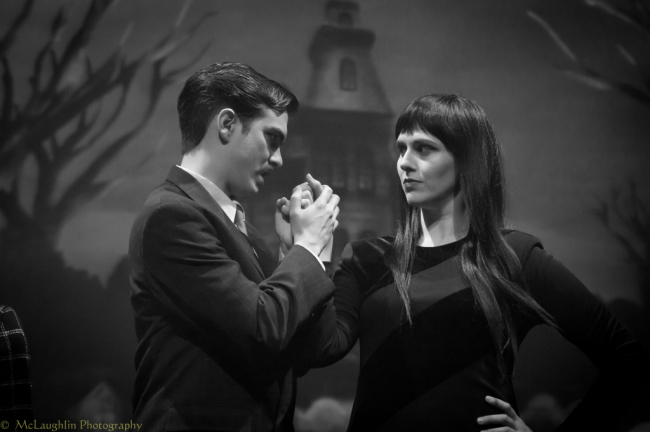 Like mother like daughter, little Wednesday learned from the best. Morticia (Lauren O'Brien) has a ferocious stage presence all laced neatly into the corset of her character's stoic deadpan nature. The hilarious zingers that zip from her lips, quipping at Gomez and the rest of the family, are simply to die for. O'Brien looks statuesque and moves with the elegant grace required of Morticia Addams. Her signature number, "Just Around the Corner" is a priceless showcase of sassy attitude and intense vocal prowess. O'Brien plays exceptionally well off of Gomez (Bobby Libby) and their duet "Live Before We Die" becomes one of the most tender, albeit odd, moments of the show.
Libby, as the show's patriarch is zany, loony and utterly amazing. Living in the Addams spirit of Gomez and the half-dozen reincarnations that came before it, Libby channels iconic figures into the characters' speech patterns, gestures, movements, and songs while simultaneously bringing a refreshing new take to the role. An amalgamation of perfection with his own unique twist to the character, Bobby Libby is a titillating new rendition of Gomez. His voice carries perfection for his solos, particularly "Trapped and "What If" two numbers that rely not only on vocal ability but the keen understanding of comic timing. Libby's comic timing is nothing short of impeccable, never missing a witty joke, a silly moment of banter, or a chance to land a zinging one-liner. "Happy/Sad" is sweet; a tender rendition of Gomez' rich inner love for his daughter. Libby leads the show to success as the head of the Addams Family; a remarkable and sensational performance given from a gifted and talented young actor.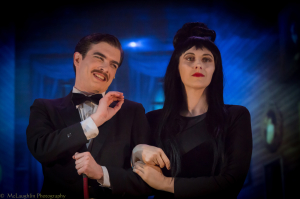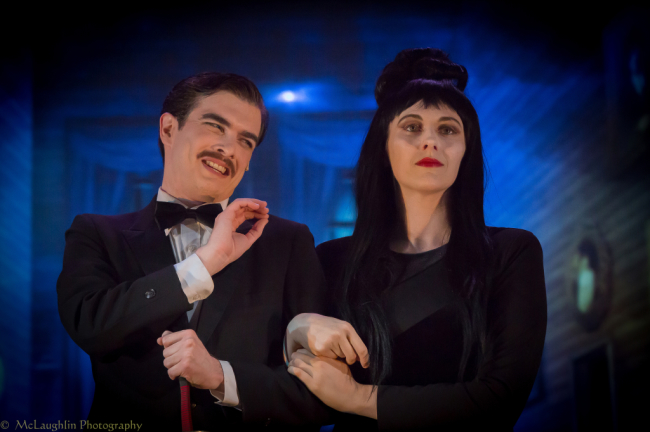 Halt your decaying, hear what we're saying, time now to reappear— at the Kensington Arts Theatre, that is. And before November 22, when all of the ancestors head back into the family crypt for good and this phenomenal area premier vanishes into the night.   
Running Time: Approximately 2 hours and 30 minutes with one intermission
The Addams Family plays through November 22, 2014 at Kensington Arts Theatre— Kensington Town Hall 3710 Mitchell Street in Kensington, MD. For tickets call the box office at (206) 888-6642 or purchase them online.