It's time to say a prayer with Gator as Part 2 of the exclusive Hockadoo Interview series continues here on TheatreBloom. We're sitting down with actor Jonathan Randle, who plays the strong but silent Gator in Toby's production of Memphis to find out what he has to say about the role.
Let's have a quick introduction of who you are and where the readers of TheatreBloom might have seen you around the Columbia, Baltimore, and Washington DC area in the last year.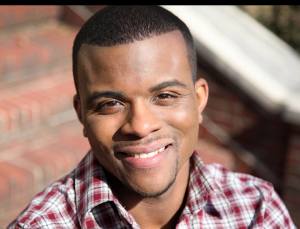 Jonathan David Randle: Ok, I'm Jonathan David Randle and I play the role of Gator in Memphis the musical at Toby's Dinner Theatre. In the last year or so? Well, I was in Toby's most recent production of Pirates of Penzance, before that I was in a production of Violet at the Theatre Lab in DC it was an awesome production. My past productions at Toby's include The Wiz last year at Toby's of Baltimore, I played the wizard. That was the longest run that I've ever been in production for, but it was so much fun. It ran from February through May, and we were in rehearsal long before that. It was crazy but it was fun.
How did you get involved with Memphis here at Toby's? What was the draw to want to be a part of it?
Jonathan: Once I heard Toby's was doing Memphis I was pretty much interested. Prior to me learning about the show? I actually had no idea what it was about. But I heard it pop up, knew it was the fall show, and I knew they were holding auditions, so I looked into it. When I saw the filmed segments of the production, it was amazing. It was probably one of the best productions I had ever seen. I knew instantly that I wanted to play Gator.
Why Gator?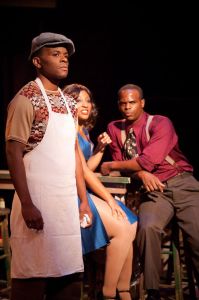 Jonathan: There are a lot of facets of Gator that really compare to who I am as a person. Gator's really reserved, but he's resolved as result of traumatic events that happened to him. That's why he's so quiet. Now, I can't really relate to that particular aspect, the traumatic events? But as a person, I'm really reserved and quiet. When the opportunity comes for me to open my mouth and say something that I want to stand up for, I do it, but it really has to be something that I believe in. That's why I love "Say a Prayer" because that's the strongest moment in Gator's life.
That's the perfect segue for what I was going to ask you. You spend the whole first act relying on your facial expressions and gestures to emote and communicate with the other characters and the audience. What is it like going from silence to sudden sound with "Say a Prayer" and how is that different from other roles you've played before?
Jonathan: It's easy and it's hard at the same time. Like I said in life I'm pretty quiet. I've always been able to express what I need to say with my face, and not having to actually say it. Whereas on the stage in the past I've always had either a leading man role or a character role that has always had more than two lines in the show. So it was very difficult for me in that aspect to act with my face and body and not be able to just say what I was thinking or feeling. Not having those words there was a challenge. I would slip up during rehearsal every now and then. I wouldn't say anything but I would catch myself starting to mouth something or starting to almost speak and I'd have to stop myself. It was hard, even though as a person I am quiet if I need to say something, I say it. With Gator, he's quiet right up until that moment so getting used to that was really difficult.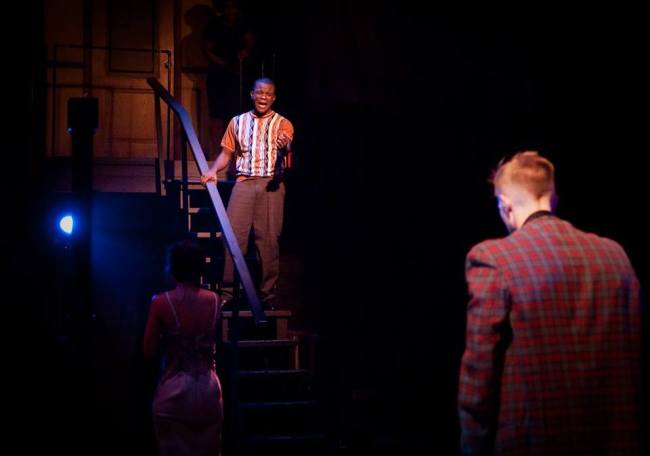 That song is actually a very difficult number. For me, I can relate to the number as far as just for starters being a black man in America. When I open my mouth I think about all of the years of racism that human beings in this country have struggled through— even things we're going through right now. So when I see Huey and Delray going at it, you know, as if what just happened to Felicia wasn't enough now I have to watch these two fools coming to blows over it? No way. That just comes through me and out in that song. Something had to be said. I feel like it's one of the pinnacle moments if not the pinnacle moment of the show. It's the act one finale and for something that powerful to happen in that moment to make Gator speak; that's the turning point for everything.
I hear you have super exciting news to share in regards to playing Gator not only here at Toby's but also elsewhere in the future?
Jonathan: I am going to be doing the National Tour of Memphis. I don't have an itinerary just yet, I think they're actually still casting, but I'll be going out on tour as Gator. This will be my first national tour and I can't begin to tell you how amazing of an opportunity that is for me. For it to be my first national tour on top of being such an incredible role, I don't even know what to say.
I'd heard about auditions for the tour and I was sort of in-between about whether or not I should go to the audition. I'm one of those people that sometimes you just have to push forward. I get really uncertain about things, stuck on the fence, and I push them aside, but if it wasn't for a special friend of mine who pushed me here, this probably would have been on the side too. So I was pushed to go to the audition, I used something from my repertoire and then when they found out I was currently playing Gator here at Toby's they asked me to sing "Say a Prayer." It doesn't hurt to let them know! They offered me the part, and I accepted. I leave in January and we do rehearsals in Lancaster, Pennsylvania. It's only about a month of rehearsals so I'm really glad I have this under my belt to help make me familiar with the character and the role.
Is "Say a Prayer" the most moving moment in the show for you? I know you mentioned you thought it was the pinnacle moment of the show.
Jonathan: For me? Yes, it really is. For me it's the perfect bridge between act one and act two. The situations that happen in act one and the situations that happen in act two— that pinnacle moment just pulls them all together. Without that moment there would be no cavalcade. There would be no Felicia Ferrell on television. It's just such a moment; a truly magical moment.
You said when you saw the show you knew you just had to be Gator. But if you could be somebody else?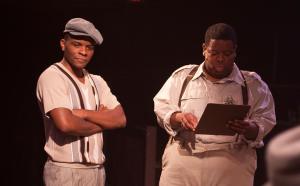 Jonathan: I'm pretty sure I'm Gator all the way. But I guess maybe if I weighed a few hundred pounds more I'd love to play Bobby. He's traditionally written as a big guy. But Bobby in a lot of ways is similar to Gator because he's a really shy character who gets to come out of his shell. He has such a character arc about him. He's mopping floors at the radio station and then he gets to come out in this big number on the television show. So yeah, I'd be Bobby if I was the right physical size and wasn't loving being Gator so much.
Is there a number, other than "Say a Prayer" that you catch yourself singing along to backstage or wish you were singing in?
Jonathan: Let me see. Favorite number? "Memphis Lives in Me." I like that one. It's one of the most emotional songs for Huey because that is a moment where he says "you know what, after everything that has happened this is still who I am. Take it or leave it. This is where I stay." I just love how out of nowhere Huey and those notes at the end! Those little notes that he hits at the end, so awesome.
What has been the most challenging thing about taking on this role and working in this show for you?
Jonathan: Most challenging thing? I guess that would be being able to emote consistently throughout the show. I'm not sure if I've ever had a role that required so much emotional investment in just that one scene alone. Everything else is just kind of fun. Well, maybe the dancing. I don't dance. People dance around me and I think I move. I don't even know if I'm much of a mover. I pick up on stuff eventually. I'll have it together by November 9th.
What has being a part of Memphis here at Toby's taught you about yourself as a performer?
Jonathan: You know, after doing seven shows a week I can officially say that this is what I love to do. I can do seven shows a week and not think twice about it. If I could do this every day I'd be ok with it. Just being able to experience the different audiences that come in and out of the theatre, whether they are dead silent or some of the loud and crazy wild supportive audiences like the ones we had opening night— who were actually back here the other night. Getting to experience all of those people and how you reach out and touch the lives of those watching, nothing beats that feeling.
Being able to touch the lives of people in this way is incredible. I have people who have been following me and supporting me since I did Dream Girls a few years ago at Toby's of Baltimore, and they literally have been to all of my shows. They travel to DC, they saw Violet and when you think about stuff like that, fans and people who want to see you perform and support your dream— any time you're ready to give in and just say "to hell with this" that is what makes you think "I'm doing this for a reason." This isn't just a hobby. You actually touch lives. And that is awesome.
What does Memphis mean to you?
Jonathan: Staying true to who you are. Because when I think of Memphis, I do think of "Memphis lives in me." And it fits in the context of the show. You have to be true to who you are because at the end of the day no one can change who you are. You have to stay true to yourself.
Memphis plays through November 9, 2014 at Toby's the Dinner Theatre of Columbia— 5900 Symphony Woods Road in Columbia, MD. For tickets please call (301) 596-6161 or purchase them online.
Click here to read the review of Memphis.
Click here to read Tear Down The House: A Hockadoo Interview Part 1— Choreographer Christen Svingos