TheatreBloom rating:
 It's creepy and it's kooky! Mysterious and spooky! And it isn't The Addams Family! When so many other theatres are mounting musicals or late night zombie shows, Happenstance Theatre is presenting their 4th Annual Cabaret Macabre to delight audiences all over Baltimore. The deliciously 'Gorey' show is a series of darkly comic vignettes created by the Happenstance Theatre company ensemble, featuring inspiration from all sorts of fantastically dark and dreary places including the tales of Edward Gorey. Now mounted upon the stage of The Baltimore Theatre Project, the show runs right through Halloween weekend before taking off to the bayou of New Orleans to spread their grim and grisly tales.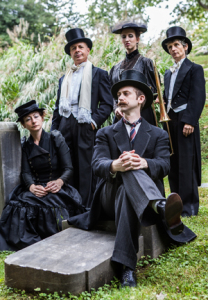 Tagged as a theatrical collage, the assortment of sketches featured throughout the performance is a delectable feast of gloom and doom all wound up into sinister instances that tickle your funny bone in the way that only dark humor can. Costumes, provided and designed by the company's Co-Artistic Founding Director Sabrina Mandell, support the mood fully. Anything and everything from funerary black mourning garb complete with veils of ebony lace and matching gloves to the more ostentatious red numbers reserved for some of the flashier scenes. And let's not forget the classy top hats for the gentlemen and Karen that pepper the performance throughout.
Lighting Designer Kris Thompson effectively keeps the macabre feeling by working the new space of Baltimore Theatre Projects to the show's advantage. Eerie shadows cast back onto the walls from the wings compliments of Thompson's light design work and this adds a bonus layer of spooky enchantment to the performance; a glimpse of a mysterious top-hatted figure drifting along the walls here or the ghost of a girl in a gown moving there. Thompson's tight focal spotlights for character-intense scenes as well as the precision executed in running the cues make the lighting perfection in this haunting show.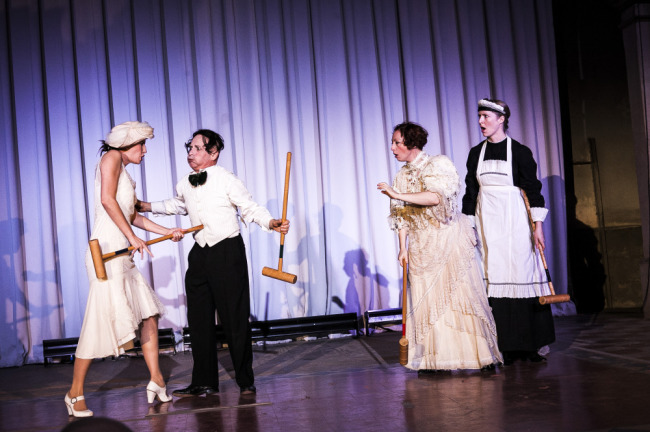 Truly an ensemble if ever there was one, The Happenstance Theatre performers work exceptionally well together and feed off one another to make full ensemble numbers work. Traditions and staples of the Cabaret Macabre include "Croquet" and "Danse Macabre" which serves as the finale for the show. Watching the six performers move as one, particularly in this final number, is mesmerizing and showcases the strength of their collaboration as well as its genius.
In true cabaret fashion there is a great deal of music that accompanies the show. Musician Karen Hansen is responsible for a great many of these compositions and her talent knows no bounds when it comes to musical instruments. Whether it's organ, piano, horn, or strings, Hansen has gathered a menagerie of instruments all of which are utilized to perfection throughout the performance. Hansen becomes a triple performance threat as not only does she perform the music, she also sings, dances, and acts; her deadpan sketch bits involving the train-delivered telegrams being some of the funniest in the show.
Alex Vernon, who works a great many stylized caricatures into the performance, balances his segments of the show between gruesome giggles and forlorn love. A juggling man of many expressions (both physical juggling and metaphysical character juggling) Vernon slips easily in and out of various scenes keeping his characters crisp and distinctive from one to the next. The most striking and tragically beautiful moment of the show features Vernon's Waltz after the Spilsby Sisters part his company.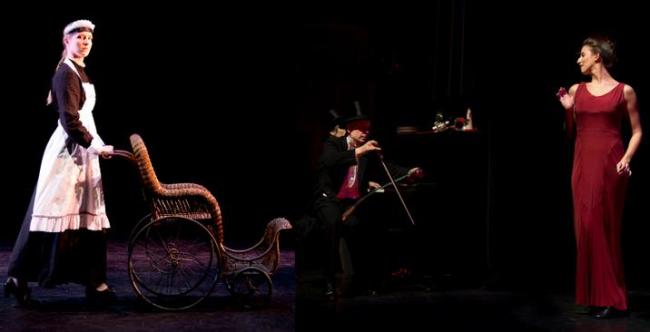 Playing the notorious Spilsby sisters in a reoccurring threaded sketch are Gwen Grastorf and Sarah Olmsted Thomas. Inseparable for various sketches throughout it is highly amusing in a twisted fashion to see the way they interact with one another, particularly in the Spilsby Sisters sketch. Grastorf has a unique character all her own: the bitter maid. While this maid character does little beyond enter and exit the scene, Grastorf's approach to this humorously dark entity receives roars of laughter from the audience every time she crosses for an exit. Thomas' moment to shine comes from her solo performance of "Little Drop of Poison" a sultry seduction that ties the two Spilsby Sisters scene together. Both Grastorf and Thomas have exceptionally animated body language and facial features; Grastorf's reserved to suit a more deadpan comic style and Thomas' erratic and maniacal to suit the insanity of the show.
Sabrina Mandell brings creepy to a new level of nightmare when it comes to her childlike scenes. Jumping rope and reciting horrific twisted nursery rhymes or reenacting famous iconic death scenes are just a few of Mandell's favorite past times. Engaging her full body in every character that she performs is one of her signature performance traits; a unique physicality adapted for each persona created. Mandell clowns around with nearly every other ensemble member throughout, but none quite so humorous as when she takes into the "Curious Cousins" sketch with Alex Vernon; truly delightful in the most abhorrent way possible!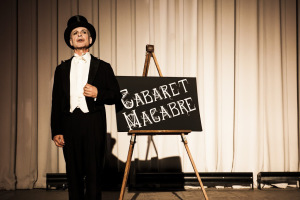 Co-Artistic Founding Director Mark Jaster is a master mime, king clown, and all around brilliant performer. Whether he's pantomiming silent responses of epically hilarious proportions through "The Late Patron" or he's performing his signature and audience favorite piece "Mannequins" Jaster has the audience rolling in the aisles through these dark sketches. But there's a softer side to his performance persona as well; a gorgeous and eerily haunting somber tune drifts in duet from Jaster and Mandell at the top of the Spilsby Sisters segment, truly harrowing in its tune and tone.
Hilarity thou name is Happenstance, and it's just in time for Halloween. Choice brilliant dark comedy that is most morbidly marvelous when seeking out macabre entertainment this festive season. Happenstance Theatre has it all and you won't want to miss the Baltimore area debut of this sensational show.
Running Time: Approximately 75 minutes no intermission
The Cabaret Macabre plays through November 2, 2014 with Happenstance Theatre at The Baltimore Theatre Project— 45 W. Preston Street in Baltimore, MD. For tickets call (410) 752-8558 or purchase them online.