TheatreBloom rating:
Don't cry out now, Washington DC! The truth is they never left you! Returning home to the nation's capital are area acting natives Caroline Bowman and Sean MacLaughlin in Tim Rice and Andrew Lloyd Webber's Tony Award-Winning musical Evita. Rounding out the American end of this Rainbow Tour their final destination is The John F. Kennedy Center for Performing Arts. Directed by Michael Grandage with Musical Direction by Robert Meffe, world renowned classic is revived to the stage for the first time since its Broadway debut more than 30 years ago. A stunning production that ensnares the hearts of the audience with gripping emotions; captivating the eyes, the ears, and the spirit from the opening moment through to the very end.
Beginning at the end; the story of Eva Peròn is a tragically beautiful one and in this production that painful beauty is enhanced by the modern notion of digital projections. Zachary Borovay, the show's Production Designer, infuses the reality of the true story into the show by screening footage and images from history. The funeral procession of the real Eva Peròn is viewed in the opening "Requiem" and her fanfare successes are featured throughout "Rainbow Tour." These glimpses of reality dashing through the fantasy of the performance create a jarring but intriguing experience for the audience; a hybrid of fact and fiction all being taken in with song and dance.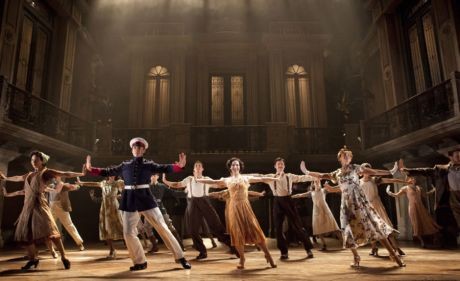 Lighting Designer Neil Austin draws the focal point of emotions for the audience during specific moments of the show. The lighting for the balcony scene leading into "Don't Cry for Me, Argentina" is a stunning ghostly white; freezing the whole of the stage in Eva's grandeur and wonder as she addresses the nation for the very first time as First Lady Peròn. The haunting fog and twilight of the opening "Requiem" is equally as striking in regards to creating a swell of atmospheric pathos that surges forth from the stage out into the audience. But it's Austin's golden bath of holiness that washes the stage during "Santa Evita" creating a frozen moment in time of perfection that is truly memorable in his design work.
Choreographer Rob Ashford draws a great deal of dancing influence from Latino styles; salsas and tangos featured heavily throughout. Ashford's routines are simplistic enough, though at times the execution is not as crisp as it could be, particularly for the military government men who march about during "The Art of the Possible" and later during "She is a Diamond." Ashford's choreography is heavily repetitive as well, larger dance numbers which involve large portions of the ensemble feature the same slide and twist moves again and again which to a point can become dulling.
Vocally the show is exceptionally sound. The ensemble is sturdy, and charge with emotional outcries. "Requiem" as well as "A New Argentina" are blasts of emotional strength from the ensemble, one in horrific agony and mourning, the other in triumphant spirit; both with ferocious intensity. Even the featured male soloist, Christopher Johnstone has a rich and fulfilling sound to his solo "On This Night of a Thousand Stars." As the bolero belter Magaldi, Johnstone offers a warm crooning sound during this number and again during "Charity Concert."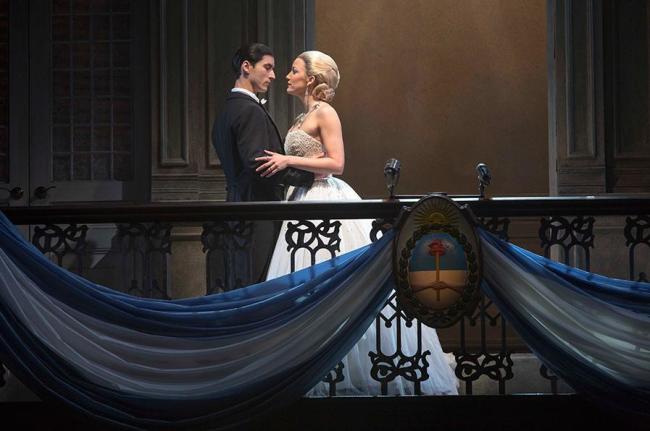 Peròn (Sean MacLaughlin) has a stoic but charming sincerity to his existence as first military man and later president of Argentina. MacLaughlin's powerful baritone voice has only a few songs to prove his abilities, but prove he does as the show glides on. There is a revolutionary fire burning in his voice during "On the Balcony of the Casa Rosada," igniting a passion from his followers below. His first duet with Eva, "I'd Be Surprisingly Good for You" is a vocal amalgamation of passion that simmers and smolders until it comes boiling to a head between them. A very different energy and sound, though no less intense, than their final duet shared during "Dice are Rolling." MacLaughlin shows a vulnerability that is raw and heartbreaking from the moment that number concludes through to the end; his love for Eva more powerful than any position of power Peròn ever held.
Che (Max Quinlan) has revolutionary vocals of a different variety. Constantly starting a conflagration with bombastic energy, Quinlan takes to the role like an experienced member of the rabble rebellion. His voice is pristine; a pure sound that cuts through silence and chorus alike to deliver stunning blasts of tonal perfection loaded with emotional charges. "Oh, What a Circus," his first solo at the top of the show is a furnace of fury that explores the truth of Eva Peròn that only he can see. "High Flying, Adored" is driven with questioning accusations and compassionate truths that Quinlan forces up from deep within his bleeding heart. A perpetual inferno that never dies down, Quinlan is as packed full of spirit as Eva. Their only true shared duet where the characters interact with one another, "Waltz for Eva and Che" becomes this intense carousel of circular singing. Round and round their vicious cycle goes as their voices pace one another like serpents waiting to strike; a remarkable blend of two hot fires burning in the faces of what they believe to be true.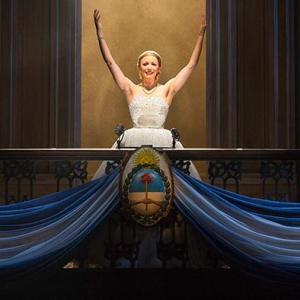 The new world Madonna with the golden touch, Miss Eva Peròn (Caroline Bowman) is a godsend to the show. Bowman is received by the audience as Eva Peròn was by Argentina; adored, admired, loved with ardor beyond reason, though her performance greatly warrants such devotion. Bowman's voice is perfect for the role; balanced in her lower range during "Buenos Aires" but still with the dulcet upper range for other numbers and surges of solid belts throughout. There is an undeniable spirit burning within Bowman's portrayal of Eva; an inextinguishable flame that burns too brightly too quickly for such a tiny star. The guttural emotions she delivers during "You Must Love Me," (a song originally written for the film adaptation) is both harrowing and an impressive showcase of her range. "Lament" as her character's swan song is haunting to the depths of human feeling. For the veritable roller coaster of emotional experience Bowman takes the audience through, there is no more perfect a moment than when she appears on the balcony at the top of Act II. "Don't Cry for Me, Argentina," the show's signature number is perfection. Bowman delivers this classic baring her heart, soul, voice, vulnerability, and spirit all in one phenomenal number that defines the show for her as a performer. Truly remarkable; Bowman flies high and is exceptionally adored as Eva Peròn.
It is a show well worth seeing; a great revival to the stage that may be quite some time before being revived again and it would be a shame worth crying over if one were to miss seeing it at The John F. Kennedy Center for the Performing Arts this fall season.   
Running Time: 2 hours and 20 minutes with one intermission
Evita plays through October 19, 2014 on the Opera House stage of the John F. Kennedy Center for Performing Arts— 2700 F Street NW in Washington, DC. For tickets call the box office at (202) 467-4600 or purchase them online.