Take a stroll through the square of Fells point any evening weekend this fall and you'll hear the joint is truly jumpin' over at The Vagabond Players. Their production of Ain't Misbehavin' has got the whole of Baltimore tappin' its toes and stompin' its feet! TheatreBloom took a quick break from doing the jitterbug waltz and sat down with Director Rikki Howie Lacewell to find out just what this crazy cool cat musical is all about!
Thanks for giving us your time, Rikki, can you start by giving the readers of TheatreBloom a quick background of who you are and where you've been all our lives?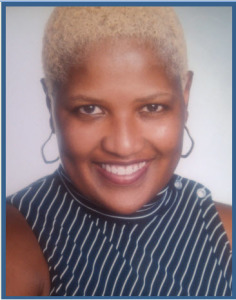 Rikki Howie Lacewell: My name is Rikki Howie Lacewell, most people know me as Rikki Howie but I am a newlywed, almost a year now. He's a theatre husband now, he's a theatre widow, and he says that all the time. Let's see, what have I done in the last year? I just closed August Osage County at Tantallon Community Players, I directed that. The lady that played my Violet in that show is playing our Nell in this show. Before that I had choreographed Spamalot for Annapolis Summer Garden Theatre. I'm trying to think, what else have I done? I did Seven Guitars at Tantallon…I think that's it. I may have done other stuff but my brain is just gone right now, so I'm going to say that's it for now.
What piqued your interest to come and direct Ain't Misbehavin' down here in Baltimore at The Vagabond Players?
Rikki: Actually? It was Roy Hammond. I've worked with him over the years, I think the first show we ever did together was probably You Never Know at Greenbelt Arts Center probably ten years ago if not longer and I'm like the choreographer that follows him around. When I was here doing Company last year— see? I knew there was other stuff I'd done that I couldn't remember— I was performing in Company last year and Roy had said to me that he was thinking about pitching Ain't to the board for this season. And I said "Oh that'd be a great show to do here." And then he said "I think I'm pitching you to direct it." I was stunned and just kept saying "Why?" And he told me, he liked what I had done with the production at the Elden Street Players (which is now known as NextStop Theatre Company) when I directed it about two or three years ago. He wanted to bring in a new type of show, a new demographic for this theatre and that this would bring a whole bunch of firsts to the stage with this show. I didn't understand what he meant at first but I said "Well, alright, Roy, if you want me to do it? Fine." And I just said fine without any real thought process. And then I started and went "oh my God. So many firsts." And my head exploded.
It's an honor and it's frightening. It's both at the same time. You know you look at the season and it's different from anything else that's being offered. While we've been rehearsing there have been tons of people who have just wandered by the theatre and actually said "I wander by this theatre all the time and have never seen anything advertised like this before." And then they follow that up with "Oh my gosh, we're coming!" My husband is a big campaigner, he's out in the square there all the time promoting this show and the positive responses have been overwhelming. I'm extremely excited and honored to have cast members that are traveling from Fort Belvoir, Virginia and DC— they just showed up one day to auditions and I just could not believe it. I kept thinking— what are they doing here? But I'm so honored to have such talent coming from all over to be a part of this show.
What was the casting process like for this show?
Rikki: We actually didn't have tons of people who auditioned. We might have had ten. Which is fine because you only need five, and then I actually ended up casting eight. I like the ensemble. It helps save voices. With having the ensemble, the two that stayed because we lost one— but I'm happy for her, she got a professional gig— they are the understudies for our leading ladies. I've actually worked in performances for them to go on as the leading characters. You know normally understudies only go on if someone gets sick or there's an emergency but I feel that if you learn it, I should put you on the stage. You know, I've been an understudy who never goes on, and it sucks. In this sort of community setting you're able to give everyone a chance— if you're taking the time to know your own part and then learn someone else's part too you should have that chance to do both because you've put in all the effort.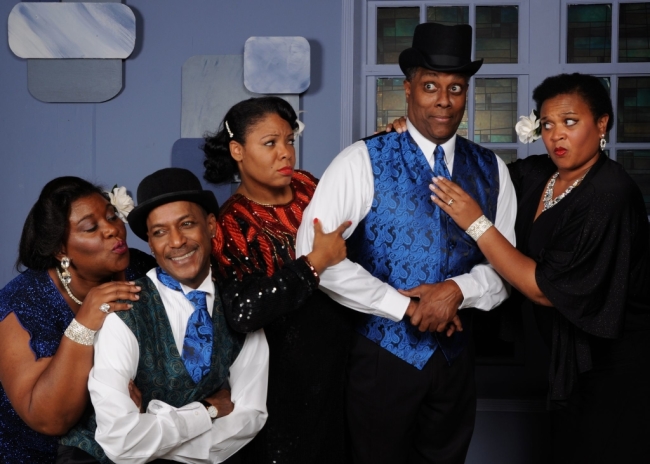 So I'm giving my understudies that chance in this show. Each of them have four or five nights where they are going on. I don't want them to feel like they are wasting their time with rehearsals even though an ensemble part is not a waste of time. My one actress is actually the understudy for both Nell and Armelia and she's an ensemble member. The fact that she's still with the show and hasn't quit yet? That makes me want to put her on so that she can enjoy all the hard work she's put into this show.
What has been your biggest challenge with setting up this particular show in this particular space?
Rikki: I have to say there hasn't been a challenge. This is without a doubt the smoothest— between rehearsals and everything— it's the smoothest thing I've ever done, which naturally has me in my head going "I've missed something." Somewhere along the way I must have dropped the ball or forgotten something because it just doesn't go this smooth. It makes me nervous. The set came together, the costumes came together, everything just came together. I never walked into a theatre where the set was built and the theatre then says "what else do you want?" Normally it's myself and the cast building a set, so this has just been a blessing.
If you could be one of the singing characters in the show which one would you be?
Rikki: Ooh! Charlaine is my favorite. She is the young bubbly one that to me has all the funny numbers. Now to me, I love to say that I'm a comedic actress, don't know if I actually am or not but I do love to say that I am. What I've noticed during this process is the next character that really appeals to me is Nell. I think I probably am starting to identify with her because I'm getting older. Charlaine is the younger character. I am starting to realize that I have lived Nell's life. I have been dejected a couple of times and wondering when I'll find the right guy— I mean, of course now I do, I have my husband— but I've been there. So when Brenda (Brenda D. Parker, playing Nell) sings "Mean to Me" I'm completely blown away by her. Hands down she does that number and it literally puts me in tears.
I won't ask for your favorite number, because everyone hates that question, but is there a number that just speaks to you or you find yourself singing along to even after you've left the theatre?
Rikki: I would have to say there are two that are neck and neck for completely different reasons. "Keepin' Out of Mischief Now" which is Charlaine's number. I keep telling the girls, "you've just been dejected." It's the number where they've just been ripped apart and they need to pour their souls out. And they both keep telling me "oh ok," and I just look at them like "you've never had your heart ripped out yet, have you?" They're doing it! That's one of my favorite numbers.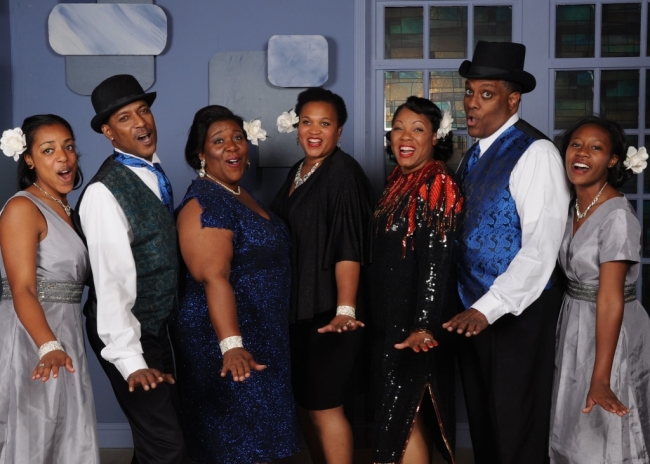 The other number is "Black and Blue." When the cast does it, it just becomes this silence that is the loudest silence that you've ever heard. It just resonates. You recognize that in a way for this show to be at Vagabonds all of the black and blue that had to happen for this to happen. We've all had bumps and bruises to get here regardless of what walk of life we've come from. That song rips me to pieces. 99 seasons and here we are having a major first. That's saying something. The cast keeps asking me if I'm ok and I have told them honestly that I don't know if I am— it's going take me a couple of days for it all to really sink in.
What has been the most moving part about this experience for you?
Rikki: Being asked just to be a part of it. Being asked by Roy to direct it. To have the opportunity to do it— you grow up saying that you want to leave your mark on something. And my husband asks "when are you going to do what you're supposed to be doing with theatre?" When this show showed up and landed in my lap I said "Yeah, this is it." It happened at a perfect time in my life. My term at Tantallon ends in July after ten years. It's time for me to go be a married woman for a while. To close up all those different doors and to have this show be a door that I close? I'm good. It's like the sports player that recognizes that this is the season to retire and go out on top. This is the perfect way to step out gracefully.
Why do you want people to come see Ain't Misbehavin' at Vagabond Players?
Rikki: Because you're going to laugh. You're going to cry. There's so much fun that's in here. There are scene stealers galore. There are quite a few scene stealers that I did not even know I had when I cast them. And they keep asking me is it too much. I keep saying "no, keep it. Keep it!" There's a lot of little things that you will see people doing. Whether there's a blip in the music or a blip in the dance steps— it's just so real. What you're actually watching is from the 1920's and the 1930's— right up through the present day— is how African-Americans and even just people in general enjoy music. I told the cast this is about the Harlem Renaissance but it's also today's Renaissance because we are still progressing.
It's just music. It's just enjoyment; seeing people enjoy themselves enjoying music. I'm aware that this is an all black cast and that we have people in the cast— we have Timoth (Timoth David Copney) who is 58 and has performed live with Eartha Kitt so he's more connected with that era— but then we have cast members who are 20 and have no idea what that era is like. So this has become a teaching mechanism to bridge the gap in general. Getting them to understand that things were different back then, this is excellent for that.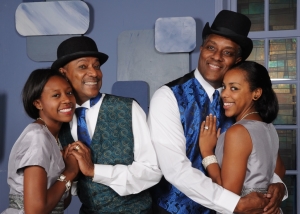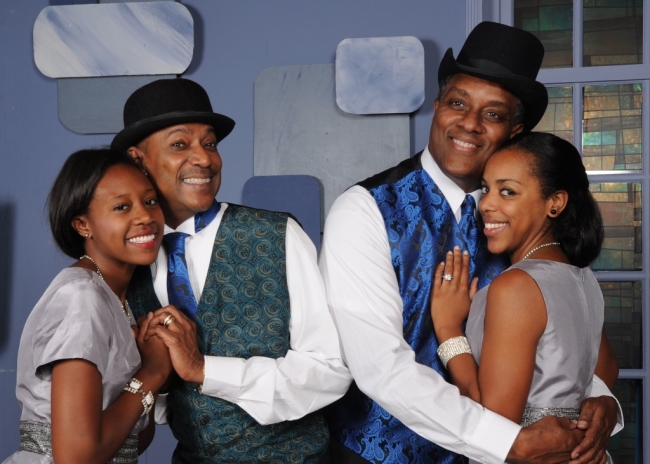 I always thought I was born in the wrong era. I've always believed that I should have been born in the 30's or 40's right in there. I love the music from that era. And in thinking about that I think the one regret that I have with this show— and this is a shocker— I was not able to get anybody Caucasian to join the cast. Other than my piano player Emily (Keyboard I Emily Sergo) and I told her that she was almost in the show. When I directed this at Elden Street I did have two Caucasian actors in the show and at first they kept saying "But we can't be in this show." And I kept saying "But why not?" When they had rent parties you went. If you had 25 cents you got in the door and you partied. Segregation is only for those that allow it and I don't allow it in my shows. We were hunting, honest to goodness, and we couldn't find anyone. Though that might be because they're all tied up down the street at Rocky Horror. (Spotlighters Theatre presents The Rocky Horror Show) But that was the only thing that I missed about adding to this show so that the audience could see that this isn't just an African-American show. It's just a show. A show about music; the music is the same no matter how you sing it, it's just coming from a different perspective.
Ain't Misbehavin' plays through November 23, 2014 at The Vagabond Players— 806 S. Broadway in the heart of Fells Point in Baltimore, MD. For tickets call the box office at (410) 563-9135 or purchase them online.
Click here to read the review of Vagabond Players' Ain't Misbehavin'