TheatreBloom rating:
Silence is not beautiful. Understudies are not bitter. Silence is a failure of words; silence is defeat. And understudies are real actors that are failed to be recognized in light of a big name draw to a Broadway show. This riveting and uproarious concept, albeit completely true, is wrapped up in Everyman Theatre's production of Theresa Rebeck's The Understudy. Directed by Joseph W. Ritsch, this exciting dramadey is more than just a metaplay about real life actors and Kafka. Proving to be a mordant blast of focused dark wit, Rebeck's work is titular and unpredictably enthralling, keeping the audience engaged with the three characters and their intertwined stories to the very Kafkaesque ending.
Resident Scenic Designer Daniel Ettinger takes to task creating Broadway inside of 315 W. Fayette street and succeeds with flare. The stage, which could easily represent any of the older theatres on the Great White Way, is adorned with the antique architecture that populates so many of the classic theatres. The slide-in sets for the metaplay are trussed up in Broadway formality; as if a true Broadway budget had been spent in their creation. Note the distinctive mountain of skulls that adorns the fireplace in the tavern scene, and the endless spiraling dungeon maze for the 'final scene'; both are testaments to Ettinger's keen understanding of what it's like to design for Kafka.
Resident Lighting Designer Jay A. Herzog, and Sound Designer Neil McFadden work in tandem to create the absurdist existential nature of the Kafka play that is happening within the actual production. Rebeck's writing brings a level of exciting absurdism into the work outside of the standard curiosities expected in a Kafkaesque production; lighting cues and sound cues thrown asunder by the never-seen fourth character of the booth tech. Herzog and McFadden conceive moments of brilliance in this "missed cues" with lighting that creates striking, albeit mismatched, moods for the rehearsal scenes. From simplistic to intricate both the soundscape and lighting work spans a gambit of motifs throughout this production, layering in little hints of symbolism to both reality as actors perceive it and the Kafkaesque nature of life itself.
Director Joseph W. Ritsch takes this invigorating comedy to a new level by drawing the audience into the experience. Drawing the actors out into the house as if it were empty for their rehearsal brings their emotions, dramatic moments, and silly outbursts into tight focus for all those watching. Ritsch's direction creates realistic believable characters that are emotionally accessible to the audience, while still being entertaining and amusing. Finding the organic humor of dramatic situations that fall to the darker side of the spectrum is a skill that Ritsch proves he has mastered with this production.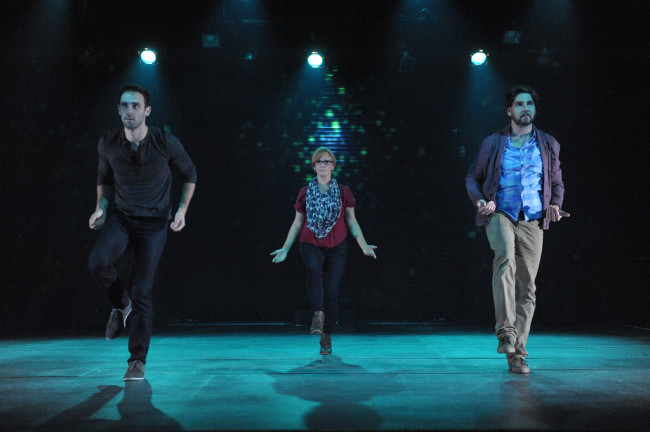 A three-person show leaves little room for error or less than stellar acting on the whole. Resident company members Clinton Brandhagen, Danny Gavigan, and Beth Hylton deliver nothing short of perfection in this performance; each character crafted with specific needs and emotional depth while simultaneously feeling authentic without artifice or contrivance. The chemistry is a juxtaposition of caustic tempers thrust against fascinating discoveries; a true hybrid of drama and comedy in the modern theatrical world.
Beth Hylton, as the neurotic, overwrought stage manager Roxanne, does an exceptional job of keeping her character realistic, finding the boundaries of where melodrama meets reality and stretching them just slightly. Her clipped tone and barking manner, particularly when engaging with Harry are both sharp and amusing. Hylton captures the essence of the industry's most stressful position with the frenetic sense of urgency she imbues into the character. Her moments of emotional collapse, whether they are more subdued into a place of comfort, or more spastic into a place of pure surging frustration, are the epitome of a micro-meltdown; a flash of excitement which is quickly gathered into composure.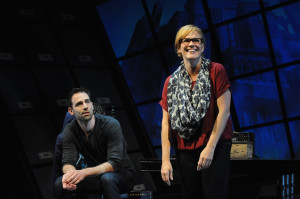 It's the working relationship that develops between Brandhagen's bitter understudy character of Harry and Gavigan's superficially narcissistic character of Jake that is the driving force behind the production. Both characters are taken at face value: a big name celebrity who couldn't know one whit about acting and a disgruntled understudy who can do no better than bit parts. But the rich development that both Brandhagen and Gavigan bring to fleshing out these labels of their characters is astonishing.
Gavigan perfects the balance between blasé Hollywood star whose self-aggrandizing nature makes him unapproachable and true theatre nerd with an insatiable passion to deliver the hidden meanings of Kafka to the masses. Playing both sides of the coin, often in quick rotation with one another, Gavigan captures the hearts and the humors of the audience with his performance; a truly compelling exercise in character growth and development as the play progresses.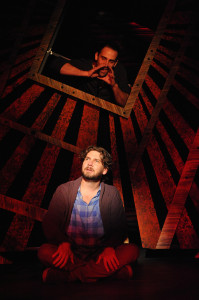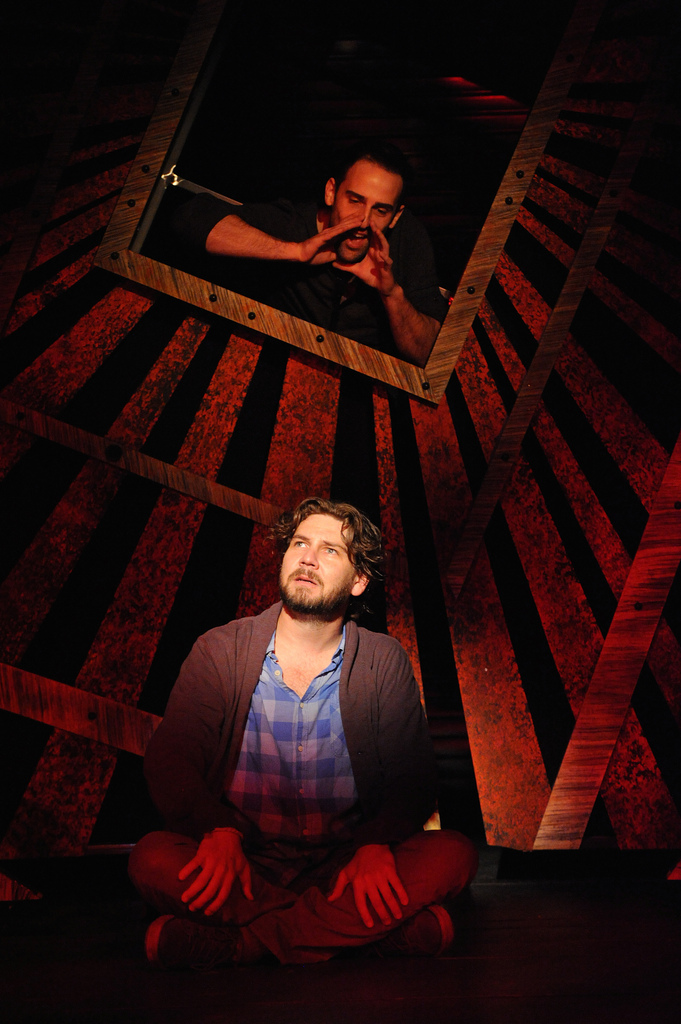 Brandhagen presents a striking dichotomy as well; the embittered actor and the man who can accept change and be malleable. His outrageous outbursts— most of which are directed toward the general audience— are uproarious and bring forth choruses of laughter from all watching. It's the softer, subtler side of his character that draws true notice; a delicate and insecure human no different from any other actor trying to make it in the business.
Together the pair strike up a quick if unimaginable bromance, tangling Hylton's character into the throng. The three of them give sensational performances throughout the production; never faltering in moments of truth, never mugging to get a laugh. Anyone who has ever worked in the industry or knows anything about the industry will find this work to be highly relatable and thoroughly enjoyable.
Running Time: 100 minutes with no intermission
The Understudyplays through September 28, 2014 at Everyman Theatre— 315 W. Fayette Street in Baltimore, MD. For tickets call the box office at (410) 752-2208 or purchase them online.
Look below for a sneak-peak at The Understudy at Everyman Theatre.