TheatreBloom rating:
Well, Hockadoo! Don't touch that dial, you good folks of Baltimore and Washington DC because coming to you straight from the center of Toby's Dinner Theatre of Columbia is the regional premier of the smashing Broadway sensation Memphis. Winner of four Tony Awards, including Best Musical, this stunning tale of underground rock & roll and rhythm & blues comes exploding onto the stage at Toby's with electrifying choreography, sensational vocal talent, and a story that touches the hearts of everyone. Directed by Toby Orenstein and Lawrence B. Munsey with Musical Direction by Ross Scott Rawlings, this stellar musical is a must see for the fall; the best dramatic musical to grace the stages of the area this season.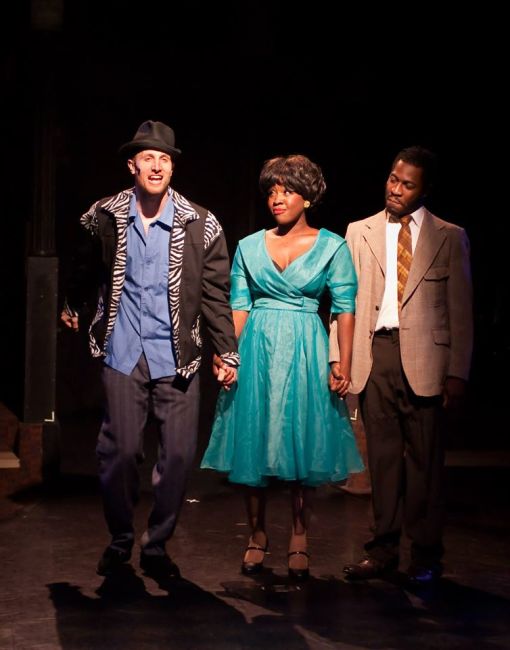 The design elements of the show are achieving perfection; welcoming in this explosive musical with all of the grandeur of a true Broadway caliber production. Scenic and Lighting Designer David A. Hopkins presents his finest work with the lights; never has the intimate space felt so alive and pulsating with the threads of the story reflected so thoroughly in light.  Hopkins' use of subdued blue lighting in the penultimate musical number is a symbolic echo of the emotional outpouring from this song; each street light gently glowing into existence in a color that matches the feelings of Huey. The iconic pose between Felicia and Huey captured at the end of "Music of My Soul" is picturesque perfection with Hopkins' tight focus spotlights before a snap to blackout. The scenes in Delray's club become populated with color bright enough to match the intensity of the dancing. Even scene transitions that occur during musical numbers like the one that happens during "Love Will Stand" are eased along with resplendent brilliance because of the subtle changes in the lighting. On the whole, the lighting has never been more suited to a performance in this space; a true use of mood lighting to its fullest potential.
Costume Designer Lawrence B. Munsey makes the performers pop in their 50's threads. Bold and vivid colors outfit the dancers of Delray's club and Huey's cavalcade, really making their movements catch the eye. The styles alone showcase Munsey's vast knowledge of the decade, with the A-line dresses that follow the fit-and-flare motif. Keeping Huey looking eccentrically stylish and Felicia looking dazzling is another feat tackled by Munsey's work; his ability to find the perfect colors to highlight both skin tones and personalities in one go is astounding. Between the vibrant yellow choir robes for "Make Me Stronger" and the striking cornflower blue for "Steal Your Rock N' Roll" the rainbow is covered in this production with real pizzazz.
Munsey, serving as Co-Director alongside Toby Orenstein, brings the focus of the show to the thing that Toby's productions pride themselves upon; telling the story. Memphis is a story about music. It is a story about feelings, passion, the human heart and soul as well as equality, struggles, and the history of rock n' roll. Orenstein and Munsey gather the perfect cast to create an energetic show that blows the audience away. The pace is driven, the story is clear, and the show is wonderful. With bursts of energy that just keep coming, each scene unfolds building upon the last so that the story progresses naturally and winds its way into the hearts of the audience, filling theatergoers with the raw emotions of a time not so long ago where music motivated the soul to defy boundaries of society, test the limits of convention, and explore daring and dangerous new frontiers.
The vocal talent cannot be spoke highly enough of in this production, but it is truly the dancing that will turn heads. Christen Svingos delivers the show of her career in Memphis with thrilling dance numbers that could easily hold their own against a true Broadway production. The routines are complex; intricately weaving acrobatics and rhythmic body gestures into each scene to attest to the liveliness of these characters and the style of music. Svingos not only develops these pulsating routines that are erupting with fully charged energy but she ensures that they are the epitome of precision, delivered in perfect synchronization by the ensemble at every turn.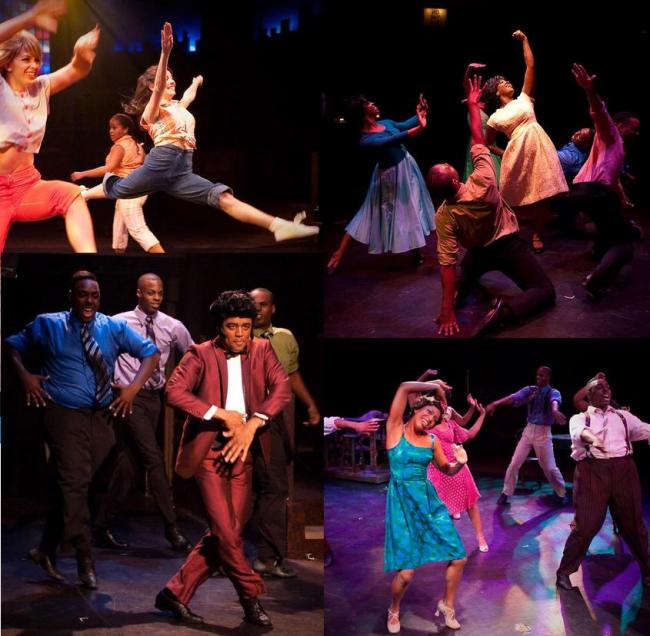 "Tear Down the House" is the first dance routine where Huey Calhoun really gets to showcase fancy footwork alongside the incredibly fleet-footed dancers in this production. Like every other up-tempo routine, it is full of intense movement that keeps the audience's eyes glued to the dancers. "Radio" is another electrified number that really showcases the diversity of Svingos' routines with the inclusion of cartwheels, flips, acrobatic tricks, and other wildly engaging moves that brings forth the whoops and hollers of the audience.
Musical Director Ross Scott Rawlings has a handle on how to translate the rhythms of movements of jazz, blues, rock n' roll, and everything in-between to work in the round at Toby's. Rawlings coaxes empowered sounds from the exceptionally talented ensemble for company numbers like "Everybody Wants to be Black on a Saturday Night" and "Radio." It's Rawlings' seasoned guidance that balances the volume in this production; vocal crescendos placed in the exact location of emotional swells. Featured ensemble soloists include Amanda Kaplan really showcasing her vocal ability during "Someday" as well as the three 'backup' girls who consistently provide pristine harmonies for Felicia, played by Tiffany Dawn Christopher, Samantha McEwen, and Patricia Targete.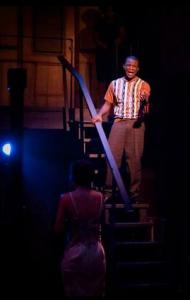 There's a great deal of acting talent peppered throughout the ensemble as well. Whether it's Gator (Jonathan Randle) who is completely silent for nearly the entire show and uses his facial expressions and body language to emote, or the fusty and obnoxious Department Store Manager Mr. Collins (Jeremy Blaustein) there is exceptional acting happening on the stage. Randle, who's voice is purely angelic and perfect for the solo "Say a Prayer" stuns the audience with this act one finale number, while Blaustein brings giggles a plenty with his absurd portrayal of the melodramatic man.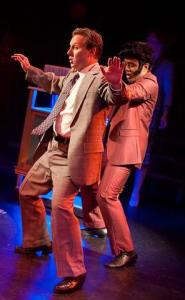 Jeffrey Shankle, taking on the role of a cantankerous old cowboy, also shows his face in notable moments throughout the performance and really gets his pelvis popping when David John Little, as 'Wailin' Joe' starts screaming out "Scratch My Itch" in Collins' department store. All across the board there are little moments of brilliant acting to be experienced; watch closely to catch them all.
Taking a chance on the strange fella Huey is the rather reserved Mr. Simmons (Robert John Biedermann 125.) The epitome of southern business man, Biedermann blasts the audience with his temper throughout the performance, barely keeping it restrained when it comes to wanting to all but strangle Huey. His temperament quickly changes, however, when the dollar signs start rolling in and one of the funniest moments in the performance is delivered by Biedermann as he presents his character's personal form of delight by twisting about Huey's signature catchphrase while exiting a scene. A finely seasoned performer, Biedermann brings the right amount of abrasive edge to the character.
Playing Mama to a wayward son of which nothing good could ever amount is Lynne Sigler. As the prudish 'good Christian' woman of her time, Sigler leans into the accent and articulation of the character with vehemence, making her truly believable. There are moments of song that accentuate Sigler's voice, but her grand moment to shine comes forth during "Change Don't Come Easy." The perfect amalgamation of comedy and vocal talent, Sigler lights up the stage with this number, dancing, prancing, and giving it her vocal all. The end of the number is hilarious; Sigler is a knockout in the comic role that helps shape the viewpoints of the performance.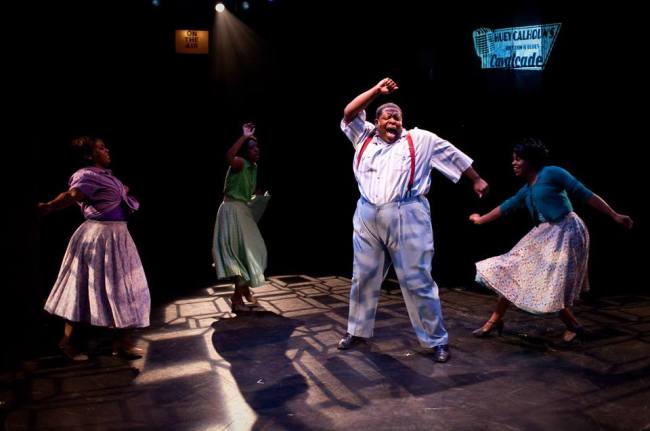 If there's a runaway moment that could upstage the comic shenanigans seen at the end of Gladys Calhoun's number it's Bobby (Tobias Young) and his solo featured in act II, "Big Love." At first Young's character is timid and awkward when out of his element, but the moment he crests over that wave of nerves, watch out! Young lets loose in this number vocally, physically, emotionally, and his facial expressions are priceless. He practically tears down the house with his explosive dance moves and a mighty fine belting voice to boot. Snatching all the attention in the house for this number, it becomes Bobby's big break and Young owns every second of it.
Delray (Sayne-Khayri Lewis) is another powerhouse vocalist in this performance. With a tough exterior and a ferocious overprotective streak for his sister, Lewis delves deep into the character's struggles, particularly during his duet with Huey "She's My Sister." This number is a raw showcase of his defensive nature and a true expression of his vocal talent. "Stand Up" is another number that features his intense vocals, really showcasing his presence. Lewis handles the edginess of the character with ease, knowing how to punctuate certain moments into humorous occasions while maintaining the seriousness of his existence.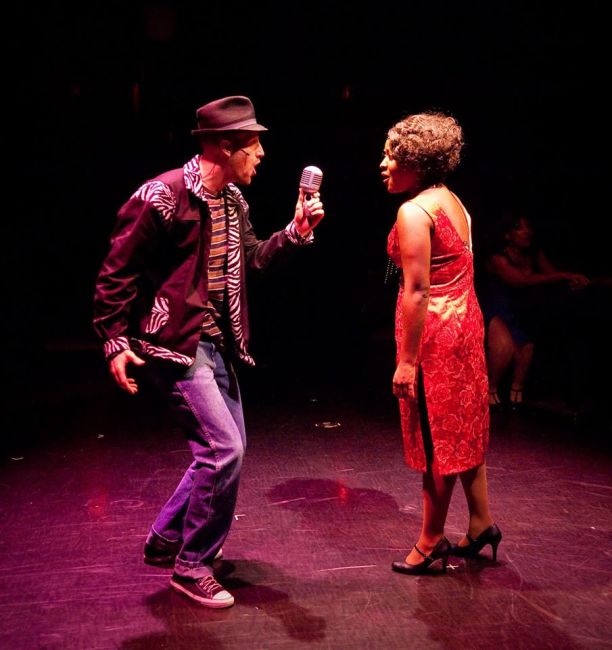 Like most musicals, it comes down to a boy and a girl. And in this case it's Huey (Greg Twomey) and Felicia (Ashley Lauren Johnson.) The pair could not be more opposite in personality or vocal range, even physically Twomey is a good three heads taller than Johnson. But never has a pair had finer more synchronized chemistry in such an evocative musical than Twomey and Johnson do for Memphis. From the moment Huey Calhoun stumbles into Delray's little nightclub and hears Felicia singing, the sensations starts growing and it may not always be an easy progression but it is unadulterated magic that is shared between them; true musical theatre bliss built between two sensational talents.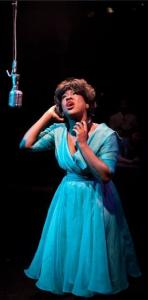 Johnson has a voice that fits the role like a satin glove. Boisterous and belt-worthy, she showcases a variety of technique and an impressive range throughout the performance. Her emotional connection to the character is striking; haunting and harrowing at times as well. "Colored Women" is a vocal explosion of the crippling agony that she faces on a daily basis. Johnson stands center stage and blasts the end of this number with cathartic release of all her struggles; an awe-striking moment that inspires tears. Johnson steals the heart of the audience with her rendition of "Someday." A truly stunning performer; Johnson owns the role of Miss Felicia Farrell as if she were born to play the part.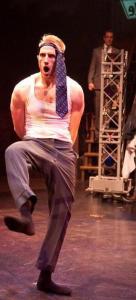 Hockadoo if Greg Twomey as Huey Calhoun ain't just fantastical I don't know what is. He's too hot to handle; the performance trifecta of singing, dancing, and acting to perfection in this role. His voice is fitted for the soulful jazz and rhythmic blues. "Memphis Lives in Me" becomes one of the most phenomenal songs in the show as Twomey sings from the very bottom of his soul. Embodying the eccentric character with comic elegance and unbelievable humor, Twomey constructs this backwoods country bumpkin to perfection. With a spot-on accent, his voice slowed down into a comfortable trot for speaking, and fiery passion blazing through him once he discovers the music of his soul; he's unstoppable. Duets shared with Johnson, like "Music of My Soul" and "Love Will Stand (Reprise)" are the reason people love musical theatre.
This fantastical show wont' be around forever. A surefire fit for the best performance of the season, Memphis is the show to see again and again. Truly electrifying. Truly sensational. A Toby's musical at the top of its game with perfection in every aspect of the performance; do not miss this spectacular show.
Running Time: Approximately 3 hours with one intermission
Memphis plays through November 9, 2014 at Toby's the Dinner Theatre of Columbia— 5900 Symphony Woods Road in Columbia, MD. For tickets please call (301) 596-6161 or purchase them online.