TheatreBloom rating:
Just like the tides that crash into Annapolis harbor, the Bay Theatre Company is on its way back into town. Alive and kicking, though currently not producing, the company is endeavoring to raise a fund to get back up on their feet and wants the public to be aware. After a successful, albeit brief, run of Theresa Rebeck's Bad Dates back in January, the company hosted a one-evening-only staged reading of an uproarious comedy Four Weddings and an Elvis, written by Nancy Frick. Inviting the masses, the company set down to show the world that they still have it.
Directed by Natalie Pilcher, the reading featured ten exceptionally talented performers, many well recognized as performers in the Annapolis and Washington DC area. The cast list was populated with names like Valerie Leonard and Nigel Reed as well as Helen Hayes Award Winner Rena Cherry Brown; all of whom had done work with Bay Theatre Company in the Past.
The reading was thoroughly enjoyable. Actors engaging with the scripts and their characters to create the outline of what could become a brilliant production sometime in Bay Theatre Company's near future. Playwright Nancy Frick is sharp witted and brings comic excellence into the holy ring of matrimony with this play. Her style of humor is most thoroughly displayed in the well developed characters and her ability to write convincing dialogue, even in the most absurd situations.
The show is presented in four scenes with an intermission between the first two and the last two. Sandy (read by Rena Cherry Brown) runs a wedding chapel in Vegas. But after four marriages and four divorces of her own as well as 17 years in the business, Brown's character has become jaded if not all together bitter. The sardonic wit that Brown infused into the reading was captivatingly hilarious; earning waves of laughter from the audience throughout the performance as her views on life shifted.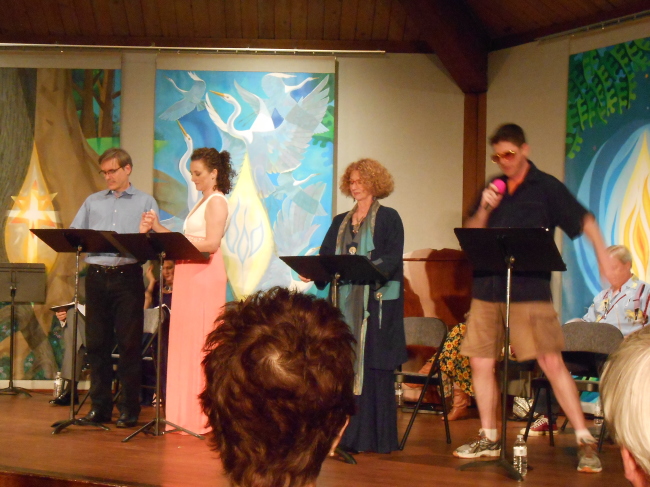 The first scene featured Bev (read by Alicia Sweeney) and a completely unmemorably named character read by Lee Ordeman. Enter Elvis (read Judson Davis) , or mostly just John who plays Elvis at the neighboring chapel next door. The hilarity ensues. Naturally when Elvis is involved, how could it not?
The second scene took absurdity to an exponential level with the arrival of actors Valerie Leonard and Nigel Reed playing the haughty has-been celebrities Vanessa Wells and Bryce Cannon. Both Leonard and Reed are no strangers to the stage, particularly not at Bay Theatre Company, and their seasoned talents made these madcap characters insanely delicious.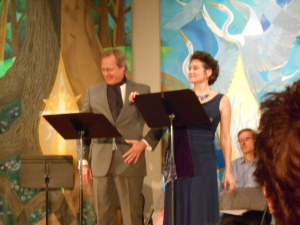 Reading them opposite of Brown's biting remarks and inviting Jim Reiter into the mix made for an explosive and entertaining end to the first half. Reed and Leonard's tendency to have greatly animated physicalities served this scene particularly well and was a brilliant opposition to Reiter and Brown's virtual stillness. 
Scene three defied the laws of theatre by adding even more absurd and hilarious characters to the mix. Mild and meager Marvin Marvel (read to perfection by Peter Boyer) and his wayward ex-convict girlfriend Fiona (read by the spunky and effervescent Mundy Spears) becomes the most fascinating couple to walk down the aisle at Sandy's chapel. Enter Fist (read by Paul Edward Hope) and the shit hits the fan. All three of these performers gave a rousing performance, particularly Spears and Hope with their developed accents and deep vocal connections to their characters.
By the final scene it's Sandy's turn to take an "I Do" trip down the aisle for the fifth time and all of the characters have reunited for the moment, intentionally or otherwise. The reading was a brilliant expression of the talent that is thriving in Annapolis and wanting a place to grow and showcase new incredible work.
Of course, you can't simply end a production about weddings in an ordinary fashion. Artistic Director of Bay Theatre Company, Janet Luby, wowed the audience of over 200 people with a major surprise at the end of the reading by inviting the house to stay seated for just one more moment as there was "one more wedding to be had." Only it wasn't a part of the play.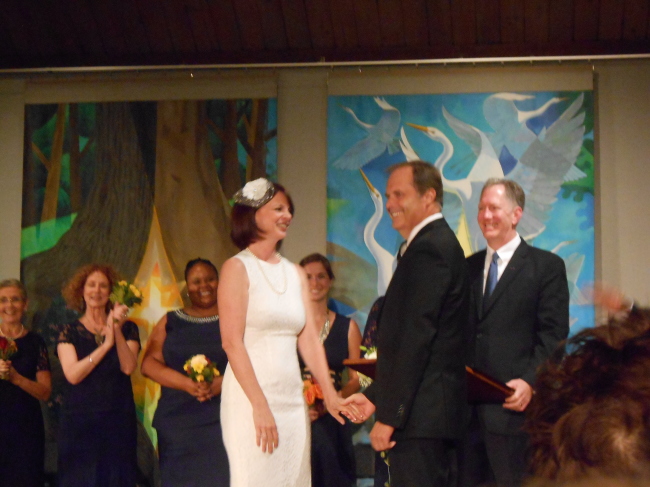 Luby herself, with long standing partner Steven Strawn, took to the aisle in full dress with a complete wedding part and were married on the spot. It was a touching moment for all in attendance. Luby and Strawn's commitment to the theatre has often made audiences feel a part of their family; how fitting that the audience of their revival play reading become the family witnesses to their marriage. A splendid evening with a most happy ending for all involved.
For more information on upcoming events with Bay Theatre Company, be sure to visit their website.