TheatreBloom rating:
With every ending comes a new beginning and that's exactly what is swinging into town up at The Milburn Stone Theatre as they present Tarzan, the stage musical based on the epic Disney film. With book by David Henry Hwang, and Music and Lyrics by Phil Collins, this catchy family show is filled with fun for everyone. Directed by Bambi Johnson, this production is quickly earning a spot in the hearts of audiences everywhere. There's singing, dancing, incredible sets, and spectacular special effects that all culminate into the magical wonder of what a Disney show ought to look like upon the stage.
Miss Jane Porter is wearing the latest London fashions suitable for a jungle expedition thanks to Costume Designers Brenda Kinzinger and Joyce Williams. But pay no mind to the humans, it's the apes who will make you go bananas when you see their outfits. Kinzinger and Williams have paid homage to the original costume style of the Broadway production with a string-corded fur design. These long dangling string cords pose as fur for the gorillas without being too cumbersome. This allows for fluid apelike movement, particularly when swinging about on the vines and in the trees. Principle apes even get distinguishing colors to set them apart from the ensemble; Turk in purple, Kala in red, and Kerchak having his own special style of these cords.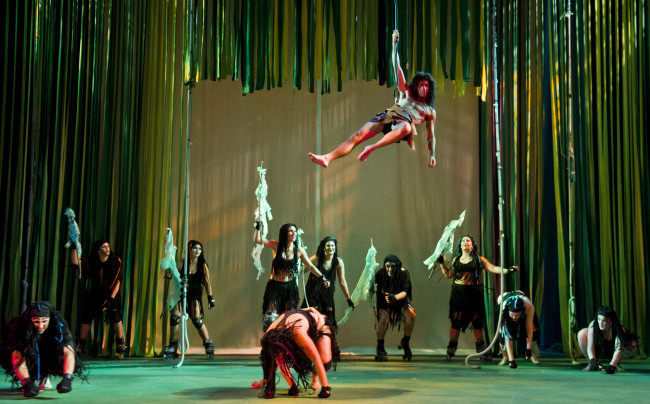 Teaming up with Bob Denton, Director Bambi Johnson creates an enchanting and whimsical jungle that encompasses the stage and grows right out into the audience. Known for its immersive experience set designs, productions at Milburn Stone are all inclusive; a true experience for theatergoers. Tarzan follows suit with the draped canopy of jungle lights that extend out through the house and the intense green that reflects from every angle off the stage. Johnson and Denton cleverly utilize green streams of fabric suspended from the fly tower to create a more natural wild and undiscovered look. This also serves as a smart camouflage for the harnesses used for swinging apes.
Lighting Designer William A. Price III and Sound Designer Terry Edwards complete the jungle effect with hints of realistic vision in their design. Price highlights key moments in sharp focus, like Young Tarzan (Drake Lupus) singing alone at the watering hole, as well as bringing warm radiance to group numbers. The projections and images that Price works into the performance enhances the magic, be it with bubbles during the opening storm sequence once the boat has wrecked or the enormous spider web that brings Jane to her first encounter with Tarzan. Edwards keeps the soundscape of the jungle ever-present in the background, subtly underscored for those moments of silence upon the stage. The perfect blend of design work from these two creative minds is what truly rounds out the immersive experience.
Johnson, who wears many hats for this production, serves as the show's Choreographer. Putting her talents to work, the audience is treated to a great deal of tightly synchronized routines peppered throughout the performance particularly when it comes to the primates. Johnson's most impressive number occurs at the top of act II during "Trashin' the Camp" where a large portion of the ensemble grooves to the rhythm of their own jungle drums all while executing complex moves during the routine. Johnson even goes so far as to throw in apes on skates; an amusing, albeit superfluous, stunt that gives the gorillas an added flare.
Despite the ensemble's size, they are at the best of times soft sung. This minor complaint aside, the production is impressive particularly because of the principle talent featured within. Even momentary soloists like Father (Shane Lowry) who only appears at the beginning of the show in "Two Worlds" has a strong and sturdy voice that carries a wondrous beauty with it. One of the most impressive talents on the stage is actually the silent character, Sabor the Leopard (Dann Combs.) With a fluid body that moves gracefully yet dangerously, Combs is a majestic beast upon the stage. Dancing ferociously during his solo appearances, he even leads Tarzan into a fierce combat-dance fusion moment during his final appearance.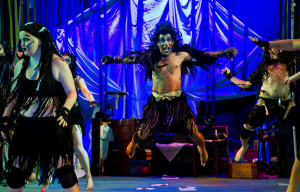 Who better than Terk (Eyvo) to provide a spunky personality that zings through the treetops all throughout the performance? Eyvo is a knockout when it comes to delivering his comic lines, playing them wholeheartedly and with honesty so that they become that much funnier. His bantering efforts with Tarzan prove to be wildly entertaining as well. And if that wasn't enough his sensational belt at the end of "Who Better Than Me (Reprise)" happens while he's hanging upside down. Eyvo gets to jazz oodling with his voice during "Trashin' the Camp" also hanging suspended from the trees, showcasing his vocal versatility as well as his physical ability. A fun-loving incredible character, Eyvo has the pizzazz of the primates and is not afraid to show it.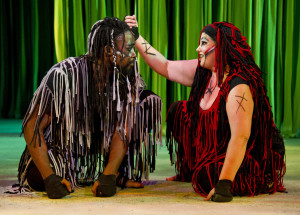 Kala (Serenity Rowland) and Kerchak (Frank Gilette) play opposite each other with a great sense of pride, subtly infused with that loving affectionate banter that can often burble between a husband and wife. Rowland and Gilette both have exceptional voices; hers a smoother sweet sound perfect for lullabies like "You'll Be in My Heart" while Gilette's voice is more coarse and demanding, delivering harsh emotions for "No Other Way." The pair has a ripe chemistry that layers palpable tension between them every time they appear on the stage together. Duets like "Sure as Sun Turns to Moon" becomes playfully wistful, their voices working in tandem with ease to deliver the sincerity behind this number.
Tarzan (Frankie Rowles) at first seems a bit understated as his vocals are quite soft, but that is quickly disproved when Rowles starts really singing in "Different." A vocal blast of energy and spirit, Rowles delivers impressively in this role; mastering the physicality of the wild man while keeping true to the character's curious nature as he encounters Jane and the humans. The harmonious duet shared between Rowles and Jane (Carli Smith) "For the First Time" is an inspirationally touching blend of two voices experiencing one phenomena. The chemistry that Rowles and Smith share together as their characters discover one another is enlightening and gleeful; filled with wonder and delight.
Smith, as the leading lady in this production, is an exotic flower blossoming with talent in this jungle full of singers. Her voice is spectacular and she even sings with her crisply articulate English accent. The development of her character is as impressive as her vocal abilities; infusion pure emotions and discoveries into her songs and non-musical scenes. "Waiting for this Moment" is a solo filled with exuberant enthusiasm as the jungle and all its wonders takes her character by surprise. Her incredible belted sustain at the end of "For the First Time" is astonishing. Smith is all the rage all across the jungle, her extensive vocal range and overall stage presence taking her to incredible heights for this show.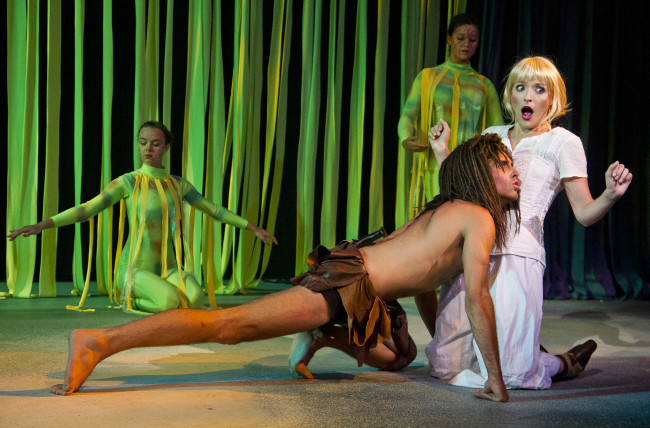 Fun for the entire family, there isn't a single good reason to not come and see Tarzan at The Milburn Stone Theatre. Quit monkeyin' around and get your tickets before the show closes and you miss it.
Running Time: Approximately 2 hours and 15 minutes with one intermission
Tarzan plays through September 7, 2014 at The Milburn Stone Theatre located at 1 Seahawk Drive in North East, MD. For tickets call the box office at 410-287-1037 or purchase them online.