TheatreBloom rating:
Marriage is a very good thing, though it is far from easy. Rounding out their fifth season in Annapolis, the Infinity Theatre Company presents a timeless musical classic with a bit of a revamped twist to prove exactly that. I Do! I Do! the musical wonder with music by Harvey Schmidt and books and lyrics by Tom Jones is gracing the stage of Infinity this summer to remind audiences everywhere that marriage is an uphill struggle but well worth the effort in the end. If you think you know this musical, or think you've seen it, think again because under the fine Direction of Tina Marie Casamento and Musical Direction of David Libby, this previously dated musical has undergone a face-lift that makes it surprisingly rejuvenating and brilliantly accessible to the modern audience.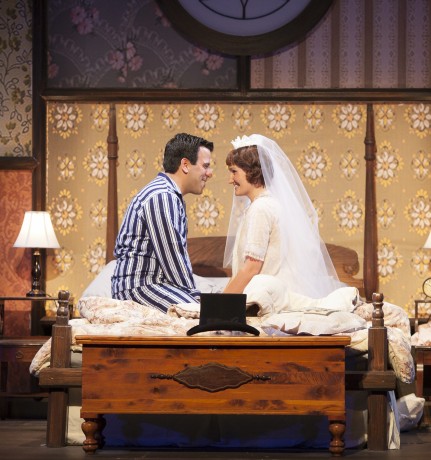 With just one set to cover 50 years of marriage, Scenic Designer Paul Tate DePoo III captures the essence of marital woe and bliss all under one roof. The bedroom, with a large bed center stage, features an oversized headboard that is shaped like the silhouette of a house. DePoo, working in tandem with Lighting Designer Jimmy Lawlor, utilizes this headboard silhouette not only to represent the marital bed but the other rooms of the large house in which our couple lives. Lawlor lights up panels of the headboard, which DePoo has sectioned off like rooms of the house— each one a different pattern of era-appropriate wallpaper— and blinks them on and off when our characters are speaking to each other from off stage. This creates the illusion of other rooms and calling to one another from said rooms without having to put elaborate efforts into excessive set design. Lawlor also provides a beautiful light projection of stained glass for both the church weddings scenes; flooding the stage with a majestic and pious pride.
Costume Designer Tristan Raines successfully adapts the previously turn of the century style of the performance to fit the visionary modern revamp that Director Tina Marie Casamento has provided. Starting the show in 1956 we see simplistic style and elegance in the woman's wedding dress with a tasteful, albeit modest, design to the tiers of bell-drop lace that cover her body. Raines' creations evolve subtly as the time period pushes forward in the production, allowing the time shift to modernity to be a background focal point rather than forcing it upon the audience.
Casamento's unique approach to setting the musical in the 50's makes the show vastly more relatable to the modern audience. Previously starting in 1895 and progressing to 1945, the show felt dated and was often overlooked as a true piece of theatrical engagement. By starting the show in 1956 and moving it forward to the present day, Casamento has taken an era of time from which people are still living and put it onto the stage. The marital quarrels and struggles displayed within the performance are genuine and relatable with this modern revamp, done with a subtle hand guiding them so that they do not become the sole focus of the show. Casamento's ability to keep this framework as an exterior guiding force, so that the story can be told between two married people that love each other, is a sharp directorial tactic that achieves great success.
Playing Agnes and Michael are the talented Daniella Dalli and Craig Laurie. Watching the progression of their characters' lives and chemistry is fascinating; a private glance into the intimate and personal life of one married couple. Their acting abilities make the show relatable to anyone who has ever been married, or to anyone who has ever known or experienced being in the presence of a married couple, particularly when all is not perfectly settled in the marriage.
Laurie delivers a unique sound throughout the performance, his acting far stronger than his singing, though his singing does not leave the audience wanting. The show is populated with places for Laurie to create heightened senses of his character. The number "The Waiting Room" allows Laurie to delve into the spastic depths of anxiety as he paces and flips his body into wildly exasperate positions, living through the agony of awaiting the arrival of his first born child. "A Well Known Fact" becomes a zesty blast of pompous arrogance for Laurie's character as he struts, clucks, and dances his way to self-gratifying glory in this narcissistic number.
Dalli, as the loving wife Agnes, brings a much more subtle presence to the stage. This is most fitting as in the 50s and 60s the role of woman in a marriage was to quietly tend the house and children. Do not mistake this to mean that Dalli is anything less than vocally forceful; her solos quite fulfilling with belted sustains at the end of numbers that could contend with any modern woman of the stage. Her big shining moment— though far less self-gratifying than "A Well Known Fact"— is her rendition of "Flaming Agnes." The number is a swanky scream with vocal heat and a sassy physicality rolling through her body from the opening lines to the big finish.
The chemistry that the duo concocts together on the stage is a versatile beast, represented the epitome of married love. Every fight, blow-up, and otherwise negative nuance of marriage is captured in the way Dalli and Laurie relate to one another. "Nobody's Perfect" becomes an intense showdown of who can point out the other's flaws faster; the way they barb and bite at one another becoming a fierce moment that is the catalyst for a fiery race to the end of Act I. In their moments of bliss, Laurie and Dalli have beautiful voices that twine together for solid harmonies and delightful moments. Finding the balance of these types of moments amid the chaos that is marriage is what makes these two performers standout, and thusly allows the show a great deal of success.
A true musical revival; this new approach to an old tried and true treasure will have you begging to run down the aisle with the person you love. Now more relatable than ever, I Do! I Do! won't play for 50 years at Infinity this summer, it's not even playing for 50 weeks! Be sure to get your tickets before the golden years of marriage fade away into the sunset of life at the end of this 2014 summer season.
Running Time: 2 hours and 20 minutes, with one intermission.
I Do! I Do! plays through August 3, 2014 at Infinity Theatre Company at The Children's Theatre of Annapolis Complex— 1661 Bay Head Road in Annapolis, MD. For tickets, call the box office at (877) 501-8499, or purchase them online.